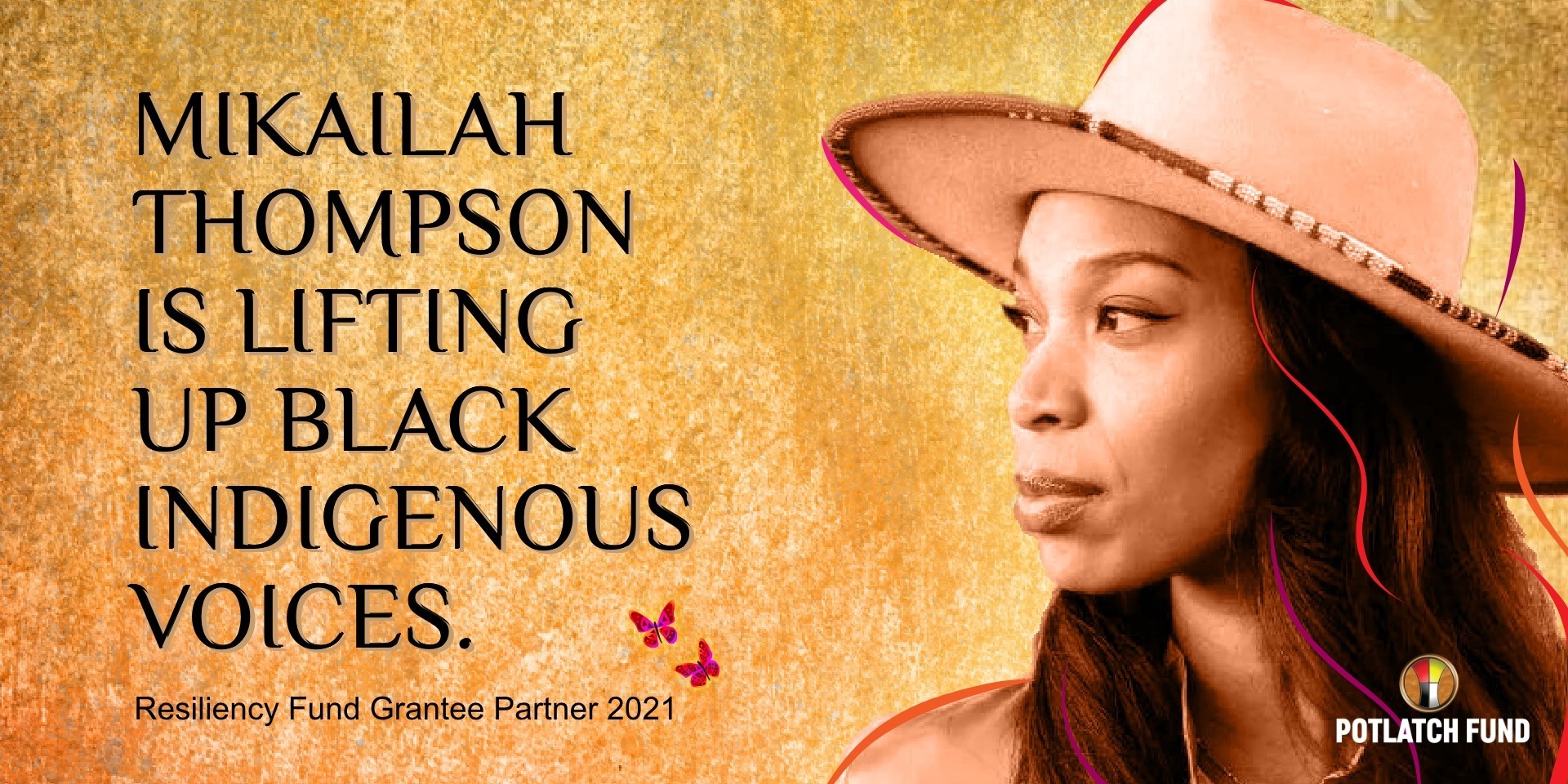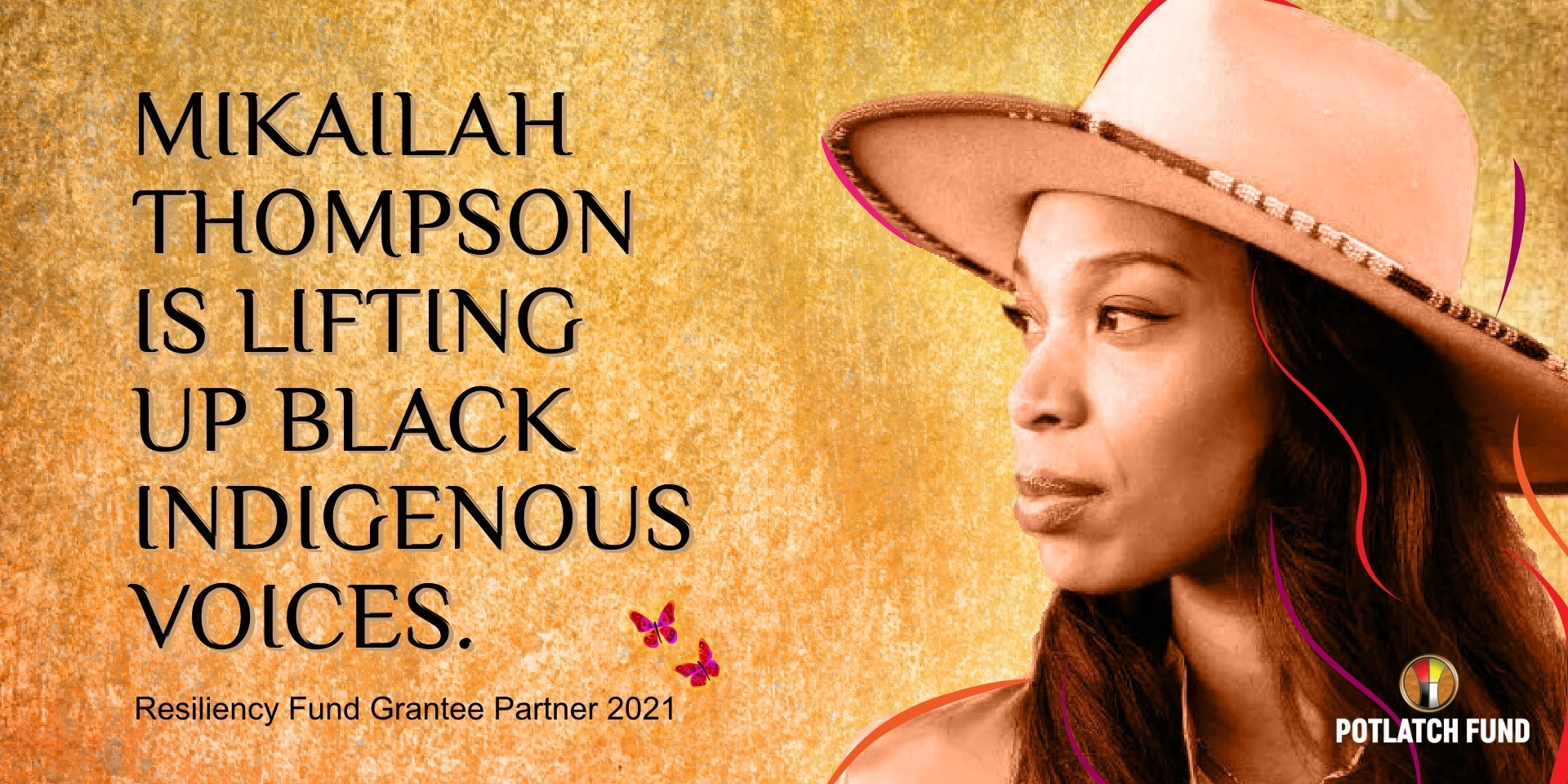 Mikailah Thompson, Black Nimíipuu (Nez Perce): Determined to make a difference
Mikailah is an artist, activist & entrepreneur.
A Resiliency Fund Grantee Partner from Idaho, Mikailah lifts up and embraces both her communities through her work and activism. Mikailah co-hosts the podcast Quantum Theory with fellow artist Kellen Lewis, Black Nimíipuu (Nez Perce). The podcast amplifies Black-Indigenous voices as they share their own personal experiences of being biracial.
In episode 33, MITA'ÁPTIT WAX̣ MITÁAT, Thirty-Three: Listening Waves, Diversify they discuss viewing recommendations.
Here's what they're watching and learning from: They've Gotta Have Us, 2019, a docuseries that traces the history of Black cinema, created by Simon Frederick. Available on Netflix. RUMBLE: The Indians Who Rocked the World, 2018, a documentary about the role of Native Americans in popular music history by Catherine Bainbridge. Available on Amazon. In the podcast Mikailah reflects on Jimi Hendrix and how most people don't know that he was a Black-Indigenous and he was really proud about it. Mikailah is determined to make a difference.
Mikailah is also a bridge builder.
Each year, she directs the annual Juneteenth Celebration on the Nimiipuu Reservation to bring awareness to Black culture while shining a light on the importance of maintaining a strong sense of Tribal identity.
She is opening doors and breaking barriers.
Her overall goal, she says, is to help open doors and break barriers to create change, opportunity, and equality for people of color. She is also active with the Black Lives Matter movement and as part of her work seeks to generate discussions about race in rural communities. It was when she moved from the East Coast to her home reservation in Lapwai, Idaho, that Mikailah discovered just how rich her family's history was.
"I realized how much I had in terms of a sense of community and family that only Indigenous people truly understand,"
Her grandmother, Chloe Halfmoon, taught her to bead at a young age, and today Mikailah owns and runs Beadwork By Mikailah, through which she not only sells her original work but also gives back to her Indigenous community. "Beadwork By Mikailah is a business that would not be possible without our people and those before us who practiced the traditional craft," Mikailah says.
"Therefore, I make it my priority to give back through my work by community organizing and community building."
Recently, Mikailah also launched Indigenous Creatives, LLC, a company focused solely on Indigenous artistry in all forms. Plans include spotlighting Native creatives through media and events. "Representation matters, and this is where I plan to showcase that," she says. https://www.mikailahthompson.com
All year long, we're lifting up small business owners like Mikailah, who are making a big difference as an artist, activist, entrepreneur and Resiliency Fund Grant partner—who raises her hands to embrace communities with her work and activism.
---
Press Releases:
Pandemic reveals immense need – Potlatch Fund commits to raising additional $7 million for its Resiliency Fund
Native-Led Potlatch Fund Is Asking The Native Community To "Bring Us Your Dreams."

More about the Resiliency Fund:
The Resiliency Fund Reveals an Immense and Enduring Need in Native Communities.
Potlatch Fund and the Future of Philanthropy
To Our Resiliency Fund Grantee Partners–Keep Sending Us Your Dreams
Announcing New Resiliency Fund
Stories from our Grantee Partners:
Indigenous Weaver, Ace Baker Sr.
The Young Warrior Society
Nimiipuu Nurtures Emerging Environmental Leaders

For Grantee Partners:
Resiliency Fund Application Information Here: Bring Us Your Dreams
If you are interested in supporting the Resiliency Fund: email us to discuss your giving or donate here to support the Resiliency Fund.