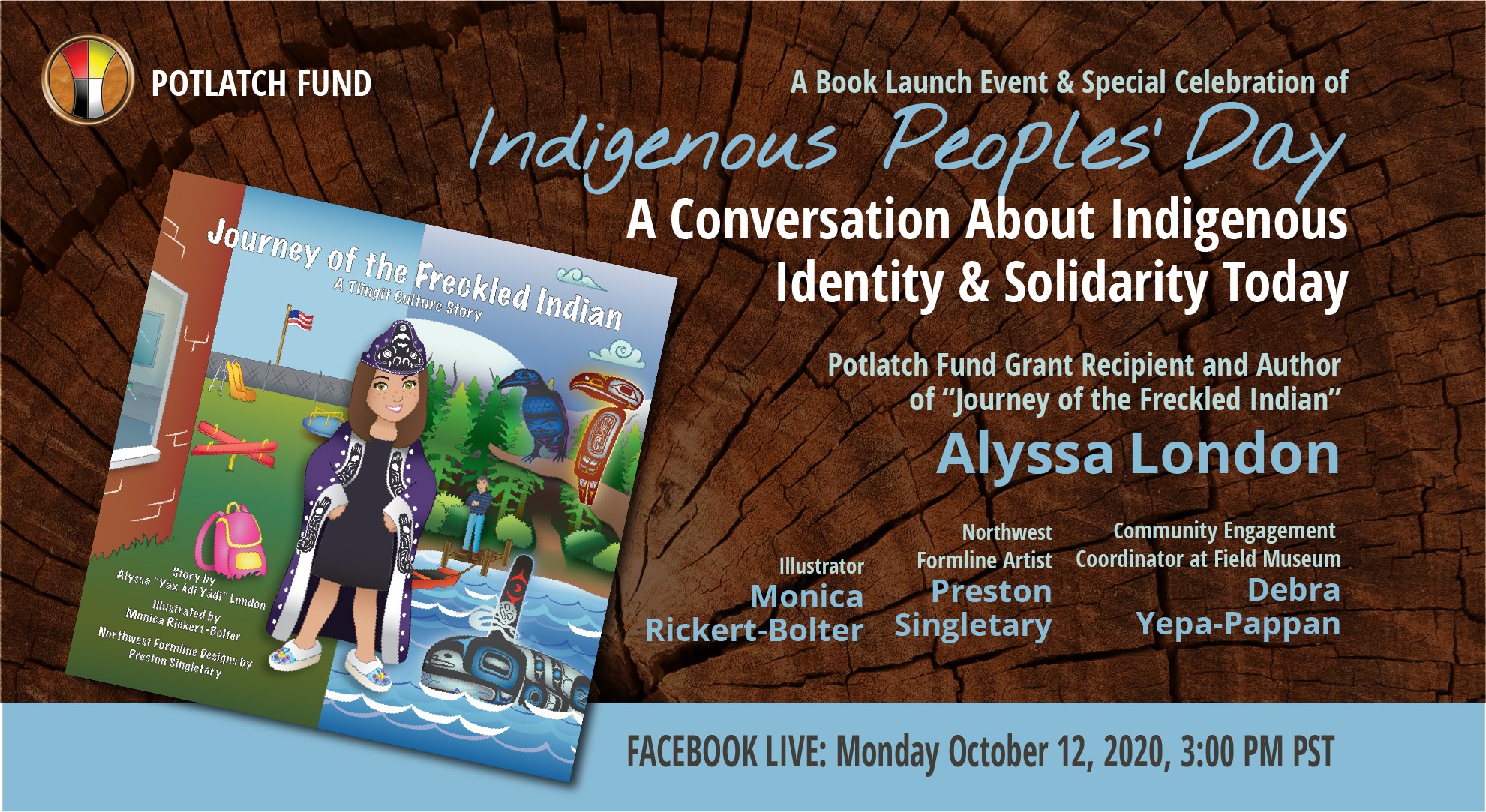 A Conversation About Indigenous Identity & Solidarity Today
A Book Launch Event and Special Celebration of Indigenous Peoples' Day
Presented by: Potlatch Fund and Culture Story
Moderated by: Brian Tanner, Potlatch Fund – Director of Philanthropic Partnerships
Date: Monday October 12, 2020
Time: 3pm PST – 4pm PST
The event is free to the community, no pre-registration required. You can let us know you're attending and join the event at:
Event Link: https://www.facebook.com/events/edit/657941051774385
The community is invited to a book launch event and a special celebration of Indigenous Peoples' Day on Monday, October 12, when author Alyssa London will be joined by illustrator Monica Ricker-Bolter, Northwest formline artist Preston Singletary, and Debra Yepa-Pappan, Community Engagement Coordinator at Field Museum to discuss her recently published children's book: "The Journey of the Freckled Indian: A Tlingit Culture Story."
The Facebook Live event will be from 3-4 p.m PST on Potlatch Fund's Facebook page at https://www.facebook.com/PotlatchFund. The event will include a panel discussion, and the author will read an excerpt from her book and talk about what the project means to her.
London was the recipient of a 2015 Potlatch Fund grant for her Culture Box Project, which expanded into a series of art pieces and later, Culture Story LLC. In 2019, London received another Potlatch Fund grant to support her first book project.
"The Journey of the Freckled Indian" follows the main character, Freckles, after she is made fun of by classmates for "not looking Indian enough." Through time spent with her Tlingit Grandfather in Ketchikan, Alaska, Freckles develops confidence in her identity and later inspires other children to learn about their culture and be proud of their heritage.
PANELISTS:
Alyssa London – Author of ""The Journey of the Freckled Indian: A Tlingit Culture Story"
London is a member of the Tlingit and Haida Indian Tribe of Alaska and grew up in Bothell with visits to her dad in Alaska to see her extended family and participate in cultural events. This connection to her Native heritage, combined with her awareness of her mixed ancestry, sparked a larger fascination about identity and culture that she continues to explore through Culture Story and the creation of products, books, and media that showcase the vitality of Indigenous cultures.
Monica Rickert-Bolter – Illustrator
Illustrator Monica Rickert-Bolter is a Chicago-based visual artist of Potawatomi, African American, and German descent employed as a concept artist for Smyles Creative, LLC. Her artwork combines traditional techniques with digital coloring to create expressive characters. Passionate about storytelling through art, Rickert-Bolter advocates for cultural representation in any project she undertakes.
Preston Singletary – Northwest Formline Artist
Renowned glass artist and longtime Seattle resident Preston Singletary provided the Tlingit and Northwest Coast Native American Formline for the book, which features themes of transformation, animal spirits, and shamanism through elegant blown glass forms and mystical sand-carved Tlingit designs. Singletary's artworks are included in museums and private collections across the United States.
Debra Yep-Pappan – Field Museum, Community Engagement Coordinator
Debra Yep-Pappan, who is Korean and member of the Pueblo of Jemez, is the Community Engagement Coordinator for the Native American Exhibit Hall renovation project at Chicago's Field Museum. Through her artwork and her work at the Museum she is committed to changing inaccurate representations of Native people, and advocates for the inclusion of Native first voice and perspectives.
"Journey of the Freckled Indian" is available to order on Amazon in both paperback and electronic formats. Purchase Book
Le̓mlmtš
(Thank you)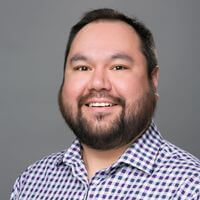 Brian Tanner, Salish/Cree (he/him)
Director of Philanthropic Partnerships
Sponsorship opportunities available
Call Brian Tanner, 206.518.4979, for details or email donate@nullpotlatchfund.org