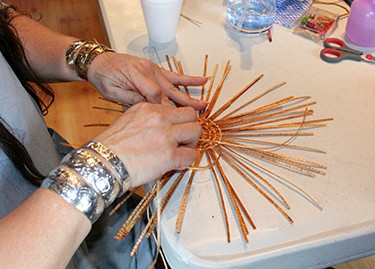 Grantmaking Program

Since 2005, Potlatch Fund has re-granted over $5 million in the support of tribes, tribal nonprofits, Native-led nonprofits, Native artists, and Native initiatives in our four-state service areas of Idaho, Montana, Oregon, and Washington.

We generally DO NOT Fund:

Academic institutions, school districts, religious organizations, governmental agencies, or any other organization that may serve Native and Tribal communities but do not meet the criteria of being a Native-led organization.
Publications, reports, research, workshops, conferences, classes, personal travel, loans, scholarships, litigation or attorney fees.
Endowment funds or capital campaigns.

2023 Community Relations and Innovation Fund

Opens September 13, 2023 | Closes October 31, 2023 @ 11:59pm PST | Unrestricted Funding up to $10,000

In 2020, Potlatch Fund responded to the COVID-19 pandemic by simplifying our grant practices. While in the past, grantees had to apply under a specific granting opportunity such as: Healthy Pathways for Native Youth, Language Preservation, Community Building, Native Student Success, and Native Arts, we have now streamlined to one grant process that includes these and more.

Our new grant, the Community Relations and Innovation Fund, continues to focus on 'the people on the ground' in Native communities who are committed to serving the needs of our community. Granting opportunities will be available as unrestricted funds up to $10,000. We seek applications that support (but not limited to) youth work, community building, arts/culture, language and education/advocacy and are open to Artists, Organizations or Tribal Entities that meet eligibility criteria below.

Eligibility

Provide service in WA, OR, ID, MT

Must meet both:

Serve 51% Native Community & 2/3rd Native Staff and Board

Must be one of the following:

Federally Recognized Tribal Entity
State Recognized Tribal Entity
Seeking Recognition
Native 501c3 Organization
Native 501c4 Organization
Fiscally Sponsored*
Individual Artist Enrolled
Individual Artist Descendant

Must be one of the following:

501c3
501c4
Tribe 7871
Fiscally Sponsored organization
Individual Artist

What will this grant support?

Seeking applications that support (but not limited to) youth work, community building, arts/culture, language and education/advocacy

Questions?

Email grants@nullpotlatchfund.org

*Potlatch Fund as an organization supports all our relatives and community members. This includes but is not limited to our Veterans, LGBTQIA+ and Two Spirit relatives, our Tribal and indigenous people who share their identities in our Native community (Multiracial), those who are differently abled in any capacity, and many others who are a part of our collective family.

Or visit the Grants Application Online Portal under the Grants menu above

2023 Power of Ceremony and Healing Grant

GRANT CLOSED

Na'ah Illahee Fund and The Potlatch Fund have partnered in a collective giving campaign to bring forward the Power of Ceremony & Healing Grant to help bring unity to our people by providing support to those that lift up our people culturally and spiritually.

The cultural practice of ceremony is essential to Native health for healing our people spiritually, socially, emotionally, physically, and mentally. It plays a critical role in Native people's lives by connecting us to our traditions, languages, songs, beliefs, ancestors, and ways of healing. Since the Na'ah Illahee Fund (NIF) & Potlatch Fund support the development of a strong, positive Indigenous identity, this grant will support work led by culture keepers and healers to help make our people whole again. NIF & Potlatch Fund will support Native healing by providing support to those individuals who are leading ceremonies, whether they are Smokehouse Lead Workers/Caretakers, Longhouse Lead Speakers/Caretakers, Bundle Keepers, Song Carriers, Sundance Leaders, Sacred Tobacco Ceremony Leaders and those who make ceremonial gear: traditional makers of cedar hats, drums, rattles, regalia, caskets and other traditional items for ceremony purposes (those who sell nothing commercially). In Our Way of Life teachings (based on the Medicine Wheel), passing is part of our way of life and is as valid as anything we do when we are alive.

As Native people, we know we need to heal ourselves before we can help others. Ceremony provides a place to heal through prayer, to use our indigenous language, connect to the land, revive our culture, and support one another. Now is the time to resurrect our traditions and keep them alive before our elders cross over and take their knowledge with them. Through offering this grant, we plan to support the power of our culture keepers and healers leading Native Ceremony and the medicine they bring to heal our communities. [Learn More]

2022-2023 Native Led Organizing Grant

Potlatch Fund and Social Justice Fund share a grantmaking collaboration that supports Native-led community organizing throughout our overlapping five-state region. Our goal is to continue to work together collaboratively for greater impact, supporting the social justice efforts such as MMIWP, LGBTQIA2S+, Environmental Justice, Indian Child Welfare, Boarding School Healing, Mental Health and Wellness, and Voting Rights. We hope to continue on our path of trust-based, community-based, and collaborative grantmaking and are excited to announce our awardees. SJF and Potlatch Fund granted $300,000 to the following projects and organizations:

Hipeexnu kii U Nuun Wisiix, Inc
Return of the Boise Valley People
Indigenous Idaho Alliance
Carrying The Message' MMIP Group
Western Native Vote
Center Pole, Inc.
Indigikitchen
Montana Missing Indigenous Persons Task Force
North Central Montana Human Trafficking & MMIP Task Force
Unspoken Words (native podcast)
Enshxengiɢnan Wímałba: We are Teaching at the River
Naknuwithlama Tichamna – Caretakers of the Land
War Cry Podcast
Unkitawa – Community Innovations Program
Native Family Learning Lodge
Hummingbird Indigenous Family Services
Salt Fire
Blackhawk Singers
MMIP Families
Nimiipuu Protecting the Environment
Nimiipuu Ecosystems Restoration, Inc

2021 Grant Cycle

2021 Grant Cycle
Project / Program Support
General Operations /
General Support
Resiliency Fund – CLOSED Learn more
Yes
Yes

2020 Grant Cycle

2020 Grant Cycle
Project / Program Support
General Operations /
General Support
Covid-19 Rapid Response Fund
Yes
Yes
Healthy Pathways for Native Youth
(All grant applicants were made eligible for immediate Covid-19 needs)
Yes
No
Community Building
(All grant applicants were made eligible for immediate Covid-19 needs)
Yes
Yes

What is the difference between project support / program support and general operations / general support?
A project, or program, has a specific start and end date together with predetermined outcomes. General operations, or general support, is funding to strengthen the organization's overall operations and is not tied to a specific project/program.

Resiliency Fund

Applications Closed

To address changing and evolving community needs and the impact of COVID-19, Potlatch Fund is accepting applications for the Resiliency Fund starting June 21, 2021.

The Resiliency Fund will provide support to Native communities for programs and projects that strengthen and support resilient infrastructures and long-term well-being. Includes general operating funds and projects that create hope, social connection, adaption, flexibility and purpose.

There is no application deadline. Instead, grants will be processed and awarded on a rolling basis until funds are exhausted. (All application methods will be available June 21, 2021.) [Learn More]


Healthy Pathways for Native Youth

(This grant program is on hold in lieu of emergency Covid-19 grants. )

Through this initiative, Potlatch Fund will provide grant support to summertime projects that share our vision of investing in Native youth as our current and future leaders. We seek new or existing programs with the important goal of providing Native youth the leadership skills to strengthen their resiliency, cultural identity and awareness, increase positive engagement in their community and promote healthy choices and lifestyles. This initiative will support Native youth in their transformation from childhood to young adulthood by providing resources to their home communities as they equip the youth with cultural knowledge that builds resilience, leadership, health and wellness. [Learn More]

Community Building

(This grant program is on hold in lieu of emergency Covid-19 grants.)

Whether residing on a rural reservation or within a large metropolitan area, nurturing a sense of community is essential to Native people and their identity. We support organizations and community programs that impart values, histories, and knowledge across generations to make our communities stronger and healthier. We are particularly interested in supporting initiatives that address the root causes of social, economic, racial, or environmental issues. We believe that communities inherently have a wealth of knowledge to address their own issues, given adequate resources. The well-being of individuals and community-based organizations are integral to the well-being of a community as a whole. Ideally, this program is envisioned to increase the capacity of individuals, organizations, and communities. Potlatch Fund is open to receiving applications that aim to build awareness around the 2020 Census within Tribal communities. [Learn More]

Native Student Success

(This grant program is on hold in lieu of emergency Covid-19 grants.)

Native students are our community's most valuable asset as they will become our future leaders who will guide us toward a future of sustainability, sovereignty, and preservation of all Native communities. Potlatch Fund's vision is that all Native students have access to a meaningful education that provides them with the opportunity to reach their full potential and realize their goals. In addition to the standard markers of educational success, Potlatch Fund believes it is vital that Native Students are well versed in their culture, identity, and Tribal sovereignty. This grant promotes opportunities to empower a student through self-directed learning and educational pathways that increase a broader understanding of their role as Indigenous leaders and capable individual community representatives. [Learn More]

Language Preservation

(This grant program is on hold in lieu of emergency Covid-19 grants.)

In 2017, Potlatch Fund is embarking on a three-year grant strategy to increase the capacity of Language Preservation and Education Fund grantees. It is our desire to fund the development of language transfer systems and we will offer grants that support this goal. Grant support will be offered for community language assessments (2017), development of a strategic plan (2018), and the implementation of the strategy (2019). Successful grantees can apply in subsequent years but are not required to complete all three years. Grantees that did not conduct the Potlatch Fund community language assessment tool in 2017 will be required to submit another current survey as an equivalent. [Learn More]

Native Arts

(This grant program is on hold in lieu of emergency Covid-19 grants.)

Potlatch Fund believes that the arts serve an intrinsic benefit to Native communities. The status of art and the practice of artmaking are tied to a broader social ecosystem that improves the health of our society. Native art has always been integral to every aspect of tribal life. In tribal culture, art is not separate from everyday life, but rather art is the center of tribal life and everyday objects and tools are decorated beautifully with designs that perpetuate tribal identity, culture, and knowledge. [Learn More]

Reference Materials

Join our email list and follow our social feeds for updates.