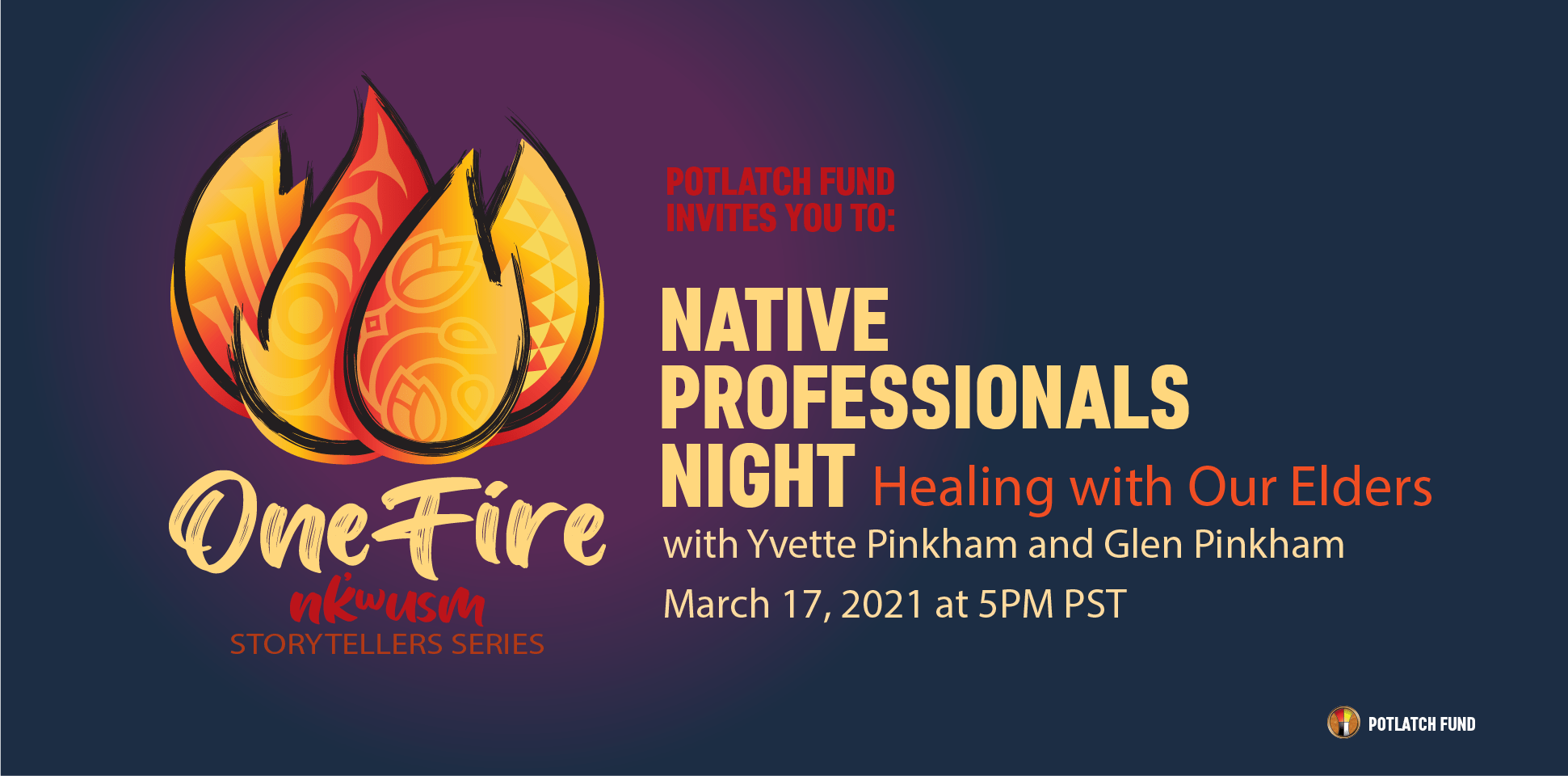 Native Professionals Night: Healing With Our Elders
A Potlatch Fund One Fire Storytellers Series with Special Guests Glen and Yvette Pinkham
Register here: 
https://bit.ly/2OeavCQ
This event is on Zoom and the Zoom link will be sent out prior to the event.
We invite our community to Native Professionals Night – Healing With Our Elders with Glen and Yvette Pinkham.
As the one-year anniversary of the start of the COVID-19 pandemic comes into view, Potlatch Fund presents a community event for Native professionals to come together in a healing way. With COVID-19 creating so many barriers to coming together, we recognize the need to visit with elders and each other in a cultural and spiritual way. Join us for this hour and a half of storytelling and wisdom from Elders Glen and Yvette Pinkham.
We are kicking off our Potlatch Fund's One Fire Storytellers Series by bringing back Native Professionals Night. Started by the Native Youth And Family Center, Native Professionals Night has been an adopted program of Potlatch Fund for the past several years. 
Register for the event for FREE here: https://potlatchfund.networkforgood.com/events/27554-native-professionals-night-healing-with-our-elders-glen-yvette-pinkham
Donations to Potlatch Fund are always welcome
Glen Pinkham, Yakama Nation – Mother Nation Homeless Outreach Engagement Coordinator Glen is an enrolled member of the Yakama Nation and has 40+ year's as a cultural mentor, advisor and group facilitator. He brings a wealth of knowledge in working with all socio-economic backgrounds and people. He currently works with Mother Nation as the Homeless Outreach Representative, reaching out to the Native community in King County. He is also a Chief Seattle Club Elder conducting sweat lodge, prayer services at hospitals, homes, and out in the field. Other past and present experiences include being a Spiritual counselor at United Indians [Labateyah Youth Home] which is for young adults 18-24 year olds; and working at Thunderbird Treatment Center [Seattle Indian Health Board] as a Traditional Health Practitioner. Glen has been married for 34 years to Yvette Pinkham; they have three adult children.
Yvette Pinkham, MSW/CDP, So. Cheyenne – Mother Nation Cultural Services Coordinator/Wellness Coach Yvette is a member of the So. Cheyenne tribe and has a wealth of 20+ year's working experience with underrepresented and diverse youth/families and Elders. She is a life-long student of Traditional teachings, Holistic practices, and Wellness education. In her background as a Chemical Dependency Professional, an Indian Child Welfare foster care social worker, and as a Wellness coach, Yvette brings enthusiasm, patience, positive attitude, serene personality to her role as Cultural Services Coordinator at Mother Nation. She is a dedicated to giving back to the Native community and is honored to serve as a past board member for Red Eagle Soaring board member and for UNEA/Seattle Clear Sky. She is married to Glen Pinkham for 35 and have three beautiful adult children.