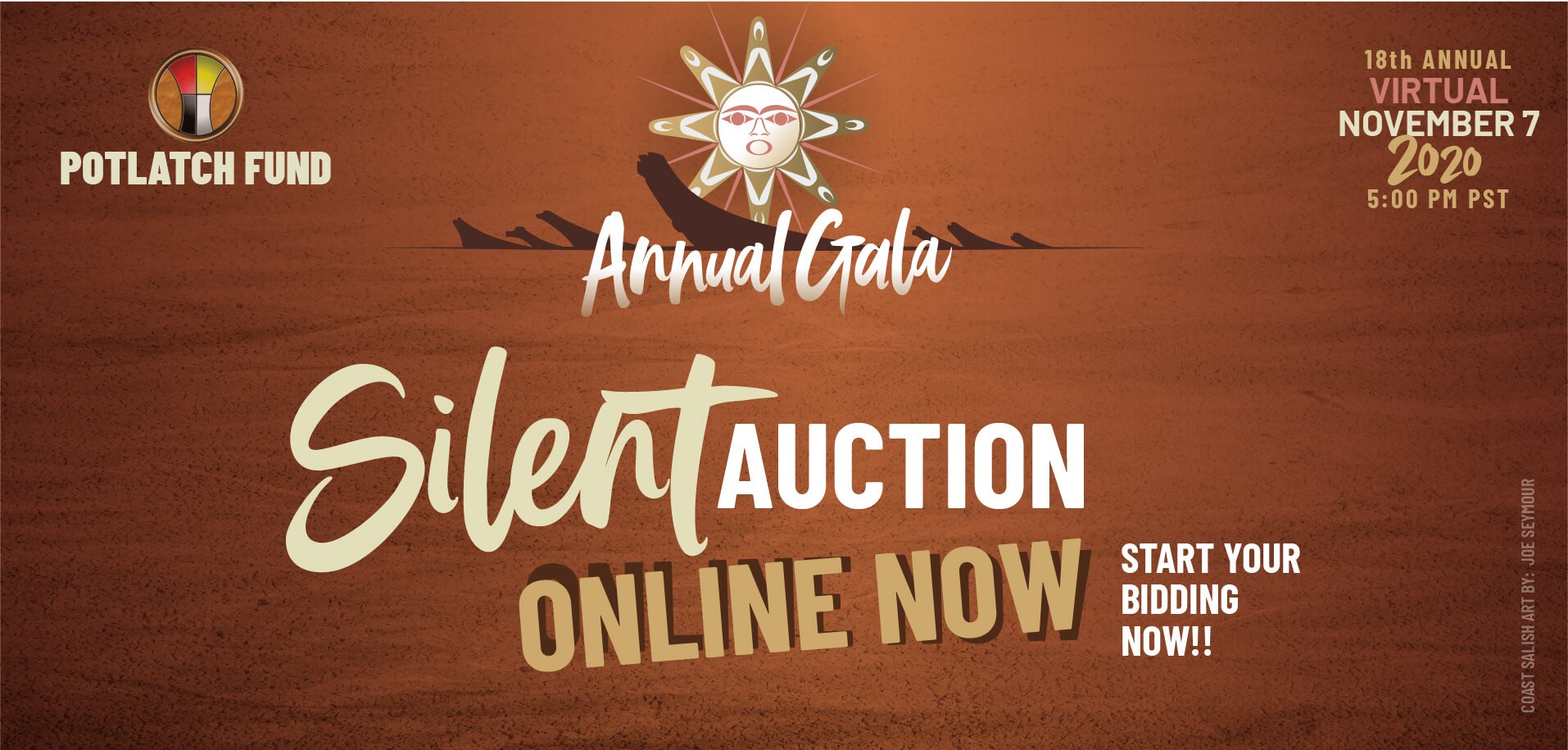 The Potlatch Fund Board and Staff raise our hands to our sponsors, supporters, donors, guests, volunteers, and all those that embraced the spirit of Potlatch at our 18th Annual Virtual Gala this year. We also wish to express our deep gratitude and admiration to the gifted performers and presenters that made this virtual event truly magical. If you didn't get a chance to attend the event you can still participate by donating here: https://zurl.co/GEjp Also, stay tuned for information about an encore watch-party viewing event. #PF2020Gala #RezCarpet
Support Indigenous Artists!
All Proceeds from the Silent Auction will help support the 2021 Native Arts Grant Cycle.
This year's annual Potlatch Fund Gala Silent Auction is virtual. The Potlatch Fund Gala is an opportunity for Native artists to put forward their work to the larger community.
With hundreds of attendees, the Annual Fundraising Gala raises the profile of Tribal communities, Native organizations and Native artists throughout the Northwest.
Please support our Indigenous artists and join our online silent auction.
Register here:
Create a Profile
Start bidding
Are you a Native artist or Native author?
Do you own a Native business?
If so, and you would like to contribute a piece of art, signed book, or other item to our 2021 Silent Auction kindly email donate@nullpotlatchfund.org.
Thank you.
2019 Silent Auction
2018 Silent Auction
2017 Silent Auction
2015 Silent Auction
2014 Silent Auction | List of Contributors
2013 Silent Auction | List of Contributors
2012 Silent Auction