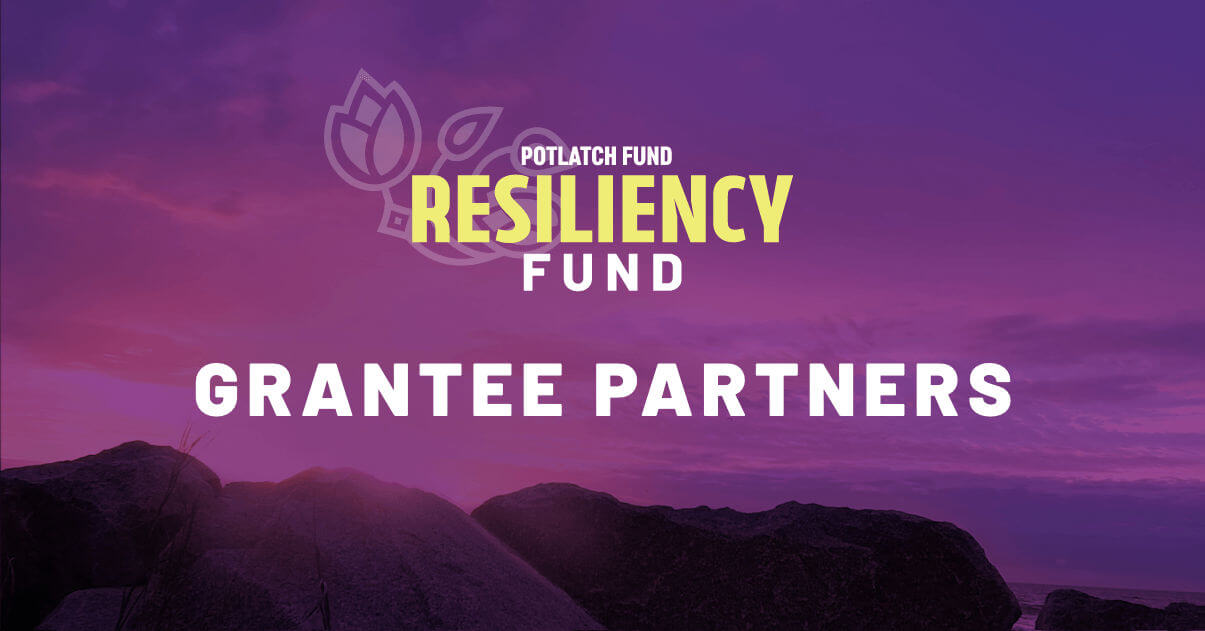 Potlatch Fund is pleased to announce the first and second round of Resiliency Fund grants to grantee partners in Washington, Oregon, Montana, and Idaho.
The Resiliency Fund is designed to address the rapidly evolving community needs and long-term impacts of COVID-19. In particular, the fund supports programs and projects that create hope, social connection, adaptation, flexibility and purpose.
The Resiliency Fund began accepting applications on June 21, 2021. All application instructions and templates can be found online here. In addition, applicants may submit an application by email, by regular mail, or by scheduling a phone call with a Potlatch Fund staff member.
There are no deadlines. Rather, grants applications will be accepted throughout the year until all funds are expended.
Individual Artists
Round Two
Kalim Crawford, Standing Rock Sioux (Mount Vernon, WA)
By interviewing elders and other tribal members, the filmmaker plans to finish a documentary focused on issues facing the Indigenous community including COVID-19 impacts, pipelines, and Missing and Murdered Indigenous Women.
Natalie Flores, Chippewa Cree (Montana)
The creator of Indigenuity Gifts—a centralized online Native American market platform—will use funds to collaborate with other Native artists to offer custom curated Native-made gift baskets to further support both Native arts and business owners.
D.A. Navoti , Gila River Indian Tribe (Washington)
The multidisciplinary storyteller and writer will continue his support of three community-based initiatives serving Native artists including a reading series, a free writer's toolkit, and stipends for emerging Native writers to attend conferences.
Philip Red Eagle , Fort Peck Assiniboine & Sioux Tribe(Washington)
The artist is a canoe paddle carver and copper ring ceremonial artist who will use funds to buy carving materials and tools to teach youth how to make cedar paddles and also to make the copper rings that are gifted to all canoe journey families.
Valerie Faustine Switzler, Wasco (Oregon)
The grantee partner is one of only two people alive who knows the Wasco language and will use funds to purchase the materials to teach the next generation about the traditional clothing, songs, dances, and stories of the Wasco people.
Mikailah Thompson, Nez Perce Tribe(Idaho)
The entrepreneur (Beadwork by Mikailah) is a bead artist who will use funds to host a free beadwork demonstration and workshop for tribal members, as well as to travel to the Santa Fe Art Market to showcase her work.
Carla Timentwa, Nez Perce(Idaho and Washington)
The language elder and weaver will travel to gather bear grass in the high mountains of Idaho and Washington in order to learn how to gather, prepare and incorporate it into her work, with plans to include children and young adults in the gathering process.
Jeramiah Wallace, Cowlitz(Washington)
The artist is a carver who teaches addicts in recovery how to make culturally significant items. He will use funds to purchase tools, saws, and other equipment to continue this work and to make giveaways for tribal journeys and events.
Charles Robert Wells, Chippewa-Cree (Montana)
As a silversmith and metal art sculptor, the artist will use funds to create life-sized sculptures honoring Chief Rocky Boy and Chief Little Bear for the entrance to the Flathead Indian Reservation.
Jenny Williams, Nez Perce, Omaha (Idaho)
The Master Weaver in Native American weaving will offer youth instruction in identifying, harvesting, processing and preparing traditional weaving materials to be made into traditional woven bags which will be featured at the annual Lapwai humanities showcase night.
Round One
Ace Baker, Salish/Kootenai (Montana)
Inspired by traditional weaving with red cedar, the artist will purchase the equipment necessary to create online classes in weaving for members of the Swinomish tribal community. Instruction will include harvesting, prepping and creating from cedar.
Asa Leland Wright, Klamath (Portland, OR)
Funds will help launch a collaborative space for Indigenous artists that will eventually include membership opportunities for artists to have studio space and equipment, classes for all ages, gallery space, artist residencies, and outdoor residency trips.
Asia Tail, Cherokee (Tacoma, WA)
Funds will support the creation of a cascading bead curtain for the 2021 Bellwether arts festival in Bellevue, as well as a residency to explore the artist's Cherokee homelands, with a subsequent gathering of Cherokee artists in Seattle.
Beverly Owens, Alaska Native (Onalaska, WA)
In order to pass on traditional Native teachings and skills, the artist will use funds to help replenish the materials she needs to continue teaching classes in how to hunt, gather, grow, prepare and store foods, and how to tan hides, sew, and weave.
Carl Keys, Tsimishian (Port Angeles, WA)
After a year of isolation the artist, who uses traditional materials (bone, antler, stone), will use funds to attend Native arts shows and exhibits to increase awareness of his art, as well as to replenish carving materials and tools, and to create a portfolio.
Destiny Elliott, Hopland Band of Pomo Indians (Vancouver, WA)
The artist is a medicine woman who started a small business last year offering handcrafted items for healing. She plans to offer healing trainings to NAYA Youth Academy attendees, making items that will be gifted to other youth, parents, and the community.
Emily Foster, Quileute (Forks, WA)
To counter the physical isolation of the last year and resulting economic downturn, the artist will use funds to create an online retail store promoting and offering work by Native artists living on and near the Quileute Reservation.
Evan Benally Atwood, Diné (Portland, OR)
The artist will continue documenting the joy and resiliency of the Indigenous queer community through music and film. Funds will be used for editing, scoring and distribution of short films with an empowered representation of the Indigenous queer community.
Jessica Mehta, Cherokee (Hillsboro, OR)
The visual artist and writer will use funding to support the materials and transportation costs associated with several ongoing projects, including artist residencies and several installations scheduled in the coming year.
Kimberly Chase, Lummi (Blaine, WA)
Through the mediums of photography and mixed media collage, and by interviewing members of the Lummi Tribe, the artist will create an exhibit for the tribe and wider community celebrating the history and resiliency of the Lummi people.
Lukas Angus, Nez Perce (Portland, OR)
In order to build a secure food system and community, the project will include mentoring of new hunters and fishers; processing of all meat, fish, and hides; practicing of safety in the field and on the water, and the making of bows and hide tanning tools.
Margaret Reed, Tlingit (Portland, OR)
As a Chilkat and Ravenstail weaver, the artist will use funds to explore her creativity as an artist. She will also offer demonstrations and classes to the community, to ensure that her knowledge is passed to the next generation.
Monique Novelo-Lopez, Churracawa/mascalero Apache (Portland, OR)
The project will promote traditional foods and food sovereignty teachings by supplying community supported agriculture (CSA) boxes including organic food and herbs and proteins that are locally hunted, fished, or raised, and Zoom links to cooking classes.
Nicholas Jay Sullivan, Sr., Port Gamble S'Klallam (Kingston, WA)
To honor his ancestors and give back to his community, the artist will teach Coast Salish painting and carving to the next generation as well as create a piece to be gifted to one of the many new buildings in the community in which he lives.
Noah Hunt, Lumbee (Kennewick, WA)
The artist and music producer will use his knowledge of healing frequencies to produce a multi-track album of healing music to provide comfort, rejuvenation, wellness and wholeness to Native communities as they recover from the trauma of COVID-19.
Robin Pebeahsy, Yakama (Toppenish, WA)
The artist is a co-host of the podcast War Cry and plans additional podcasts in the coming year that bring Indigenous voices forward from reservation-based and urban communities, promote self-love and acceptance, and create hope and belonging.
Sarah Jones, Cowlitz (Tumwater, WA)
Working with public schools and the Cowlitz Tribe, the artist will create a culturally appropriate school mascot for the Cowlitz community, which will then be unveiled with a ceremony and blessing involving Tribal leaders and members of the community.
Sunmiet Maben, Confederated Tribes of Warm Springs (Madras, OR)
Following a year of COVID shutdowns, funding will help this Native American dancer and dance studio owner recover and continue to serve the children in her community with dance classes, including children from the nearby Warm Springs reservation.
Programs/Projects
Round Two
Crow Language Consortium (Montana)
Funds will help the organization continue to create Crow language (Apsáalooke) learning materials and programs, including an online translation dictionary in order to preserve the language for the next generation of learners.
Crow Nation Language Club(Montana)
Funds will support the work of this Crow-speaking women's organization as they provide cultural connections by reaching out to other women in the Billings area, documenting their conversations, and organizing meetings and social events.
Gathered In This Place (Washington, Oregon, Idaho and Montana)
Support and resources will be provided to the Two-Spirit/Indigiqueer community for the non-medical, gender-affirming care supplies important for affirming outward appearances for personal, safety, and mental health reasons.
Indigenous Showcase (Washington)
Funds will cover costs to complete the pilot episode of a planned eight-part documentary series about 2S/Indigiqueer people across the nation who are challenging gender norms.
Mopistun Four Directions (Washington and Montana)
The Indigenous Library Project will aid in the cultivation of Indigenous knowledge through a private communication and information technology platform providing a secure, searchable database and social network, beginning with the Blackfeet Nation.
Native Action Network (Washington)
As the organization celebrates its 20th anniversary, funds will be used to continue its mission of elevating and promoting Native women's full representation, participation and leadership in local, state, tribal and national affairs.
Peacekeeper Society (Washington, Oregon and Idaho)
The organization will continue its Emergency Response Program providing food and supplies across its three-state service area, as well as culturally responsive mental health support services focused on grief recovery, mentoring and community building.
Rocky Boy Veterans Center (Montana)
The Veterans Support Services Program creates individual case plans to help veterans achieve housing stability, find employment, and access healthcare and/or mental health services.
Salish School of Spokane (Spokane, WA)
Funds will help the school to provide full-time childcare, preschool and K-12 school, as well as evening and weekend parent language and cultural classes, and to increase its mental health support services.
Warrior Movement (Montana)
Funds will help the organization send a Native American youth basketball team to compete in the 2021 NABI Tournament in Arizona while also developing a group of students to serve as mentors and role models to help Native youth struggling with depression.
Round One
Boys and Girls Club of Lodge Grass (Lodge Grass, MT)
The program will hire youth leaders and mentors in order to build character and leadership and other skills needed for the outside world and to continue activities designed to build safe communities, such as cleaning up streets and parks and serving elders.
Butte Native Wellness Center (Butte, MT)
The Community Speaks Project will convene three focus groups in order to develop culturally specific language, encouragement and text messages for people affected by or at risk of death by suicide, as well as those experiencing grief due to loss.
Consultants for Indian Progress (Tacoma, WA)
Funds will support the general operations of this community-led coalition as it seeks to create better health for the community through activities that promote wellness, healing and justice, such as widespread urban farming to support food sovereignty.
Duwamish Tribal Services (Seattle, WA)
After a year of virtual programming, funding will help the organization with general operations as it begins to hold small in-person gatherings including one-on-one shares, talking/healing circles and culturally focused workshops.
Indigenous Beginnings (Arlington, WA)
Activities funded with this grant serving the Nooksack and Tulalip communities will include purchasing a cedar-carved canoe, holding outdoor and Zoom workshops by local artists, and hosting a vigil for those lost to overdoses from substance abuse.
Northwest Tribal Emergency Management Council (Snohomish, WA)
Funds will support the ongoing efforts of this organization including providing supplies to Tribal Nations experiencing high rates of COVID-19 and building out a permanent and sustainable supply chain for them to address any future emergency management crisis.
Research & Development Services of America Inc. (Neah Bay, WA)
This salmon recovery project will enhance salmon runs to benefit the Makah Tribe and will include consultation and review by a professional engineer, transportation, supplies, and the set-up costs for the gravel wash plant that is currently on site.
Tem Xwu lough First Foods and Families (Young Warrior Society) (Nespelem, WA)
The organization will promote food sovereignty through activities connecting youth and elders to hunt and gather traditional, seasonal foods; learn how to process and store them; and grow year-round food and medicinal plants in a greenhouse for the first time.
Tulalip Tribes, Community Health Department (Tulalip, WA)
The project will connect tribal youth and elders to share lived experiences, document oral histories, and celebrate resiliency, and will culminate in an Elder Resilience Banquet held on the Tulalip Reservation.
Upper Snake River Tribes Foundation (Boise, ID)
Funding will allow the foundation to complete the outreach for a vulnerability assessment for each of the four tribes it represents, which will identify which resources on their reservations are most at risk of damage or destruction from natural disasters.