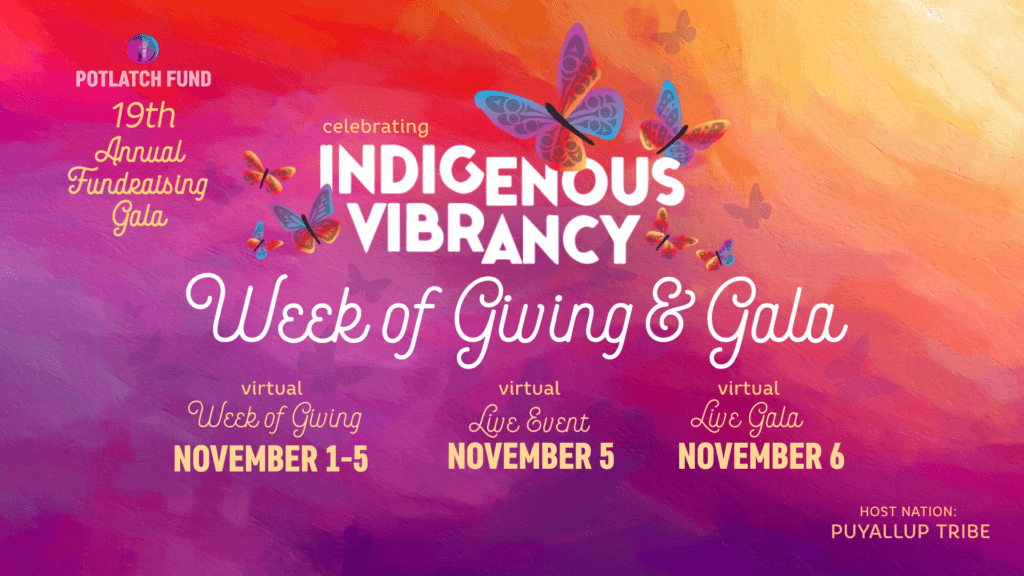 A WEEK OF GIVING & GALA EVENTS
MONDAY, NOVEMBER 1 – SATURDAY, NOVEMBER 6, 2021
Celebrating Indigenous Vibrancy
In a blaze of brilliance, butterflies bloom and pulse with life. So, too, do we emerge from a time of isolation, transformed and dazzling, to celebrate our Relatives, our communities and one another. With eyes on horizons and wings for today, we hear our Ancestors' voices and we dance. We are Indigenous. We are vibrant. We are thriving.
Join Potlatch Fund at Potlatch Fund's 19th Annual Fundraising Gala for a week of Giving & Gala Events celebrating Indigenous Vibrancy November 1-6, 2021.
Potlatch Fund will once again be holding our Annual Fundraising Gala as a virtual-only celebration. With a great deal of consideration, our board and staff recognize this as a way to continue to keep our communities safe while the pandemic is still with us. We thank our host nation, The Puyallup Tribe, for their support in this decision and their support of our event.
GALA AGENDA
Week of Giving & Gala Schedule
Join as we celebrate the beautiful vibrancy of our Native communities with an exciting Week of Giving as each day we share videos and host a virtual silent auction from Monday, November 1 – Friday, November 5. Then celebrate with us at our Live Gala Evening featuring our live program on Saturday, November 6 starting at 6PM. Meet our Spirit of Reciprocity awardees; enjoy traditional, cultural and contemporary performances and show your support during raise the paddle.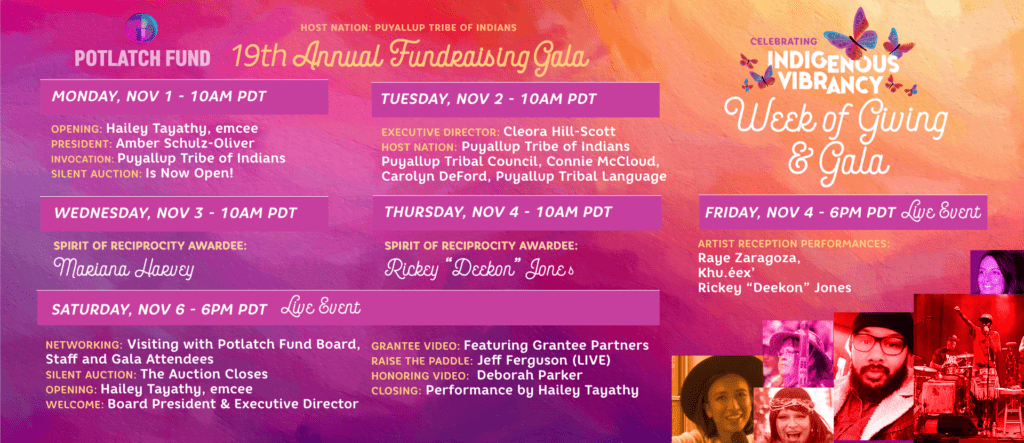 Together with our friends and relatives, we look forward to honoring Native perseverance, resilience, and vibrancy. We gather to be inspired by the stories of our grantee partners, who have cared for our elders and youth, honored our cultures, and offered their beauty to the world during a difficult time.
DONATE
Support Our Mission
This 19th annual event is an opportunity to be part of the important work Potlatch Fund undertakes in Native communities across Washington, Oregon, Idaho, and Montana.
We ask for your support as Potlatch Fund continues its 19-year legacy of bringing philanthropic funding to our Native communities, developing and empowering Native grassroots leadership, and supporting Native-led solutions.
All funds raised will help Potlatch Fund continue to offer vital support to Native communities as they continue to grapple with the challenges presented by COVID-19 and look to the future.
Potlatch Fund builds on the Native tradition of giving, measuring wealth not in possessions, but in generosity. With your generous help we honor, enrich and protect Tribal culture and traditions.
HOST NATION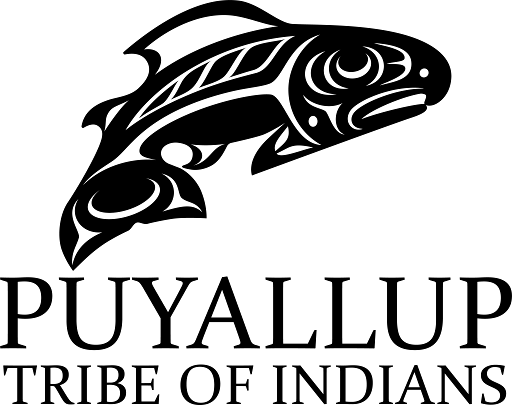 We are grateful to our host nation, the Puyallup Tribe of Indians. We are honored to have their members provide the invocation, cultural performances and several presentations throughout the week's events.
FEATURING
HONORING: Deborah Parker– We will be honoring Deborah Parker, an enrolled member of the Tulalip Tribe. Deborah Parker is a pillar of Indigenous leadership and activism about violence against Indigenous women. Born on the Tulalip Tribes of Washington reservation to the native name Tsi-Cy-Altsa, Parker was exposed from a young age to many of the problems facing the Native American community, including poor education, high unemployment, and violence against women. Through these lived and observed experiences from her community, Parker has developed an impassioned commitment to social justice and policy reform for Indigenous women in the Tulalip Tribes of Washington and across the United States.
SPIRIT OF RECIPROCITY
HONORING: Mariana Harvey– (More info coming).
HONORING: Rickey "Deekon" Jones–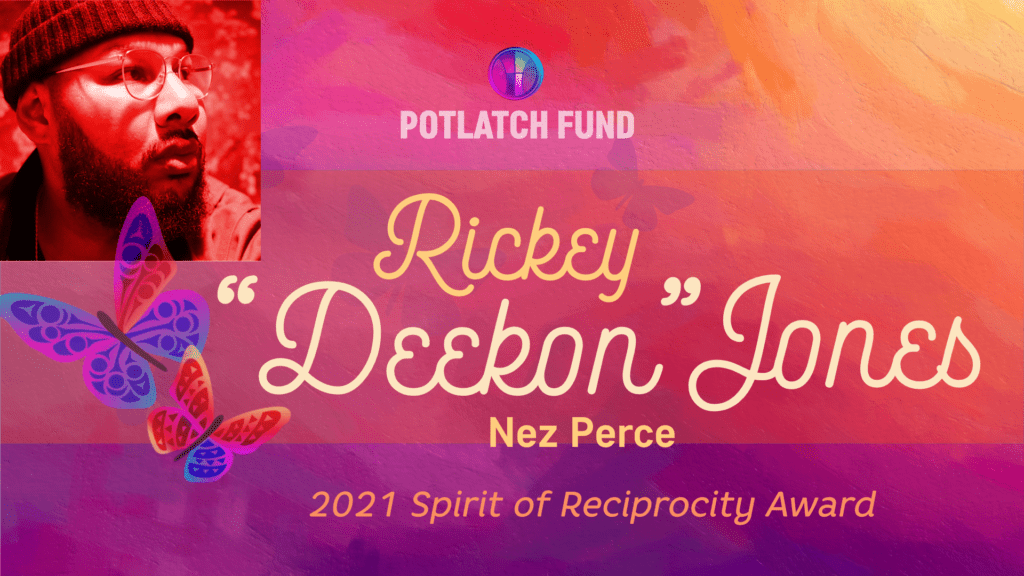 Potlatch Fund is pleased to announce Rickey "Deekon" Jones, a Nez Perce Tribal Member from
Lapwai, Idaho as one of our 2021 Spirit of Reciprocity Awardees.
As founder of New Developed Nations Deekon has created innovative programs that incorporate music as a form of therapy in a way that has never been utilized before. The music creation process allows young people to reflect on their experiences, learn about culture, focus on music and the human-centered approach to healing through music creation. Deekon has worked with inpatient treatment facilities to help lower recidivism rates, universities and high schools with remarkable outcomes.
The Spirit of Reciprocity Award was established to recognize leaders, who have demonstrated significant promise of leadership, participation, and accomplishment within Northwest urban Native & Tribal communities. Make sure to join us Thursday, November 4th to hear from Deekon, and please join us all week long.
Please read more about Deekon's incredible work here: https://www.potlatchfund.org/2021/10/rickey-deekon-jones-2021-spirit-of-reciprocity-awardee/
PERFORMANCES
PERFORMANCES BY:
Join Potlatch Fund in welcoming Raye Zaragoza, Khu.éex', and Hailey Tayathy at our 19th Annual Fundraising Gala for a week of Giving & Gala Events celebrating Indigenous Vibrancy.
Tune in to see Raye's performance – Nov. 5th at 6:00 pm 
Khu.éex' performance – Nov. 5th at 6:00 pm 
Hailey's performance – Nov. 6th at 6:00 pm 
ARTISTS RECEPTION PERFORMANCES
Potlatch Fund believes that Native Artists serve an intrinsic benefit to all communities. Native creative expression, whether traditional or contemporary, has always been an integral part of Indigenous life and is a key component of cultural identity and survival. If we accept this, then we must believe that art is fundamental to institutional change and that it can be a transformative path for social justice. Join us for a casual conversation featuring two wonderful Native artists as we discuss their work and how the practice of art-making contains a valuable social ecosystem grounded in "Indigenous Vibrancy"
VIRTUAL AMBASSADOR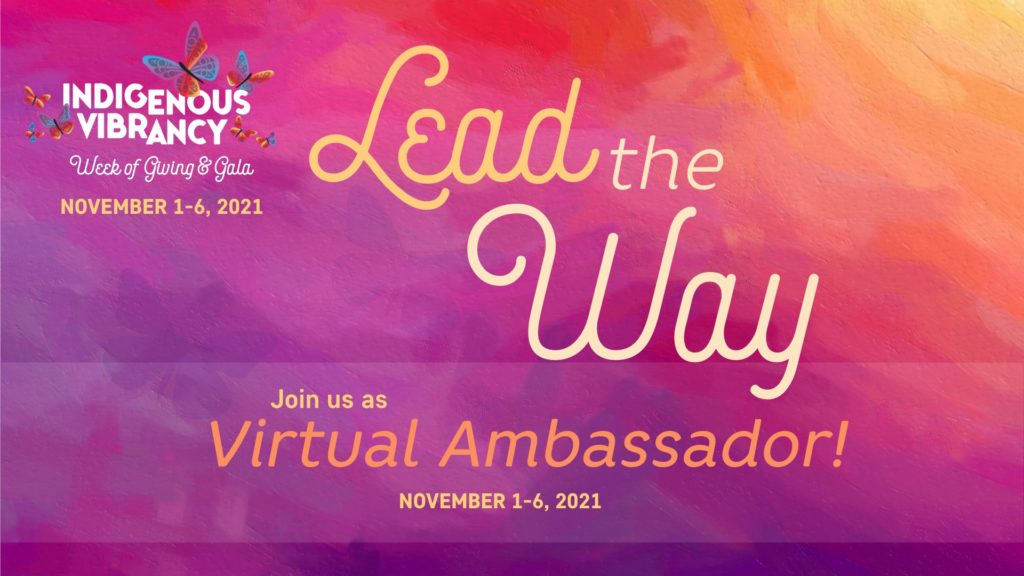 Help us reach our $200,000 goal by becoming a Potlatch Fund Gala Virtual Ambassador! All donations will help us continue to catalyze an economy of shared resources in the Spirit of our Ancestors. Ready to be a Virtual Ambassador? Fill out our form here. Check out more information in our toolkit here. If you have questions, please contact our event coordinator Alex at alex@nullgfsevents.org for more information. 
SPONSORS
Thunderbird
Eagle
Raven
Hummingbird
Community Partner
CONTACT US TO BE A SPONSOR OF THIS EVENT
The Annual Gala is Potlatch Fund's major fundraising event and brings together people from many different tribes, organizations, corporations, and communities. Please contact BRIAN TANNER to discuss sponsorship levels.
We invite you to be a sponsor of this exciting event. Please contact brian@nullpotlatchfund.org to learn more about sponsorship opportunities.
In Coast Salish tradition, we raise our hands to you in thanks and appreciation for your support of Potlatch Fund!
Le̓mlmtš (Thank you)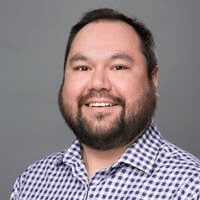 Brian Tanner, Salish/Cree (he/him)
Director of Philanthropic Partnerships
Sponsorship opportunities available
Call Brian Tanner, 206.518.4979, for details or email