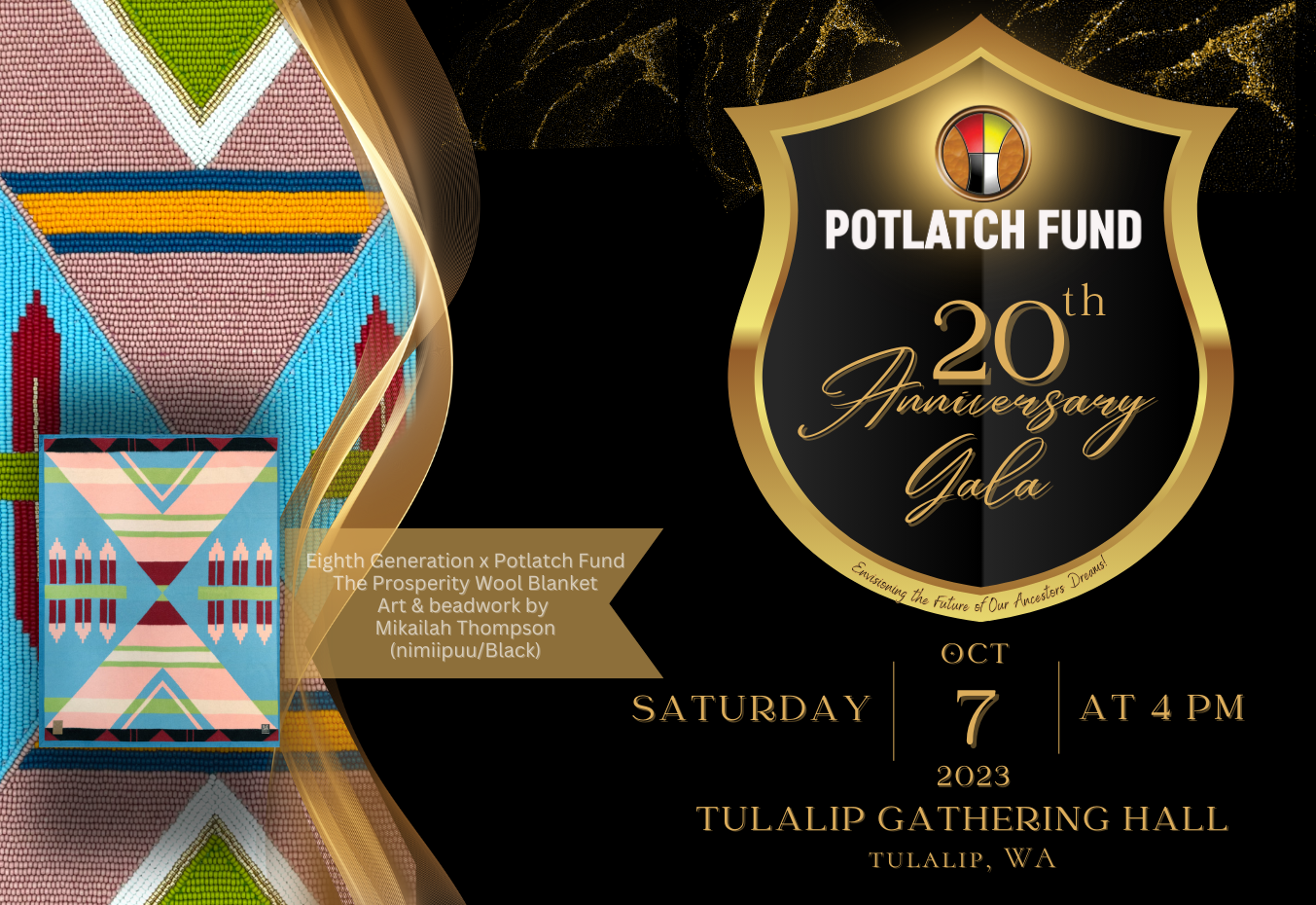 Celebrate the tradition of giving with Potlatch Fund at our 20th Anniversary Gala
Celebrate Potlatch Fund, the Community, Arts, and Culture. This is our main event of the year and we're excited to be back in-person with our relatives! Join us on the lands of the Tulalip Tribes to uplift the past 20 years of Potlatch Fund, working to support our relatives in art, capacity, nonprofits, and building community. We look forward to seeing you there in celebration of the next 20 years!
For sponsorship opportunities please email Brian Tanner, Director of Philanthropic Partnerships, at development@nullpotlatchfund.org. Click here for online sponsorship opportunities: 2023 Sponsorship Form Potlatch Fund Gala
Keynote Speaker & Performances
We are excited to announce our keynote speaker for our 20th Anniversary Gala, Jaci McCormack and our musical performers, Swil Kanim and Black Belt Eagle Scout along with more details about our 20th Anniversary Gala!

Jaci McCormack grew up on the Nez Perce Reservation outside of Lewiston, Idaho. She fell in love with basketball early on and earned a scholarship to play for Illinois State University, where her team competed in the 2005 NCAA Tournament. After her college career, Jaci was inspired to return home and give back to her community. She served as the Deputy Executive Director for the Nez Perce Tribe, as well as the Youth Prevention Director, building deep relationships with tribal and community partners.
In 2015, Jaci founded Rise Above, a non-profit organization that gives Native American youth the skills and resilience to overcome their circumstances and write their own futures. As the CEO of Rise Above, Jaci leads the organization in its mission to empower youth through a variety of programs including sports, education, financial literacy, prevention skills and mentorship, using prevention strategies that will spark change in people's lives. Learn more about Rise Above here.

Swil Kanim, US Army Veteran, classically trained violinist, native storyteller and actor, is a member of the Lummi Nation. Katherine "KP" Paul is a musician who releases music under the name of Black Belt Eagle Scout. KP is a Swinomish Tribal Member who grew up in the Swinomish Indian Tribal Community. Together, they will perform Black Belt Eagle Scout's song My Blood Runs Through This Land, meshing Swil Kanim's flowing violin work and KP's intensity-filled guitar lines.

Eighth Generation x Potlatch Fund Collaboration Blanket feat. grantee Mikailah Thompson 

Potlatch Fund worked together with Eighth Generation to have a 20th Anniversary Gala Blanket. We are excited to feature the beadwork of grantee Mikailah Thompson (nimiipuu/Black) for the blanket design. To Mikailah, beadwork has the power to tell a story of the artist from not only the materials used but also the stitching, how the piece was backed, edged, the direction the beads are going in, etc. What may be overlooked by some people may not be by others. She says, "Beadwork is typically passed down from one generation to the next, so I am very passionate and at many times a perfectionist about my work."
We are excited to lift up our grantee to this next level bringing her to a wider audience. Proceeds of the Eighth Generation collaboration blanket benefit Potlatch Fund and grantee Mikailah Thompson. Purchase the blanket from Eighth Generation here or choose to add onto your Gala Registration here.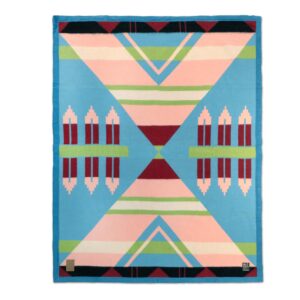 The Prosperity Wool Blanket
Designed by Potlatch Fund grantee, Mikailah Thompson (nimiipuu/Black), we are excited to include the blanket as an add on during our registration. Blankets purchased with a registration ticket can be picked up at the 20th Anniversary Gala.
Emceed by Unspoken Words Podcast

Unspoken Words is a podcast by Native American hosts Josiah Hugs (Apsaalooke), JC Beaumont (Apsaalooke/Nakoda) and Randy Bear Dont Walk (Apsaalooke). They discuss the issues of Indigenous peoples with insight, experience and humility. Covering a wide range of topics we hope to promote mental, emotional, physical and spiritual wellbriety with our traditional culture in a contemporary world.
Auction Item Request
Potlatch Fund believes that artists are essential as critical bearers of culture, bridge builders, and connectors to contemporary Native communities in reclaiming Indigenous values, stories, and wisdom. This 20th Anniversary Gala is an opportunity for Native artists to put forward their work and share cultural experiences to the larger community. In this event we are celebrating the spirit of reciprocity. It is our hope that you might be willing and able to support the Potlatch Fund fundraiser through a donation of art, items, experience, or whatever you think would fit to support our silent auction. We are lucky to have you in our community and would love to share your work with the world!
If you are able to donate, we are requesting donations by September 29th, to properly promote you, your work, and the event. Please send question to auction@nullpotlatchfund.org. Please fill out this online procurement form HERE.
20th Anniversary Gala – Hotel Block Information
If you are interested in lodging during our Gala, we have a hotel block at the Tulalip Casino Resort. Reservations for the hotel block are only available until September 22, 2023 and guests will only be able to book their reservation for October 6, 2023 and October 7, 2023.
More info can be found here.