The Potlatch Fund Board and Staff raise our hands to our sponsors, supporters, donors, guests, volunteers, and all those that embraced the spirit of Potlatch at our 18th Annual Virtual Gala this year. We also wish to express our deep gratitude and admiration to the gifted performers and presenters that made this virtual event truly magical. If you didn't get a chance to attend the event you can still participate by donating here: https://zurl.co/GEjp Also, stay tuned for information about an encore watch-party viewing event. #PF2020Gala #RezCarpet
Potlatch Fund and the community comes together virtually for a night of Indigenous Resilience; Colonial Resistance at the 2020 Potlatch Fund Annual Gala on Saturday, November 7, at 5:00 pm PST.
REGISTER TODAY FOR THIS FREE VIRTUAL EVENT.
(Sign up early to be entered into the Early Registration Raffle)
There is no cost to register.
ARTIST RECEPTION
During the 18th Annual Virtual Gala
Saturday, Nov 7th  6:00-7:00 pm
The Center of the Good: A Conversation with Artists
Potlatch Fund believes that Native Art serves an intrinsic benefit to all communities. Native creative expression, whether traditional or contemporary, has always been an integral part of Indigenous life and is a key component of cultural identity and survival. If we accept this, then we must believe that art is fundamental to institutional change and that it can be a transformative path for social justice. Join us for a casual conversation featuring two wonderful Native artists as we discuss their work and how the practice of art-making contains a valuable social ecosystem grounded in "Indigenous Resilience and Colonial Resistance."
Artist: Lauren Monroe Jr.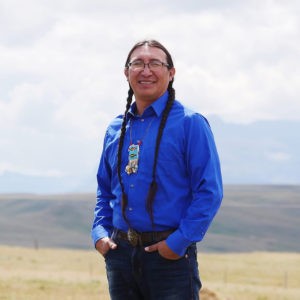 Lauren Monroe Jr. is a member of the Amksapii Pikanii (Blackfeet) Nation in Montana.  As a visual artist and filmmaker, Monroe is heavily influenced by the oral history and traditional life of the Blackfoot culture. A self-taught painter, his art reflects Blackfeet cultural motifs and imagery as well as his personal experience of living and growing up on the reservation. The abstract and surreal quality of his acrylic work creates a visual narrative with dream like qualities, which often leave the viewer in thought of the story behind them. He completed his Master of Fine Arts in screenwriting at the Institute of American Indian Arts.
"I want to keep parts of my own culture alive and let people know that we are still here, and are still making things, however small it may be," he says. Lauren hopes to also inspire young people to embrace their creativity even as they honor their traditions.
Monroe is involved in community leadership and service, social justice and advocacy, cultural events, ceremonies, and community initiatives and research in Amskapi Piikani. He has received multiple grants and awards for film work, including a MacArthur Short Film Fund Initiative and a Time-Warner Producer Fellowship from Sundance Film Institute.
Artist: Denise Emerson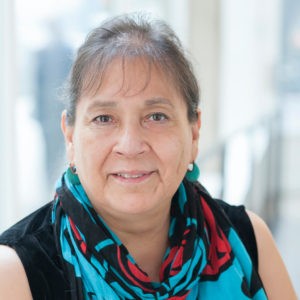 Denise Emerson was born in Shelton, Washington as the eldest daughter of Bertha Allen who was an enrolled Twana (Skokomish) Tribal Member and Danny Emerson, Sr. who was an enrolled Diné (Navajo) Tribal Member from Sanostee, New Mexico. Bertha and Danny met when attending Chemawa Indian Boarding School in Salem, Oregon. After graduating from the boarding school, they married and raised their five children in Seattle, Washington. During her childhood she watched her parents be creative in different ways. Her father oil painted and sketched while her mother sewed and beaded during her free time.
Says Emerson, "I believe I inherited both of my parent's artistic talents and skills. As I watched them in awe creating with their own hands, I wanted to be like them. My sketchbook went with me everywhere, including when I visited my aunt on the Skokomish reservation. I sketched during the drive to and from the reservation, and whenever my creative energy pushed me to draw. During my teenage years I began painting with acrylics, beading, and sewing, expanding my artistic talents, and later studied graphic design at UW to bring design training to my work. Now I use Excel to design every piece with the family aesthetic in heart and mind."
In addition to her beadwork and painting, Emerson has received public art commissions from the Seattle Office of Arts & Culture and the Pioneer Square Residents' Council. She also curated an exhibit of work by Coast Salish women for yәhaw̓ at Seattle Public Library in 2018.
Moderator: Fox Spears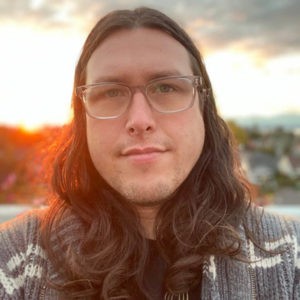 Fox Spears is a lifelong resident of the Seattle area and an enrolled member of the Karuk Tribe (of California). His art practice includes printmaking, painting, and mixed media work. He earned a Bachelor of Fine Arts in Design from Cornish College of the Arts, and has been developing and refining his monotype printmaking processes for the last decade through regular visits to Crow's Shadow Institute of the Arts.
Spears has received support and recognition from a variety of organizations that include the National Museum of the American Indian, the Evergreen Longhouse, First Peoples Fund, and Potlatch Fund. His work is included in the collections of the Burke Museum, Wells Fargo, and the City of Bellevue.