New Prosperity Wool Blanket designed with Eighth Generation and grantee Mikailah Thompson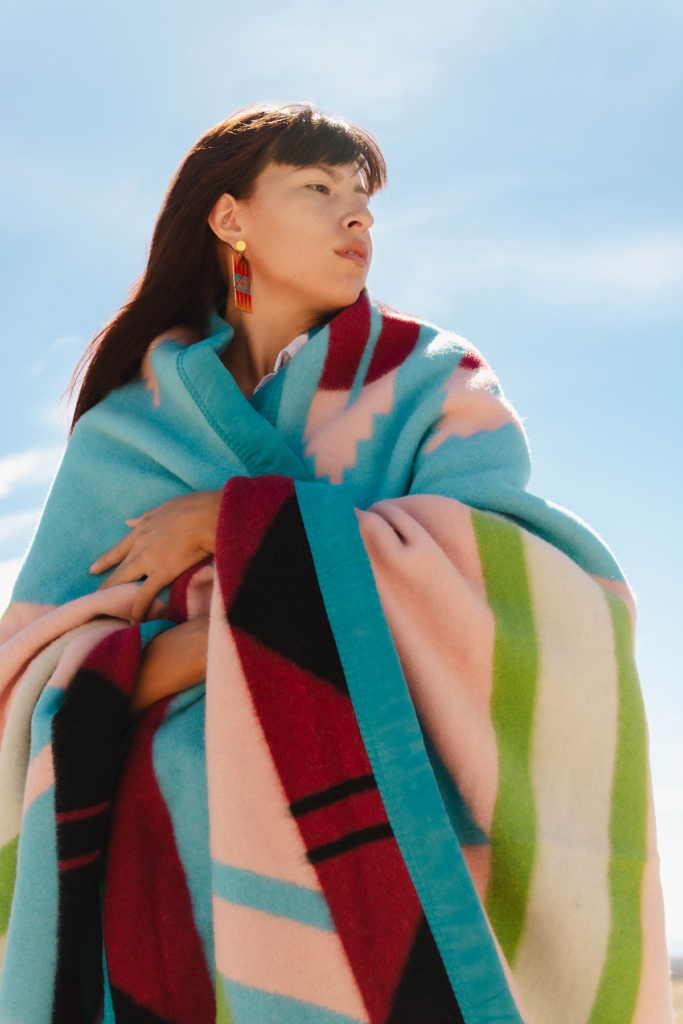 Blue for our homeland's rivers. Red for the blood of our warriors. Old-style pink that was traditionally only acquired through trade with neighboring tribes. nimíipuu (Nez Perce) artist Mikailah Thompson chose the colors of our new Prosperity Wool Blanket based on traditional nimíipuu beadwork, while creating a blanket that honors the incredible 20 years of important work and giving that the Potlatch Fund has done and continues to do today.
Since 2002, Potlatch Fund has provided grants and leadership development to tribal nations in Washington, Oregon, Idaho, and Montana, granting over $5 million in support to Indian Country. While Native American communities receive less than half of one percent of philanthropic dollars in the United States, Potlatch Fund works to connect the Northwest's Native communities to nonprofits, grant opportunities, and funding resources that address issues of poverty, unemployment, and healthcare. In this way, Potlatch Fund helps Native communities thrive so that they can continue to pass on culture, traditions, and values to the next generations of Native leaders, thinkers, and community members.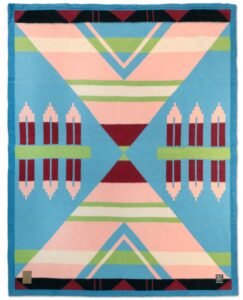 The design of Prosperity Wool Blanket is based on a large-scale beaded canvas that Mikailah created. The colors of her original beaded piece as well as this blanket were very specifically chosen. "Colors have always held a strong meaning to the nimíipuu people based on location and availability during trade in the nineteenth century," shares Mikailah. "Many of the colors found in this blanket are the bead colors nimíipuu artists first had access to when we began beading."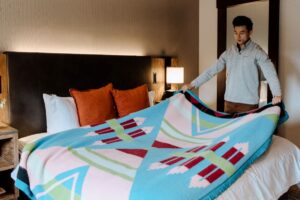 We are excited to offer the blanket with our registration to our 20th Anniversary Gala – Envisioning the future of our ancestor's dreams! You can register and get the blanket here. 
Follow the amazingly talented Mikailah Thompson on Instagram, get the Prosperity Wool Blanket direct on the Eighth Generation website here!
20th Anniversary Gala – Hotel Block Information
If you are interested in lodging during our Gala, we have a hotel block at the Tulalip Casino Resort. Reservations for the hotel block are only available until September 22, 2023 and guests will only be able to book their reservation for October 6, 2023 and October 7, 2023.
More info can be found here.