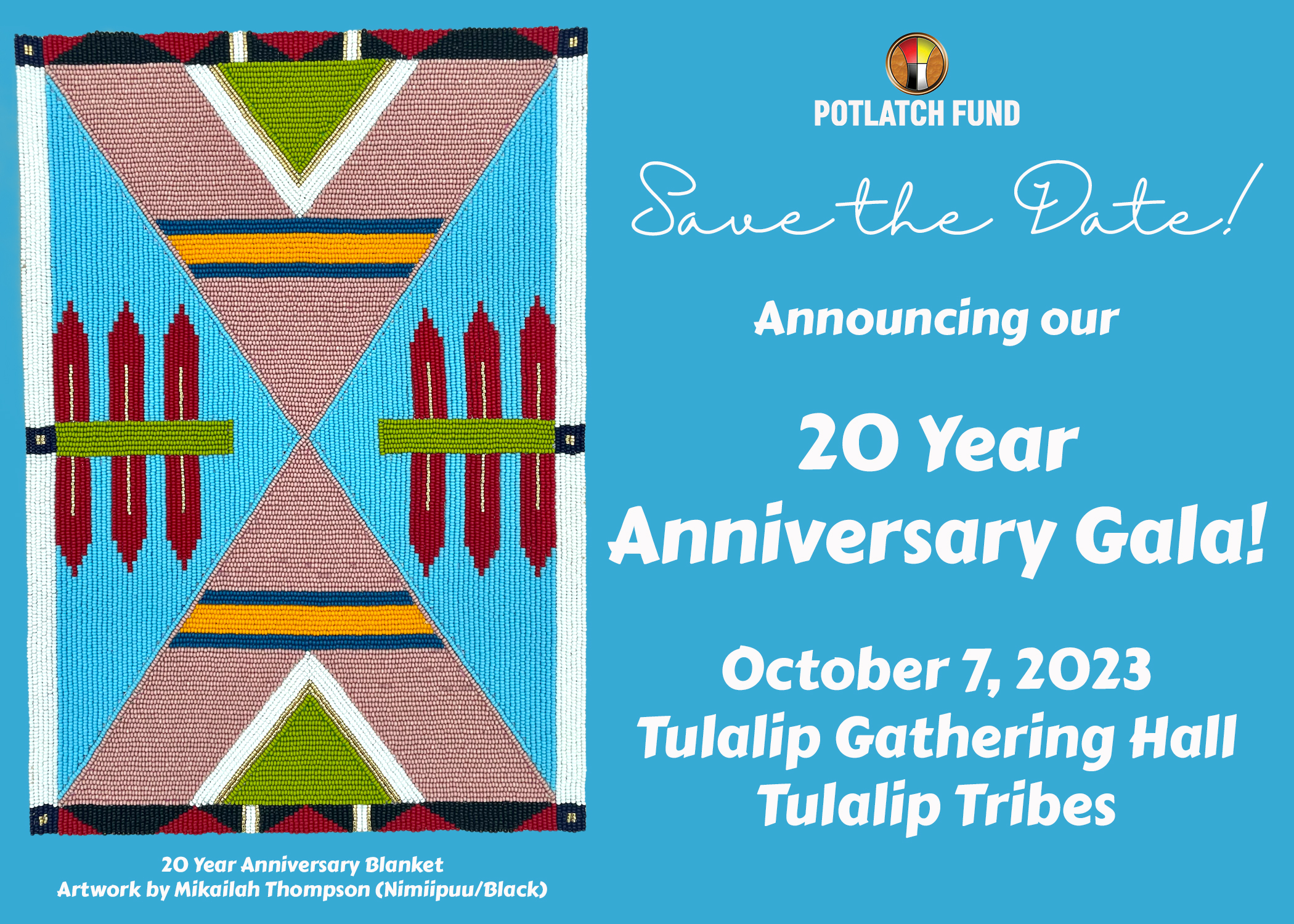 Celebrate the tradition of giving with Potlatch Fund at our 20th Anniversary Gala
When: October 7, 2023
Where: Tulalip Gathering Hall
Celebrate Potlatch Fund, the Community, Arts, and Culture. This is our main event of the year and we're excited to be back in-person with our relatives! Join us on the lands of the Tulalip Tribes to uplift the past 20 years of Potlatch Fund, working to support our relatives in art, capacity, nonprofits, and building community. We look forward to seeing you there in celebration of the next 20 years!
 
For sponsorship opportunities please email Brian Tanner, Director of Philanthropic Partnerships, at development@nullpotlatchfund.org. You can also click the link below for online sponsorships.
2023 Sponsorship Form Potlatch Fund Gala
Announcing Potlatch Fund x Eighth Generation Collaboration Blanket
Potlatch Fund worked together with Eighth Generation to have a 20th Anniversary Gala Blanket. We are excited to feature the beadwork of grantee Mikailah Thompson (nimiipuu/Black) for the blanket design.
To Mikailah, beadwork has the power to tell a story of the artist from not only the materials used but also the stitching, how the piece was backed, edged, the direction the beads are going in, etc. What may be overlooked by some people may not be by others. She says, "Beadwork is typically passed down from one generation to the next, so I am very passionate and at many times a perfectionist about my work."
We are excited to lift up our grantee to this next level bringing her to a wider audience. Proceeds of the Eighth Generation collaboration blanket benefit Potlatch Fund and grantee Mikailah Thompson.