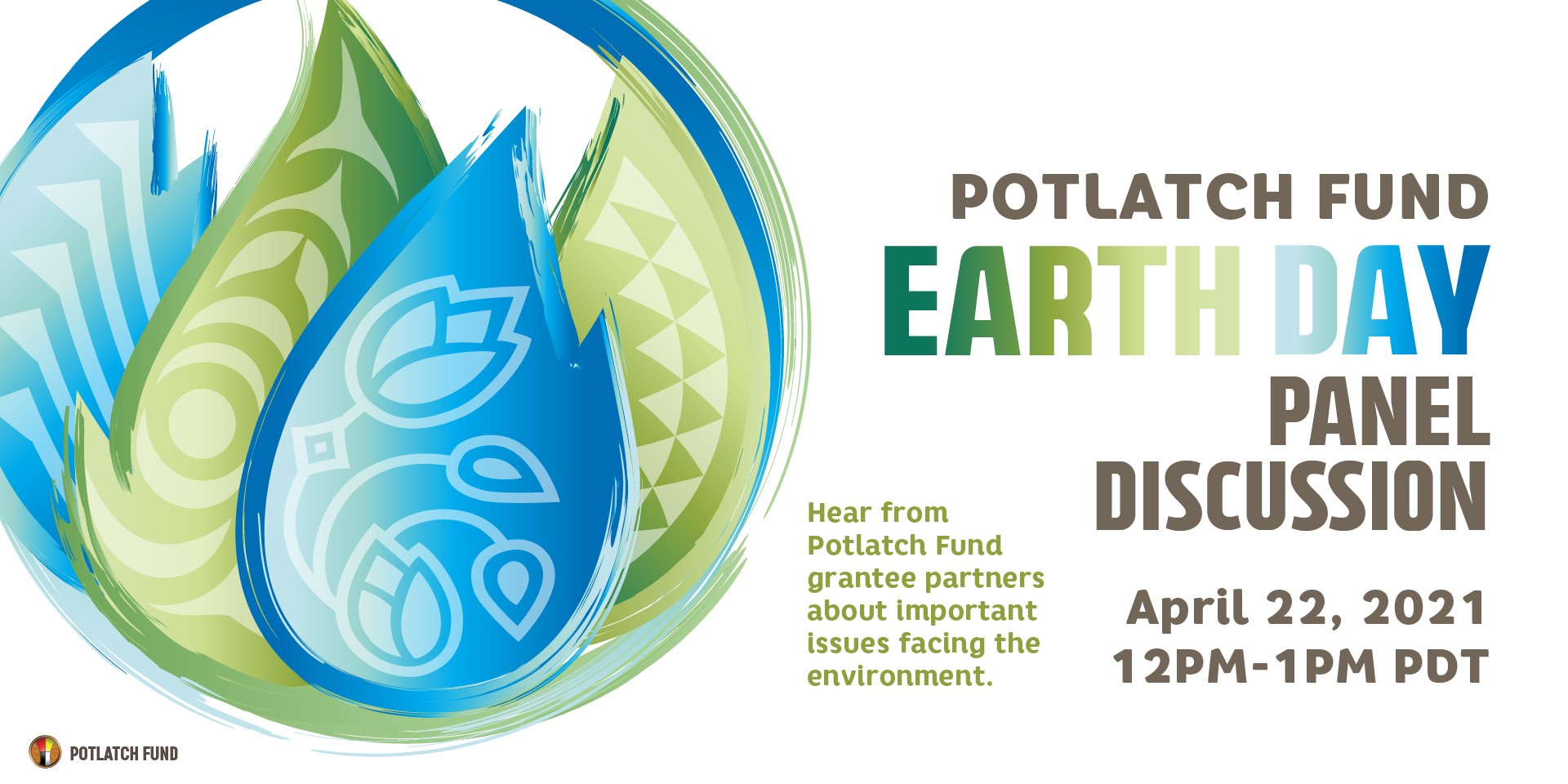 Description: On Earth Day 2021 Potlatch Fund will host a panel discussion about critical environmental issues facing Indigenous communities. The conversation will center on what we can do in our communities to help protect and heal our relationships to the earth. The panel will include Potlatch Fund grantee partners from our four-state service area, Washington, Oregon, Idaho and Montana. The event will be moderated by Pah-tu Pitt and take place during the lunch hour on Thursday, April 22, 12pm-1pm PST on Zoom/Facebook Live.
PANELISTS:
Lower Elwha Klallam Tribe
Nimiipuu Protecting the Environment: Julian Matthews (Nez Perce) and Lucinda Simpson (Nooksack/Nez Perce).
Na'ah Illahee Fund: Susan Balbas (Cherokee/Yaqui)
Yellow Bird Lifeways: Lynette Two Bulls (Oglala Lakota)
(Others to be announced.)
Time/Location: Thursday, April 22, 12pm PST, Zoom / FB Live
Registration Link: https://potlatchfund.networkforgood.com/events/29028-potlatch-fund-earth-day-panel-discussion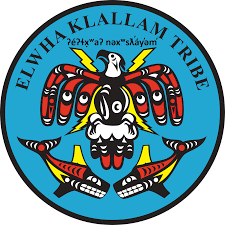 Lower Elwha Klallam Tribe
The Lower Elwha Klallam Tribe resides in the Lower Elwha River Valley and adjacent bluffs on the north coast of the Olympic Peninsula just west of Port Angeles, Washington. As recognized by the United States in 1855's Treaty of Point No Point, the Tribe has lived in this area since time immemorial.
The Tribe is a major collaborator in the restoration of the Elwha River ecosystem. After decades of advocacy led by the Lower Elwha Tribe two dams were removed in 2011 and 2014.
The Tribe's current landbase was initially acquired by the United States in trust for the Tribe in 1935-36 and these lands were proclaimed as the Lower Elwha Reservation in 1968. Today tribal lands include about 1,000 acres on and near the Elwha River.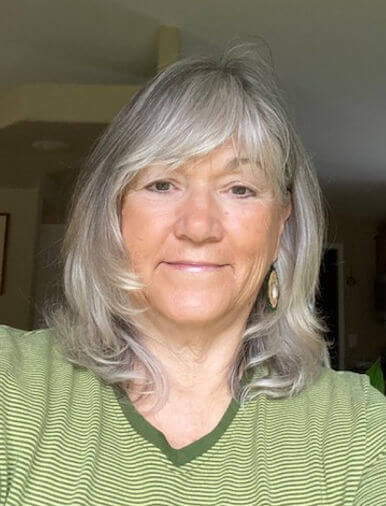 Susan Balbas, Na'ah Illahee Fund
Co-founder and Executive Director of Na'ah Illahee Fund, Susan Balbas has been an independent consultant working with tribes, artists and nonprofit organizations. Her past prior experience includes outreach director at the Western Water Alliance in Seattle where she was the primary researcher on water and related environmental issues. Balbas currently serves on the boards of Front & Centered, Washington Progress Alliance and the Potlatch Fund in Seattle.
Balbas holds a Bachelor of Business Administration and a Master of Science in Teaching and carries valuable expertise in all levels of nonprofit operations and management. She was a national training and technical assistance specialist for multiple tribal youth programs for the U.S. Department of Justice's Tribal Youth Programs through Education Development Center. Balbas' experience includes chief development officer at United Indians of All Tribes Foundation in Seattle, development and donor education coordinator at Changemakers Foundation in San Francisco, executive director at the NAYA Youth and Family Center in Portland.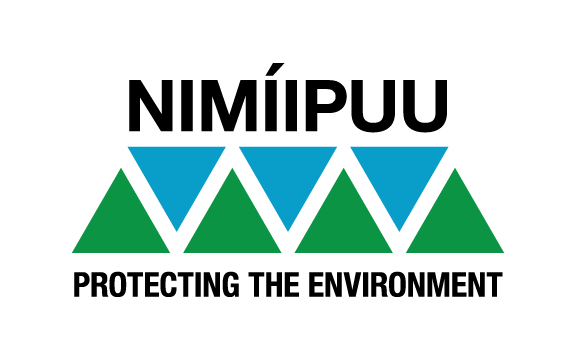 Nimiipuu Protecting the Environment, Lapwai, ID
Nimiipuu is the English translation for "the people" which is one amongst many names the Nez Perce call ourselves. Nimiipuu Protecting the Environment is committed to protecting  Tribal Treaty rights within our original ceded area and usual and accustomed places.
Our commitment to protecting the environment brought us together. We began organizing a number of years ago as a volunteer group concerned about protecting our traditional rights and lands. Then, after the Exxon Mobil Megaloads protests by our tribal members in 2013, we began to meet on a regular basis.
By networking with some First Nations friends near the Tar Sands, we had the opportunity to meet and receive financial support from the Seventh Generation Fund. With their seed funding, we began working on ways to educate and inform our tribal membership about the Tar Sands and other areas at risk. We meet regularly, organize activities and events on the reservation, and offer public interest group activities at area colleges/universities.​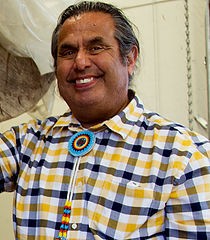 Julian Matthews
Board Member and Coordinator, Nimiipuu Protecting the Environment

Julian Matthews Enrolled Nez Perce has been actively involved in Environmental issues for the last 20 years primarily in response to threats made on or near the Treaty of 1855 and usual and accustomed areas. These areas are guaranteed to the Nimiipuu with the signing of the 1855 Treaty and in many instances, the federal, state or local governments or private interests interpret these rights quite differently than do the Nez Perce people.
Julian is committed to ensuring that the Treaty Rights to hunt, fish and gather are kept and protected for those who come after us as the Treaty of 1855 signers protected these rights for us to this day. His main goal is to ensure that Tribal youth and adults are educated and have good knowledge of issues affecting our people and also making sure that we (the Nimiipuu) take an active role in protecting our Treaty rights.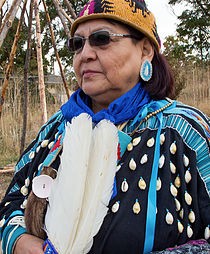 Lucinda Simpson
Board Member, Nimiipuu Protecting the Environment
Lucinda was raised on the Nez Perce Colville Reservation. Her mother, Edith William George was a full-blooded descendant of Chief Joseph Wallowa band of Nez Perce. Although Lucinda is retired today from an influential career in law enforcement, she has been an active and respected community member continually working to make her community stronger. Dr. Carolyn James documented her story in "Nez Perce Women in Transition, 1877-1990."
Lucinda worked for Indian Education in the Lewiston School as the first pre-school teacher for native students. She worked as a police officer and earned the rank of Sergeant while working for the Wenatchee, WA Police Department. She then returned to school and finished her bachelors' degree in Criminal Justice before going back into law enforcement in the city of Orofino on the Nez Perce Reservation. Lucinda worked as a therapist for the Mounted Scholars Program, and continued her work in law enforcement. She helped the tribe transition for the first time from Bureau of Indian Affairs police jurisdiction to a tribal police force.

Yellow Bird Lifeways
Yellow Bird is a non-profit organization, founded by Phillip Whiteman Jr. Northern Cheyenne Traditional Chief and Lynette Two Bulls, Oglala Lakota who is also the Executive Director. We are located on the beautiful Northern Cheyenne Homelands in Southeastern Montana. At the core of our organization are the youth and elders. These two age groups are crucial because they represent the future and the wisdom needed to carry on. We are comprised of a youth and elder advisory council and depend on volunteers for our programs.
We were honored to be an affiliate of Seventh Generation Fund for Indigenous Peoples, for ten years who provided technical support and fiscal management. Now, Yellow Bird its own 501c3  Non Profit Organization, continues to expand, grow and continues to deeply impact the community.
Yellow Bird was founded on the traditional principals of "reciprocity" and "giving back" to our community. Our original programming the Annual Fort Robinson Outbreak Spiritual 400 mile Run has become a venue for addressing historical trauma, wellness and youth leadership. Now, after 20 years of youth programming; Yellow Bird has grown to include Youth Leadership & Empowerment, Arts & Culture, Food Sovereignty, Wellness, Social Justice, Environmental Justice, and Community Empowerment and Development.
Event Name Change Note: Our planning team at Potlatch Fund has internally recognized that using the words "brown bag" in the original name of the event is offensive, harmful and anti-black. We removed the name from social media and other content in order to not cause any more harm. We deeply apologize to anyone we caused harm to in the use of this term. As an Indigenous-led organization, we stand in solidarity with the Black community and are recommitting ourselves to liberatory work through our internal communication processes.