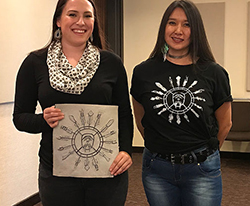 Grantmaking: Native Arts
Potlatch Fund believes that the arts serve an intrinsic benefit to Native communities. The status of art and the practice of art making are tied to a broader social ecosystem that improves the health of our society. Native art has always been integral to every aspect of tribal life. In tribal culture, art is not separate from everyday life, but rather art is the center. Everyday objects and tools are decorated beautifully with designs that perpetuate Tribal identity, culture, and knowledge.

Funding priority will be given to both traditional and contemporary projects working to strengthen Native art forms, practices, and knowledge that develop a stronger sense of identity and livability of the community. Projects or practices should utilize the cultural richness within a community. This grant supports artists and arts organizations in the pursuit of building, enhancing, or expanding their artistic practice and/or community.
NOTICE: This grant program is on hold in lieu of emergency Covid-19 grants.
(Go here to learn about Potlatch Fund's new Resiliency Fund – applications open June 21, 2021.)
Join our email list and follow our social feeds for updates.

---
Funding
Grants will be awarded in amounts up to $10,000.
This grant cycle is for both project and general support.
Potlatch Fund will provide up to 50% of total project expenses. Example: A grant request of $5,000 must coincide with a project budget of $10,000 or more. Grantees are allowed and encouraged to consider in-kind donations of volunteer time, materials and/or supplies. To estimate the standardized per-hour dollar value of volunteer time that may be reflected in your project budget, please see:
https://www.independentsector.org/volunteer_time
Applicants may only receive funding for one Potlatch Fund grant per calendar year.
Learn more about the types of projects / programs Potlatch Fund has funded through the Native Arts Grant Cycle.
Applicants must be headquartered, and provide services, in: Idaho, Montana, Oregon, or Washington.
Goals
Promote and preserve the identity of Native cultures through artistic expression.
Promote the continuation of Native art through traditional and/or contemporary forms and practices.
Promote the growth of artistic practice through individual and collaborative projects.
Potlatch Fund's mission is to expand philanthropy within Tribal Nations and Native Communities in the Northwest by inspiring and building upon the Native tradition of giving. We support organizations that are aligned with our mission. How does the applicant honor the Native tradition of giving, sharing, and reciprocity by giving back to the community?
Successful Applications will Demonstrate
The applicant's ability to increase the visibility of art in public spaces and/or Native communities.
How the proposed work changes or impacts their community.
The applicant's ability to contribute to the overall success of a Native Arts cohort (offered by Potlatch Fund to complement the grant program). The cohort will provide up to 75 hours of direct training and technical assistance over 10 months in topic areas related to increasing the capacity of Native artist-owned small businesses. Learn more here.
The applicant's ability to access resources (e.g., monetary funds from other partners, volunteers, in-kind donations) from other sources.
The applicant's ability to carry out the proposed work (e.g., adequate staff and/or volunteers, partnerships, etc.).
Grantees will be requested to collect and provide data related to the:
Amount and types of resources raised to meet the 1:1 match requirement to support this project/program from sources other than Potlatch Fund.
Number of youth, adults, and Elders / culture keepers served.
Number of artists directly involved.
Number of community members and/or new artists as engaged primary audience: art apprentices, workshop participants, those participating in hands-on learning about and creating Native arts.
Number of community members as secondary audience: those attending art exhibits, artist talks, etc.
In addition, grantees will be requested to:
Collect, and report back on, a self-determined quantitative method of measuring the success of the project overall.
Tell the story (through videos, photos and/or written narrative) of how the grant helped meet the stated goals listed above.
Preview the Final Report
Please note, funding is limited to our service area: Idaho, Montana, Oregon, and Washington.
---
Potlatch Fund is proud to support the Native Arts in Northwest Indian Country. Here is how you can help.
Read More
Funding Native Arts: Empowering the Center of Tribal Life [pdf]
Grantee Section
Preparing for the application
Potlatch Fund's Online Grant Portal
Journey to Successful Fundraising