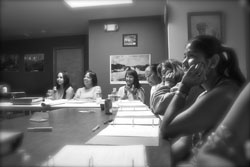 Native Student Success Grant Cycle
Native students are our community's most valuable asset as they will become our future leaders who will guide us toward a future of sustainability, sovereignty, and preservation of all Native communities. Potlatch Fund's vision is that all Native students have access to meaningful education that provides them with the opportunity to reach their full potential and realize their goals. In addition to the standard markers of educational success, Potlatch Fund believes it is vital that Native Students are well versed in their culture, identity, and Tribal sovereignty. This grant promotes opportunities to empower a student through self-directed learning and educational pathways that increase a broader understanding of their role as Indigenous leaders and capable individual community representatives.
NOTICE: This grant program is on hold in lieu of emergency Covid-19 grants.
(Go here to learn about Potlatch Fund's new Resiliency Fund – applications open June 21, 2021.)
Join our email list and follow our social feeds for updates.

---
Funding
Grants will be awarded in amounts up to $10,000.
This grant cycle is only for project/program support.
Funding for general operations is NOT available.
Potlatch Fund will provide up to 50% of total operational expenses. Example: A grant request of $10,000 must coincide with an organizational budget of $20,000 or more. Grantees are allowed and encouraged to consider in-kind donations of volunteer time, materials and/or supplies. To estimate the standardized per-hour dollar value of volunteer time that may be reflected in your project budget, please see:
https://www.independentsector.org/volunteer_time
Applicants may only receive funding for one Potlatch Fund grant per calendar year.
Applicants must be headquartered, and provide services, in: Idaho, Montana, Oregon, or Washington.
Goals
Provide culturally focused curriculum and instruction with an aim towards strengthening the learning and academic success of Native students. Examples include, but are NOT limited to:
  • development and implementation of Since Time Immemorial (WA), Indian Education for All (MT), and Tribal Histories and Sovereignty (OR).
  • teacher training for curriculum development and/or educating Native students.
  • in-school support.
  • after school programming.
Create more equitable learning by removing barriers faced by Native students. Examples include, but are NOT limited to:
  • inclusion of extended family, culture, and language.
  • advocacy and policy change.
  • improving school climate.
  • Tribally controlled schools.
Empower and support Native students. Examples include, but are NOT limited to:
  • self-directed learning.
  • educational pathways.
  • leadership development.
Potlatch Fund's mission is to expand philanthropy within Tribal Nations and Native Communities in the Northwest by inspiring and building upon the Native tradition of giving. We support organizations that are aligned with our mission. How does the applicant honor the Native tradition of giving, sharing, and reciprocity by giving back to the community?
Successful Applications will Demonstrate
How the proposed work will prepare Native students to be engaged and well-informed citizens of their community and the larger society.
How the proposed work will increase Native students' understanding of Tribal/Indigenous sovereignty and its importance to the future and sustainability of Tribal/Indigenous governments.
The applicant's ability to access resources (e.g., monetary funds from other partners, volunteers, in-kind donations) from other sources.
The applicant's ability to carry out the proposed work (e.g., adequate staff and/or volunteers, partnerships, etc.).
Grantees will be requested to collect and provide data related to the
Amount and types of resources raised to meet the 1:1 match requirement to support this project/program from sources other than Potlatch Fund.
Number of youth and community members served.
In addition, grantees will be requested to
Collect, and report back on, a self-determined quantitative method of assessing the success of the project/program.
Tell the story (through videos, photos and/or written narrative) of how you helped Native students meet the goals of this grant program.
Preview the Final Report
2019 Native Student Success Final Report [Adobe PDF].
Please note, funding is limited to our service area: Idaho, Montana, Oregon, and Washington.
---
Grantee Section
  Final Report Requirement

  Preparing for the application
  Potlatch Fund's Online Grant Portal
  Journey to Successful Fundraising