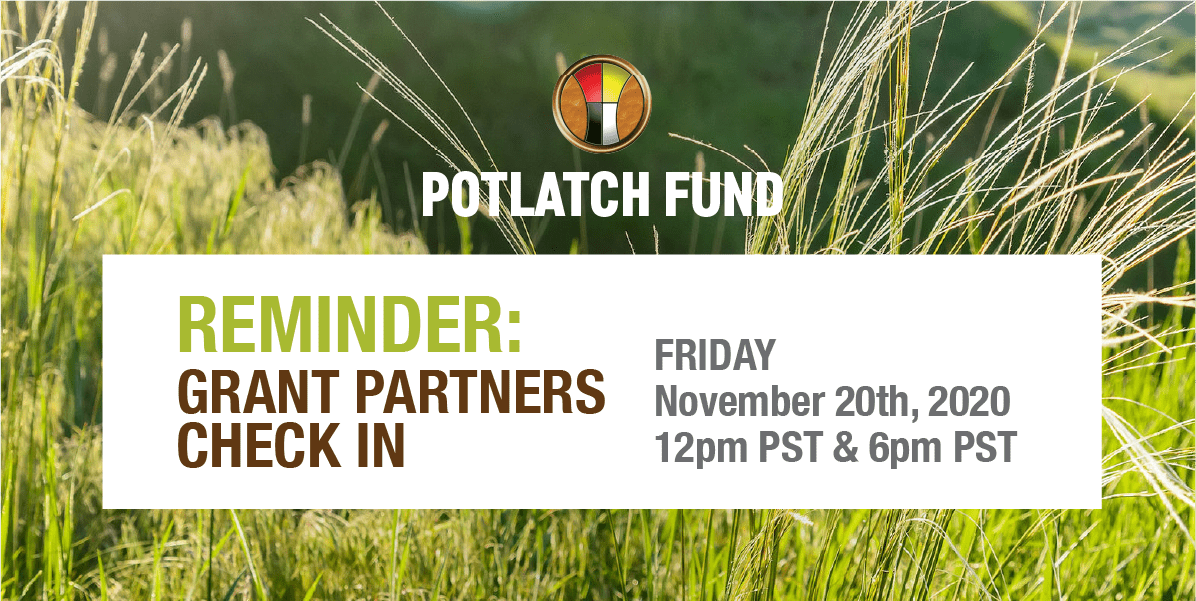 We are reaching out to  invite grant recipient partners to support our efforts to ensure that Potlatch Fund is staying connected and informed about the needs in our Northwest Native Communities. The next few months will be critical as we approach colder seasons and we anticipate the COVID-19 pandemic to continue well into 2021.
Check your email for the meeting link.
Please Join Us!
Date: Friday, November 20th, 2020
12:00 PM (PST)
Add to Calendar
6:00 PM (PST)
Add to Calendar
Over this past year we have been responding to COVID-19 by stepping up our grantmaking support of Tribal departments, Native nonprofit organizations, and Native Artists – all of which are crucial to maintaining our way of life. We are now in our fourth round of funding and seek your input. Please join us in one of two opportunities (see above) to come together to discuss supporting our communities in Northwest Indian Country in the best way possible during the ongoing crisis.
Thank you for your partnership and we look forward connecting soon and continuing to serve you.
Stay Well,
Cleora Hill-Scott "Bassáa Itchish", Crow/Sioux/Pawnee (she/her)
Executive Director
Potlatch Fund
801 2nd Avenue, Suite 304
(C) 206-637-3467
Get Social with Us!Website |Facebook| Twitter |Instagram
Invest in Northwest Native communities by donating today!