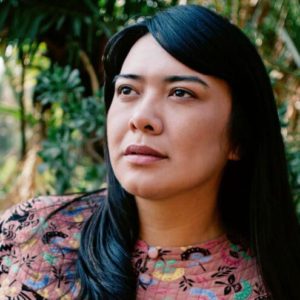 Katherine Paul, or KP, joins Potlatch Fund as our interim Relationship Manager. KP grew up on the Swinomish Reservation here in Washington and attended Lewis & Clark College in Portland, Ore., where she received her bachelor's degree in sociology and anthropology.
For most of her life, KP has been involved in music in one way or another. She attended the Rock 'n' Roll Camp for Girls in Portland as a teenager and later became the first camper to become a member of its board of directors and board chair. She is an accomplished musician and songwriter with two full-length albums to her credit, and she gained experience in various event planning, fundraising, customer service and promotional positions while working for the camp and for Mississippi Studios, also in Portland. We hope you will enjoy getting to know KP a bit better through the following article as we get to know her better, both as a friend of Potlatch Fund and a colleague.
Meet Katherine Paul
When Katherine Paul—or KP, as she prefers to be known—was growing up on the Swinomish Indian Reservation in the northern Salish Sea, her dad used to sing her Coast Salish lullabies. These lullabies and melodies became the foundation of the music she grew up with and a vital link to both her family and culture.
They also instilled a love of music in her that followed her into adulthood and shaped much of her life. Before she left home to earn her bachelor's degree in sociology and anthropology at Lewis & Clark College in Portland, Ore., she became increasingly aware of the rich music tapestry of the Pacific Northwest.
"Washington has such an interesting history with music—with grunge music, riot grrrl music—music in Seattle, music in Olympia," says KP. "All up and down I-5, there's music going on. I started hearing about it because it was part of the culture, and I started thinking, 'What is this music? I'm interested.'"
It's understandable why she was predisposed to notice the cultural significance of the music around her. Her parents, Kevin and Pat Paul, were—and still are—a tribal senator and an attorney, respectively. They raised her in a "very traditional Coast Salish way," according to KP, while also encouraging her curiosity about the world.
Though a practicing attorney, her mother was also an anthropologist who studied Indigenous communities, her own and others, and traveled to participate in conferences around the world, often taking KP with her. Together, they traveled to Guatemala, Brazil, and Austria.
"I'd be around all these anthropologists that were presenting information from all over the world, that were studying different cultures," says KP. "I felt like I just wanted to understand people, I just wanted to understand society, I just wanted to understand culture."
By the time she left for college, KP had taught herself to play the drums, guitar, and piano. She'd also developed an avid interest in indie rock music and attended several Rock 'n' Roll Camps for Girls in Portland. Her time at the camp was hugely influential.
"There's just a lot of women and non-binary people I know from that organization that continue to do really amazing things, and I'm constantly inspired by them," she says. "It was really empowering to be around them and just play music that's important to us."
Eventually, she would become the organization's office manager and programs director, as well as the first-ever camper to become both a member of its board of directors and the board chair. In that capacity, she was able to give back to the organization that had meant so much to her. Not only did she manage the organization's staff budget, she also created curriculum for the camp, taught and coached other budding musicians, and produced several fundraising galas that helped secure the organization's financial stability.
After her college graduation, KP stayed on in Portland for an additional 13 years. During that time, she worked for Mississippi Studios in a number of senior management positions booking talent, handling all aspects of ticketing, and helping produce more than 300 events a year.
"I love planning events," she says. "That's something that's really fun for me to do."
She also formed the musical group Black Belt Eagle Scout, eventually writing and producing two full-length albums and developing an enthusiastic fan base. Music became her full-time job.
"I started this band and I wanted it to be about my experience as an Indigenous queer woman. I wanted to write about my emotions and share an experience," she says. "I feel like a lot of the experiences of Indigenous people in history books are written by white men.
"I also wanted to have representation in this world—the indie rock world—because there's a lot of male bands in this genre. And so I wanted to show up for my people, I wanted to show up for myself," she continues.
Her first album, titled "Mother of My Children," was awarded the Best Rock Album in 2018 by the online indie music site Pitchfork and eventually attracted the attention of independent record label Saddle Creek. She signed a three-record deal with Saddle Creek and produced two full-length albums, but COVID-19 has put any future thoughts of performing on hold, for the foreseeable future.
The pandemic was the primary driver of her move back to the Swinomish Reservation. Left without the ability to rehearse and perform with her band, she took inventory of what was important to her. In addition to her family, she says, "Being home makes me happy. Being around the water and around this land makes me happy."
In addition, last fall she got married. "When I was younger, I said I didn't want to move back unless I had a family to take with me," she says.
Then the job at Potlatch Fund came to her attention. Because she had extensive experience both fundraising and producing events, it seemed like a good fit for her.
"I really wanted to do something for my people, I really wanted to do something for people in the Pacific Northwest," she says. "Potlatch Fund has amazing, amazing programs and just does a lot of really good work for our Native people. So I feel very at home working here."