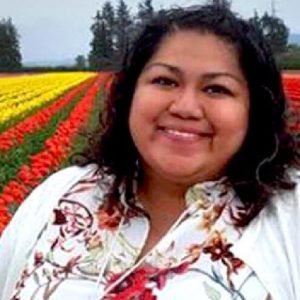 Potlatch Fund's third new team member is Shannon Kopelva who will serve as our new Administrative Manager. Shannon comes most recently from Seattle Foundation, where she worked in development and operations, and from the Seattle Public Library, where she worked as the project coordinator for Beyond the Frame, a community-wide initiative revisiting the photographs of Edward S. Curtis.
Shannon grew up in Arizona and received her bachelor's degree in anthropology from the University of Arizona in Tucson before traveling north to Seattle to obtain her master's degree in museology from the University of Washington.
We hope you will enjoy getting to know Shannon a bit better through the following article.
Meet Shannon Kopelva
An interest in law school first brought Shannon Kopelva to the Pacific Northwest. But it was a longtime love that kept her here: museums.
Shannon grew up in Phoenix, Ariz., and is Hopi, Hualapai, and Northern Paiute. When she was in grade school, she volunteered as a tour guide at the Heard Museum in Phoenix, a facility dedicated to the advancement of Native American art.
Her time at the museum sparked an interest in her own culture as well as others, so when it came time for college, anthropology seemed a natural fit. She moved to Tucson and attended the University of Arizona, where she graduated with a bachelor's degree in anthropology.
"I just liked the idea of being able to travel across the world, meet new people, see and experience other cultures, and marvel at how my customs were like other customs," she says.
It was during her time in Tucson that she also worked as an intern for the National Park Service at the Western Archeological and Conservation Center. There, she isolated, managed, located, and rehoused nearly 16,000 Native American ancestors, funerary objects, sacred objects, and objects of cultural patrimony.
"That time really opened up the ability to see objects—seeing a whole repository of items not available to the general public—so I think that was really exciting, too," Shannon says.
Upon graduation, she'd hoped to get hired in the government sector, even dreaming of a job at the Smithsonian, but by then the country was in a recession and a hiring freeze dashed her immediate hopes.
She began looking at law schools with a focus on American Indian law, which led her to the Pacific Northwest. She moved to Washington in 2010, and in 2012, took a job with Chihuly Garden and Glass, where among her other job duties, she helped design tours, gallery talks and educational materials. The executive director at the time also happened to be an adjunct faculty member for the museology program at the University of Washington and suggested that Shannon check it out.
"And I discovered that I'd always been in love with museums," Shannon says, "and so that's the direction I went for grad school."
She believes her love of museums took root early in her life. "I think it had a lot to do with grade school field trips and just learning about different eras, different times, different cultures, that sparked my interest," she continues. "And also the understanding that I was my own cultural ambassador, I was the one to tell the story, so that led to my thesis work, which highlighted Native care within collections."
She continued to work for Chihuly while attending graduate school. As a part of her program, she also worked as a curatorial intern for the Seattle Art Museum. During this busy time, she met what she describes as "some really great people" at the Seattle Public Library, among them Jodee Fenton, who invited Shannon and some of her fellow employees to a viewing of the Edward S. Curtis series of The North American Indian collection. Fenton had pulled the Hopi volume, which gave Shannon a chance to share her culture with her colleagues.
Eventually, Fenton would invite Shannon to work as the project coordinator with Beyond the Frame, the library's year-long commemoration of Curtis's work, which sought to spark conversations about Native identity, race, and resilience.
It was during her work with Beyond the Frame that Shannon met the chief philanthropy officer at Seattle Foundation. By then, she'd completed her master's degree in museology. She was still working for Beyond the Frame but also began doing some contract work for the foundation, eventually joining them as a development and operations assistant.
"And that's what brought me into the philanthropic sector," she says. "And I really got to see everything from the ground up—data bases, files, donor relations—and that brought me to my advising work at the foundation." Eventually, she would also work with the foundation's youth grantmaking boards and with the scholarship program, where she made a concerted effort to connect Native communities to scholarship opportunities.
It was a friend who alerted her about the open position at Potlatch Fund. "I always knew I would want to give back to the Native community," Shannon says. "Potlatch Fund just seemed like it would be a really great and amazing fit. It seemed like it would bring together everything that I strived for in my life.
"I'd say my work with Potlatch Fund sort of feels like it's coming home," she continues. "It feels like a community—we're a small but mighty team, coming together for a collective good and to be able to give back to the communities we come from. That means so much to us. So I really think this will be a good chapter in my life, a really great match."