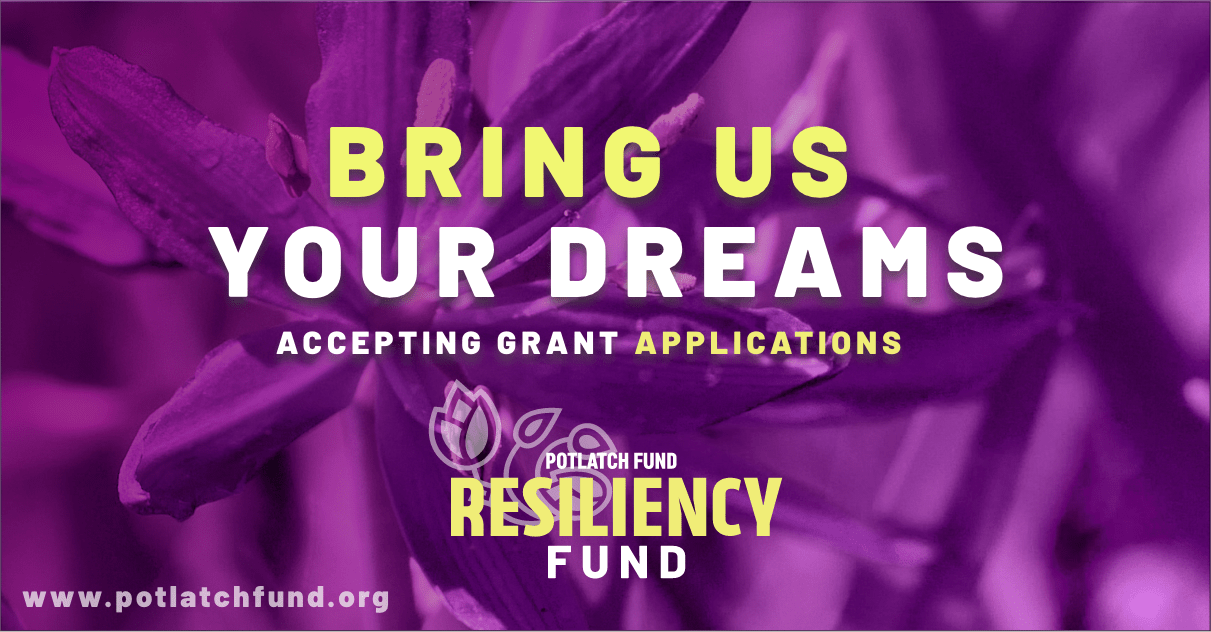 FOR IMMEDIATE RELEASE
July 27, 2021
"If you can dream it, we are seeking to fund it."
Native-led Potlatch Fund seeks grant applicants for Resiliency Fund grant opportunity.
SEATTLE, July 27, 2021 – Native-led Potlatch Fund is asking the Native community to "Bring us your dreams." by applying for this new funding opportunity to address evolving community needs and long-term impacts of COVID-19.
The Resiliency Fund is open to applicants serving Native communities in Washington, Oregon, Idaho and Montana and is available to Tribal departments and organizations for both programs and general operations, and to individual Native artists, both traditional and contemporary–visual, performing and multi-media.
So far, two rounds of grants have been awarded to individual Native artists and organizations serving Native communities. There are no deadlines. Rather, grant applications will be accepted until all funds are expended. Complete guidelines can be found on the organization's website: Resiliency Fund 2021.
"If you can dream it, we are seeking to fund it. We want to be dream-makers," said Cleora Hill-Scott, executive director of Potlatch Fund. "So far we've been very excited to see a lot of first-time applicants. We've had quite a few applicants from Washington state so far, and we're looking forward to seeing a similar response from applicants in Oregon, Idaho and Montana as word gets out about the Resiliency Fund."
The Resiliency Fund represents a new direction in grant-making by Potlatch Fund, an organization that has provided more than $6.2 million in funding to Native programs and artists since 2005.
Potlatch Fund board and staff took the lessons learned from their urgent grant response to COVID-19 last year and began to envision ways to further decolonize philanthropy and the grant application process. It started with trusting grantee partners to know what their most urgent needs were…and how to meet them. Read more here: The Future of Philanthropy
Barriers were removed by being more open and inclusive, cultivating relationships with grantee partners based on mutual trust and respect, and streamlining application and reporting processes. Among other things, the new application process allows grant seekers to submit applications four different ways: online, by email, by regular mail, and by scheduling a phone call with a Potlatch Fund staff person. Other significant changes will include shortening the length of the application itself and sharing stories to report on project and program results.
We believe that Native people, if given opportunities and resources, will always find a way to come together to address and solve their communities' biggest challenges.
#####################################
About Potlatch Fund
Potlatch Fund is a Native-led nonprofit organization that provides grants and leadership development to Tribal Nations in Washington, Oregon, Idaho and Montana. Learn more about Potlatch Fund: www.potlatchfund.org/about/
Media Contact:
pr@nullpotlatchfund.org
---

Press Releases:
Pandemic reveals immense need – Potlatch Fund commits to raising additional $7 million for its Resiliency Fund
Native-Led Potlatch Fund Is Asking The Native Community To "Bring Us Your Dreams."

More about the Resiliency Fund:
The Resiliency Fund Reveals an Immense and Enduring Need in Native Communities.
Potlatch Fund and the Future of Philanthropy
To Our Resiliency Fund Grantee Partners–Keep Sending Us Your Dreams
Announcing New Resiliency Fund
Stories from our Grantee Partners:
Indigenous Weaver, Ace Baker Sr.
The Young Warrior Society
Nimiipuu Nurtures Emerging Environmental Leaders
For Grantee Partners:
Resiliency Fund Application Information Here: Bring Us Your Dreams
If you are interested in supporting the Resiliency Fund: email us to discuss your giving or donate here to support the Resiliency Fund.