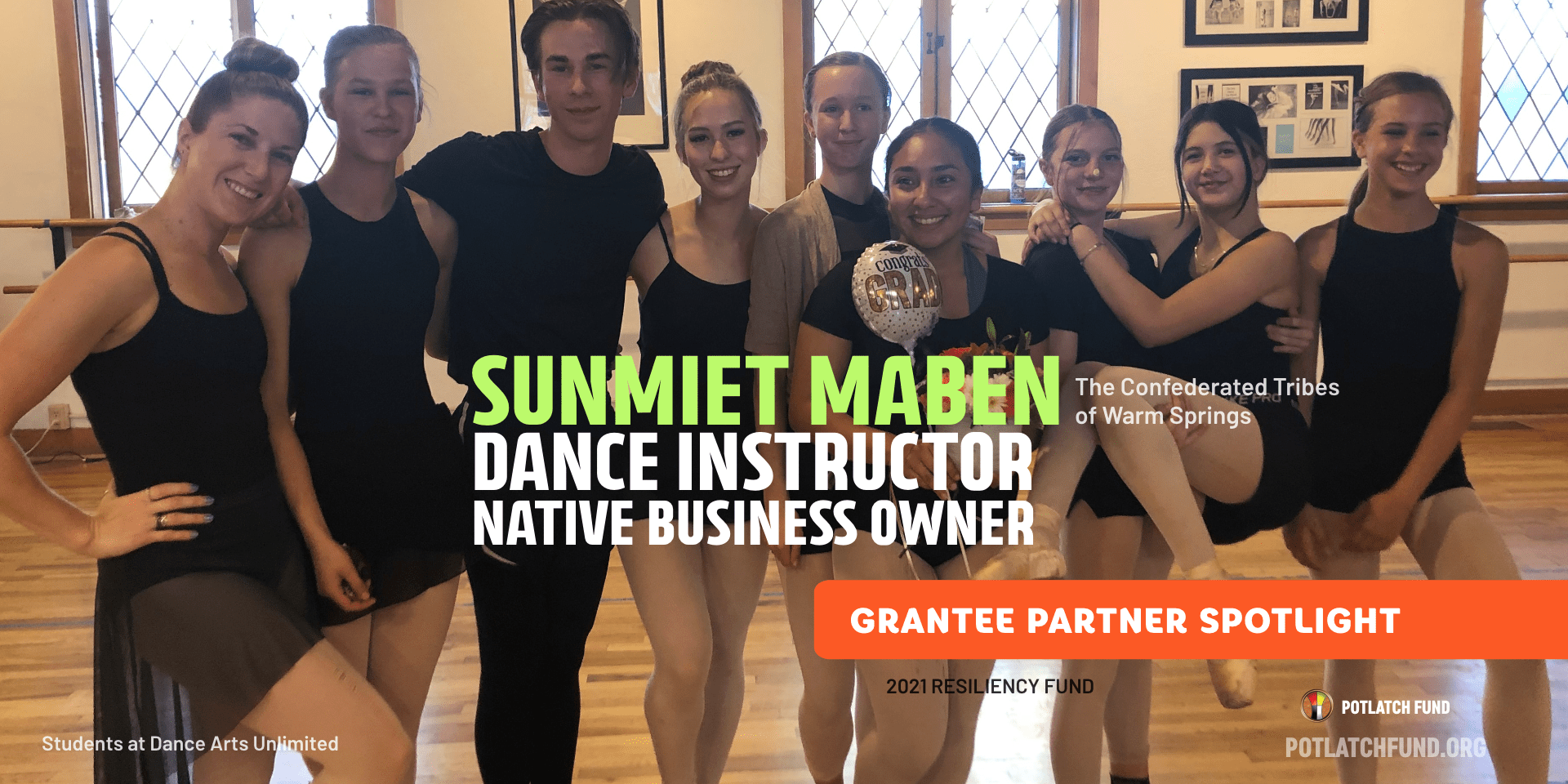 For Sunmiet Maben, The Dance Goes On
Madras, Oregon
A Resiliency Fund Grantee Partner
Sunmiet Maben grew up dancing.
On the Warm Springs Reservation in north-central Oregon, dancing was an integral part of worship services, social gatherings including pow wows, and funerals.
"We kind of joked that I danced before I was born," she says. "And I say that about my son because while I was pregnant, I was still dancing."
At the same time, Sunmiet was not so enthusiastic about sports in general, which "was a huge, huge thing on the reservation."
"I was not athletic," she says. "I was not good at basketball, I'm not good at softball and volleyball. I was little and that just wasn't my thing. Not every child is good at conventional sports. I was one of them, and dance was where I thrived."
With the support of her parents, Sunmiet started taking classes at a dance studio 60 miles from her home on the reservation. Fortunately, by the time she was a high school student in nearby Madras, Ore., a dance studio had opened up there, enabling her to take classes in ballet, tap and jazz much closer to home.
Eventually, she would end up with a bachelor's degree in dance from the University of Washington. She returned to Madras and began teaching at Dance Arts Unlimited, the same studio from her high school days—and in August 2019, she was able to purchase it.
Six months later, the emergence of COVID-19 forced her to close down the studio, and very quickly the small amount of capital she had remaining was expended paying rent and bills for the studio, as well as meeting payroll.
For a while, she says she hoped along with everyone else that the pandemic and restrictions would be short-lived…and then the months stretched on.
When they were able to re-open the studio, it was only by following strict protocols—parents and dancers had to enter by one door and leave by another; parents weren't allowed to stay in the building during classes; staff sanitized the studio spaces between each class, and masks were required. Twice more, they had to shut down completely.
As a result, attendance dwindled to about 75 students—just a quarter of the number of pre-COVID students. Sunmiet tells the story of one mother who brought her children to class before they were exposed to COVID and had to quarantine. "And then they were about to come out and had to quarantine again, and she's like, this is getting to be too much, I think we just need to wait until this subdues."
The Resiliency Fund grant came at just the right time.
"It helped me basically keep the studio alive, because it was really to the point—just with all the hardships and the fear of shutting down—that I thought I wouldn't be able to do my art and there wouldn't be this place for these kids to go."
Currently, attendance at the studio is growing again, although it's not yet reached pre-COVID levels. Sunmiet estimates that about one-third of her students are from the Warm Springs Reservation.
"Several of my students are children of people I grew up with on the reservation," she says. "It's been so fun to see this next generation, and the kids love that I have that connection to their families. Nothing has meant more to me than to be able to share my love of dance."
It's important to Sunmiet that she can show children from the reservation another possibility for their lives. "As a child, I knew who Maria Tallchief was, and I never thought I could do what she did, and I think I give that to a lot of the kids that at least want to experience dance and see into that world.
"Because there's nothing like putting on that first little tutu or putting on that first pair of shoes," she continues. "And to be able to give that to kids that it doesn't seem attainable to, especially coming from the reservation—you know, there's so many things I think we dream about and don't think could realistically happen for us, and I want to show them that they can do this."
My Dream…to have a Native American dance company.
She has plans in the future to open up a satellite studio on the reservation as well as to form a dance troupe composed of tribal students.
"That was one of my ultimate dreams a long time ago, was to have my own Native American dance company and division," she says. "So it's kind of interesting because I kind of gave that up a long time ago, and now this is actually turning into what I wanted to do all those years ago. It's a different scale and not exactly the way I saw it, but it's happening."
She sees a silver lining to the flexibility and adaptability required by the past year and a half of COVID uncertainties.
The dance recital that almost wasn't.
"It's required a lot of problem-solving, which has been exhausting, but it's ended up being a very positive thing," she says. "You know, nothing says, 'This is the way it has to be.' Just because this is the way we've done it in the past or they've done it the last 20 years, that's not the way we have to do it anymore. And I think it's really loosened people up to be able to do that. I think for some of us, it really has taught us to be okay doing that and that it does allow for growth and allow for change."
To illustrate her point, she tells the story of the dance recital that almost wasn't. Recitals give young dancers the opportunity to wear their dance costumes and perform for their community, but Sunmiet was forced to cancel much-anticipated recitals three different times because of evolving COVID restrictions.
"There came a time where I was like, I can't wait anymore, I promised we were going to do a recital come hell or high water," she says.
And because the stage at the local performing arts center was inside and closed due to the pandemic, Sunmiet and her staff and dancers pivoted and ended up using a newly refurbished outdoor stage at the county fairgrounds for their recital. "And I think everybody was just happy to be able to finally perform their dances. It was really great. I was worried about the negative impact of it, but people seemed to be really positive and happy about it," she says. "Some people even said we should do it again there next year."
Although the situation with COVID has stabilized for the moment, Sunmiet remains cautious. "So much could still happen with COVID," she says. "So right now, I'm just happy as long as at this moment, we're able to keep these doors open and pay the bills. For now, that's good."
---
Press Releases:
Pandemic reveals immense need – Potlatch Fund commits to raising additional $7 million for its Resiliency Fund
Native-Led Potlatch Fund Is Asking The Native Community To "Bring Us Your Dreams."

More about the Resiliency Fund:
The Resiliency Fund Reveals an Immense and Enduring Need in Native Communities.
Potlatch Fund and the Future of Philanthropy
To Our Resiliency Fund Grantee Partners–Keep Sending Us Your Dreams
Announcing New Resiliency Fund
Stories from our Grantee Partners:
Indigenous Weaver, Ace Baker Sr.
The Young Warrior Society
Nimiipuu Nurtures Emerging Environmental Leaders

For Grantee Partners:
Resiliency Fund Application Information Here: Bring Us Your Dreams
If you are interested in supporting the Resiliency Fund: email us to discuss your giving or donate here to support the Resiliency Fund.