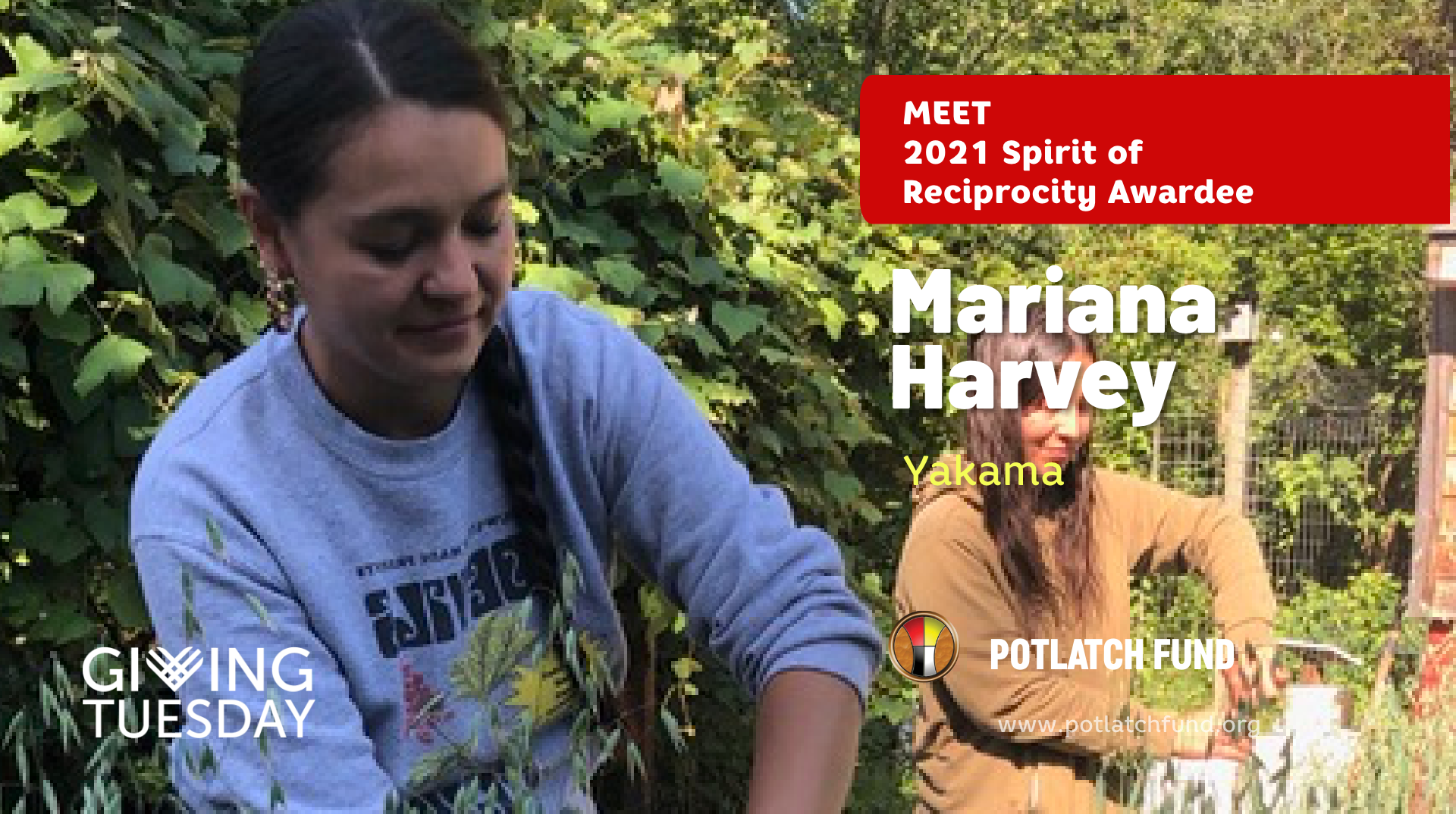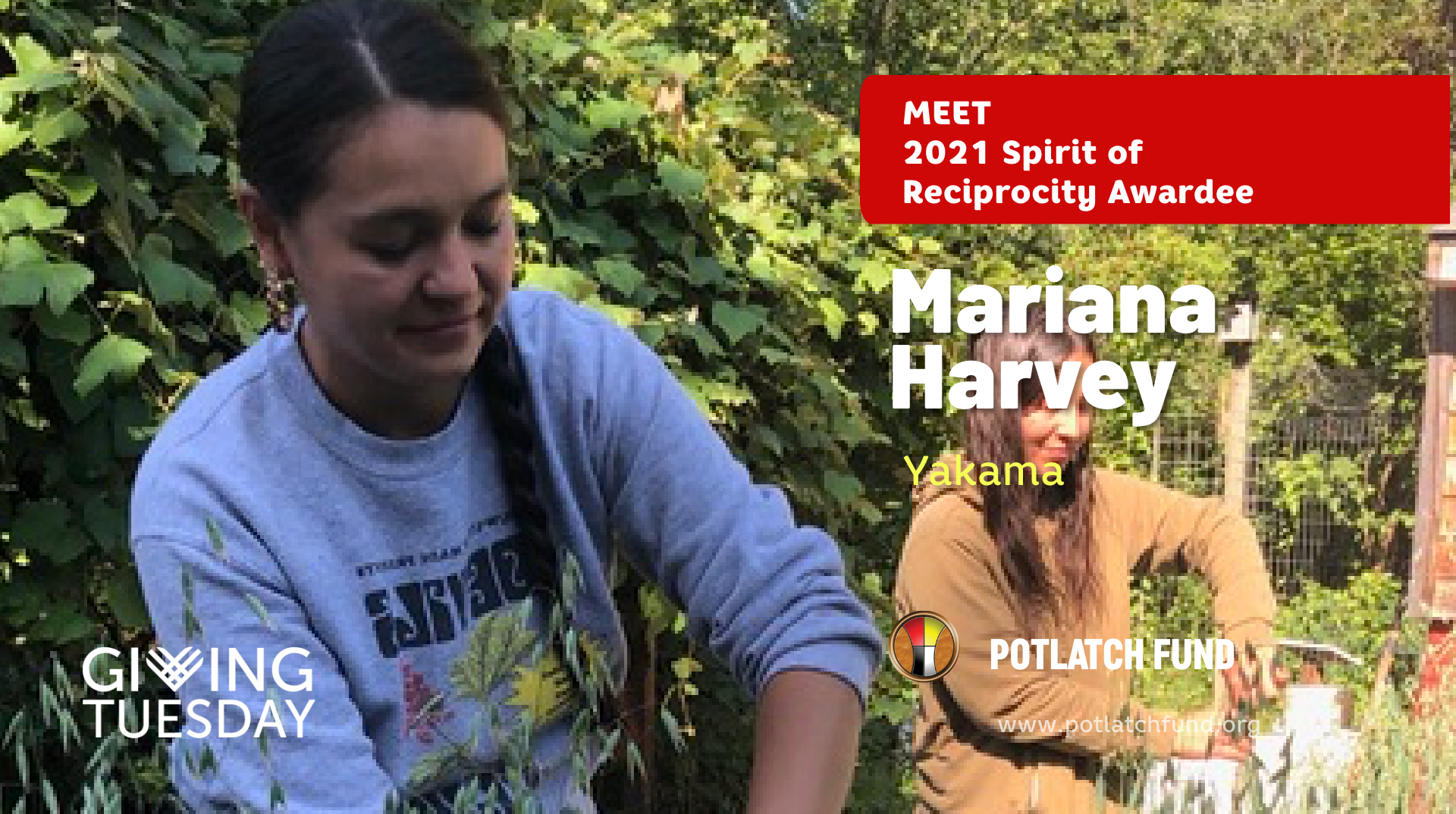 Mariana Harvey began what she calls her Indigenous advocacy journey 20 years ago as a student at West Seattle High School. A self-described Yakama urban Native and the youngest of five children, she grew up in Seattle and joined the Native American Club in high school. The club had only four members at the time, out of approximately 1,000 students.
She followed in her older sister's footsteps in her fight to change the school's mascot. Known at the time as the West Seattle Indians, the school administrators had promised to change the mascot. But when Mariana and her fellow club members attended a meeting to talk about the mascot, they learned that although the school had plans to change it, they were going to keep Indians as a nickname.
"It was super ridiculous," she says. "It was like, let's find a mascot that still relates to Indians, like maybe we'll choose a teepee or feathers, and of course our Native American Club was like, this is not what was supposed to happen. And that was the beginning of our journey of fighting to change the mascot for good.
"That was a really pivotal moment for me," she continues, "because our whole Seattle Native community, as well as a lot of allied communities, stepped up and really helped us. We held protests and press conferences, we gathered signatures, we talked to local tribes, and so it was like really learning, how does change happen?"
What she witnessed was a movement supported by adult mentors who helped the students with everything from scripting speeches and talking points to developing their own leadership skills. The effort was ultimately successful: in 2002, Seattle Public Schools abolished Native mascots from all the district's public schools and changed the name to the West Seattle Wildcats.
For Mariana, the experience left her wanting to make change happen—and believing that she could.
"We stood on the shoulders of people like my sister who worked on changing it, and I think that there were people way back that tried to change it, because at West Seattle, we mostly battled their alumni association, which was a hundred years old, so I was basically battling grandmas," she says.
"Youth backed with community power—that was our recipe."
Following her graduation from high school, she attended Fort Lewis College in Durango, Colo., a small liberal arts college comprised of about one-third Native students. There, she was part of a campus group called the Buffalo Council, an intertribal student organization. The group found someone to donate a buffalo, and they learned how to harvest buffalo with the help of elders, after which they held a feast for the student body and local community, feeding anywhere from 300-500 people with a single animal.
The impact on Mariana was profound. "That's what really sparked my journey into tribal food sovereignty. For me it was a life-changing moment, because a lot of my leadership up to that point was very front lines, you know, a very aggressive or intense type of advocacy. This was the first time I realized that change and impact can be as simple or as complex as just feeding people their traditional food," she says.
Lifting up the voices of Native youth
She graduated college with a bachelor's degree in American Indian Studies and was recruited for a fellowship with the Native Youth Leadership Alliance (NYLA), a year-long leadership society program that provided culturally based training, resources and community support to develop young Native leaders. She was part of the organization's first cohort of approximately 15 students from the northwest, southwest and South Dakota regions. Most were in their 20s and 30s and already embarked upon their leadership journeys.
"The fellows were people who were ready for that extra level of mentorship, and had access to seed funding and guidance in developing their vision," Mariana says. "NYLA was a very big vision focus like, what's the big thing you want to do in the world, and how can we help you make that happen?"
Even after she returned to the Pacific Northwest in 2013, she was able to stay connected to the NYLA community by working for the organization, which was growing at the time and expanding programming to include youth in middle and high school. NYLA also began partnering with the Affiliated Tribes of Northwest Indians—an organization representing more than 50 tribes in the Pacific Northwest, northern California, southeast Alaska and western Montana—to form a Youth Committee in order to increase youth presence at their events.
"It was fertile ground for a lot of leadership development, working with really inspiring young people from middle school to college age. We did our best to try to create a youth-determined space, spaces that were really informed by the young people we were working with," says Mariana.
At the same time she was working for NYLA, Mariana also started taking community workshops on Native plants and foods that were being taught by Elise Krohn, Elizabeth Campbell, Valerie Segrest and others through Norwest Indian College. She continued learning with Elise in her Wild Roots Internship, learning more in depth about Native plants, nutrition and body systems. She also started gathering traditional foods and learning more from her own tribal community in Toppenish Creek Longhouse on the Yakama reservation.
Honoring Indigenous knowledge
In 2016, Mariana was part of a collective of approximately 12 people, including Native and non-Native educators, ethnobotanists and nutritionists, who came together to create a K-12 curriculum that aims to connect youth to their local landscapes, traditional and wild foods, and cultural traditions.
The curriculum became known as Tend, Gather and Grow, and includes lessons from Coast Salish storytellers about Native plants that are historically significant to the region's tribes for food and medicinal purposes.
"It is within the Tend, Gather and Grow Teacher Guide to respect the knowledge, with the understanding that knowledge is wealth, and that some knowledge is just meant for yourself, maybe just for your family or just for your own Tribal community, and then there's public knowledge," says Mariana. "And so we've worked for many years with several elders and cultural leaders to make sure that what we're sharing is appropriate to share, because Tend, Gather and Grow is used for Native and non-Native audiences with a lens that it's curated for Native audiences."
The curriculum includes several modules, including an herbal apothecary model which dives deep into medicinal uses of plants, and a wild food traditions module, which features an overview of seasonal food and Native American nutrition principles.
Other modules include tree communities, an overview of how trees create a forest community, which incorporates social-emotional teachings, like how trees teach us resilience. And there is a cultural ecosystems module "which is about naming and debunking the false myth that people are inherently bad for the land," Mariana says, "and showing and sharing stories of this land, of how Native people have always been in relationship and cultivating these diverse landscapes.
"When we say cultural ecosystems, we're really talking about places that would not be here without human interaction," she continues, "so we would not have camas prairies if Indigenous people had not kept up the practice of burning the prairies to keep out encroaching conifers and to regenerate the soil."
In 2019, Mariana went to work for the Olympia-based nonprofit organization Garden-Raised Bounty, or GRuB, where the Tend, Gather and Grow curriculum lives, as its Wild Food and Medicines coordinator (Elise Krohn is the program's director). Although the emphasis so far has been on using the curriculum with Native communities, there are workshops open to the public as well as several free resources available on the GRuB website.
Currently, Mariana teaches for the program as well as helps to develop new lessons. "Tend is really meant to be adaptable," she says, "especially for Tribes, who may bring in their own language or culturally specific knowledge for them."
Mariana is also an artist who began making earrings 15 years ago, inspired by her mom. "She had these little seed beads but I was more interested in the big shells she had and asked, how do I use this giant shell and make this shell into an earring?" she says. "I love big earrings, and that was really the beginning, just figuring out how to create the earrings I wanted to wear."
She began by giving away her earrings, then walking around at pow wows with her mobile earring board, and finally sitting at vendor tables at Native art markets.
She is also a singer who participated in a Native American choir in college, where she met her partner. Eventually, she began singing with a small group of other Native women, and when she moved to the Pacific Northwest, she started a similar group. At first they met over casual dinners in one another's living rooms, but it wasn't long before they were singing at various events including Missing and Murdered Indigenous Women's vigils, Standing Rock rallies, and Indigenous Peoples' Day celebrations.
In 2019, Mariana became a mother, and she says her work with youth influences how she parents. "At NYLA, we worked to de-marginalize Native youth and build up youth self-determination and autonomy and to center youth voice," she says. "When I had my son, I took a similar approach, honoring him as a sovereign little human that my partner and I are there to love, protect, guide and nurture, not control and train."
This approach includes infusing child-rearing with Indigenous values. "Babies can bring out the best of you, and for us, our best has been more intentional learning and speaking of our Indigenous languages, Ichishskíin and Nahuatl, and prioritizing time outside gathering traditional foods and medicines, bringing our culture into our home every day.
"Having a child right now has motivated me even more in the work I am doing, specifically when it comes to supporting people in building a deeper relationship with the land," she continues. "I feel that when more people know about the precious plant relatives and diverse ecosystems right outside their door, in addition to learning Indigenous peoples' historical and ongoing relationship to these same lands and ecosystems, that we will have more people working toward a just, healthy future for my child and generations to come."
Potlatch Fund congratulated Mariana as one of our 2021 Spirit of Reciprocity Awardees at the 19th Annual Fundraising Gala for a week of Giving & Gala Events celebrating Indigenous Vibrancy. Monday, November 1 – Saturday, November 6, 2021. See Mariana's award Video HERE