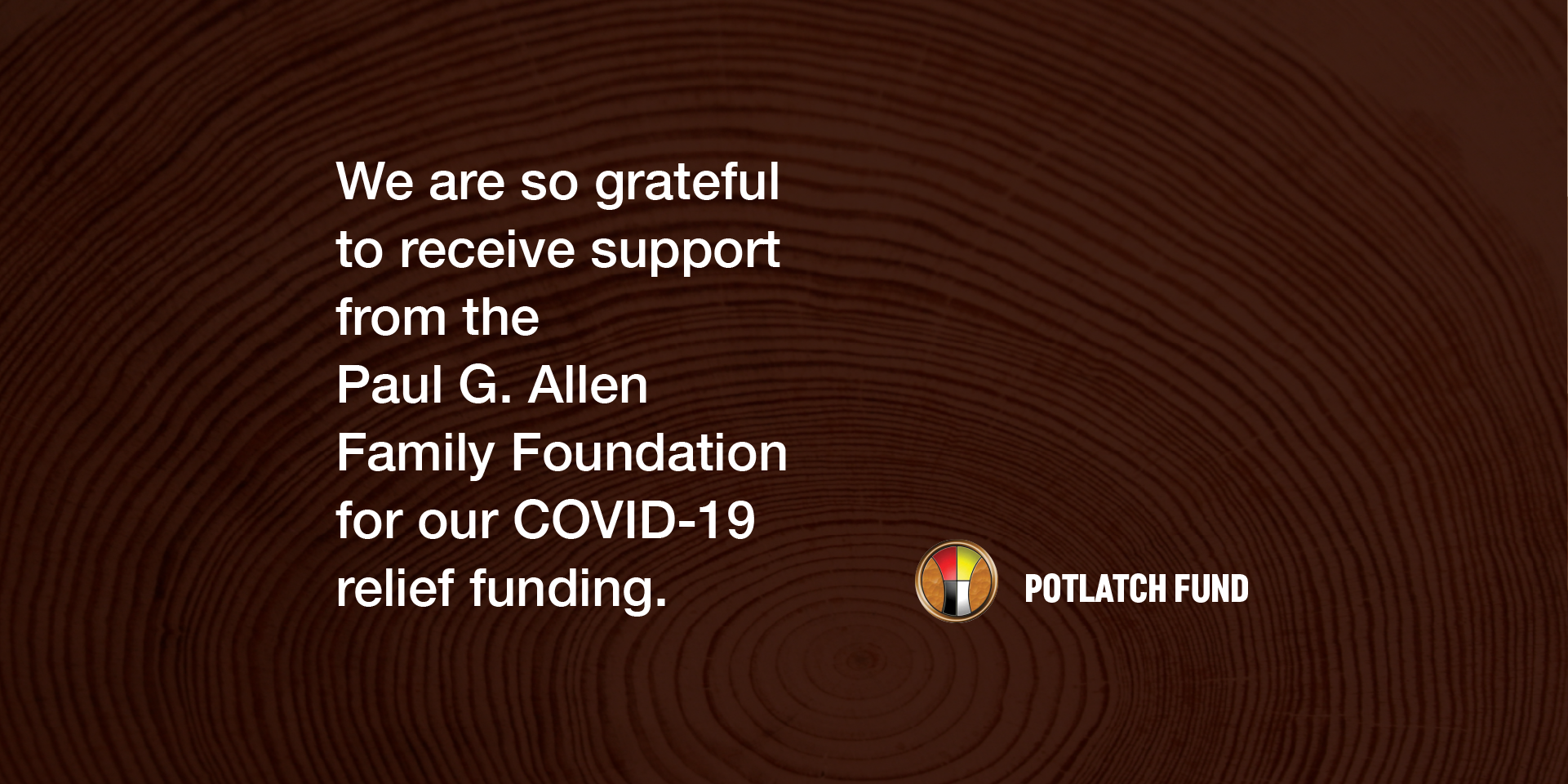 FOR IMMEDIATE RELEASE
February 1, 2021
Two Local Native American Organizations Receive Paul G. Allen Family Foundation Funding To Boost COVID-19 Relief Efforts in Struggling Pacific NW Communities
SEATTLE, February 1, 2021 – Potlatch Fund and Na'ah Illahee Fund—two Seattle-based nonprofit organizations serving Indigenous communities across the Pacific Northwest with programs and funding—are pleased to announce new funding from the Paul G. Allen Family Foundation which will help both organizations provide vital support to Native communities during the ongoing COVID-19 crisis.
Both Potlatch Fund and Na'ah Illahee Fund have disbursed emergency funding to individuals and communities since the COVID-19 pandemic began last March.
For Potlatch Fund, this funding took the form of Critical Response Grants after staff members reached out to former and current Potlatch Fund grant recipients to gather feedback on their most urgent needs.
"What became clear to us during these conversations on the ground was the need for flexible support," said Cleora Hill-Scott, Potlatch Fund's executive director. "We got busy contacting our funders and requested their flexibility to include general operating costs in order to use funding where it was needed most." In addition, Potlatch Fund streamlined their application and reporting procedures to expedite the process and get critical funds to communities quickly.
Some of that emergency support went to organizations serving communities and some to individual artists and culture keepers, such as language preservationists.  "The Native community has been disproportionately devastated by the pandemic," Hill-Scott said. "Not only have we experienced an uptick in pervasive racism, we've been dying from COVID at a higher rate than the general population, losing many of the elders who carry our culture."
By the end of 2020, Potlatch Fund had granted more than $700,000* and raised over $1 million – a record amount of fundraising in one year for the organization. "This work gives us pride in knowing that in this crisis, we have done what we could to protect our community's culture keepers and continued cultural teachings," Hill-Scott said. "We anticipate the COVID-19 pandemic will continue well into 2021, and we appreciate those in the community who continue to partner with us to meet emerging needs."
Na'ah Illahee Fund responded to the COVID pandemic by forming the Native Community Crisis Fund. Through this fund, the organization delivered more than 1,000 Indigenous Food Bundles and container gardens directly to Native homes, including food and medicines from Native producers, as well as safety items. The organization also partnered with Black Star Farms to prepare the University of Washington's Botanic Gardens to serve as community-led gardens, as well as launched a Sovereign Futures Cohort to reestablish food sovereignty and sustainable practices across Native communities.
To support Native artists whose work and income disappeared because of the pandemic, Na'ah Illahee Fund created an Indigenous artists grant program, contributing to the livelihood of approximately 40 artists in the Seattle area. In addition, the organization provided funding to Tribal domestic violence programs to support families in crisis. Altogether, the organization distributed nearly $600,000 in funding to Native communities last year.
"We are happy to coordinate our funding with Potlatch Fund in order to meet the most critical needs of Native people to the best of our abilities. By listening to community, responding and partnering with them, we navigate the continuing uncertainty of this pandemic and seek to address the tragic and disproportionate impact within tribal communities," said Susan Balbas, executive director of Na'ah Illahee Fund.
The latest Paul G. Allen Family Foundation grants, totaling $1.4 million, are meant to address evolving needs for underserved populations across Washington state in response to the COVID-19 pandemic, with many of them prioritizing Black, Indigenous and People of Color (BIPOC) and LGBTQ2+ communities, as well as people living in rural or remote areas. Altogether, the foundation has provided $12 million in funding to Pacific Northwest organizations and communities in response to the COVID-19 crisis.
---
About Potlatch Fund
Potlatch Fund is a Native-led nonprofit organization that provides grants and leadership development to Tribal Nations in Washington, Oregon, Idaho and Montana. Potlatch Fund works to promote diversity and address inequality by educating foundations about Tribal communities, introducing them to Native nonprofits, and holding funder briefings specific to Indian Country.  Since 2005, Potlatch Fund has granted more than $5.5 million to Native individuals and nonprofits. More about Potlatch Fund: www.potlatchfund.org
About Na'ah Illahee Fund
Na'ah Illahee Fund (Mother Earth in Chinook jargon language) is a Native-led, community-based organization that advances sustainable Indigenous cultures in the Pacific Northwest. Na'ah Illahee Fund was established in 2005 with the vision of powerful Native female-centered activism and leadership and the mission to support and promote the leadership of Indigenous womxn in the ongoing regeneration of Indigenous communities. More about Na'ah Illahee Fund: www.naahillanee.org
Both Potlatch Fund and Na'ah Illahee Fund are members of the Seattle Urban Native Network (SUNN) collaborative, which convenes and strengthens Native-led organizations throughout King County to build collective power through dialog, education, action, and advocacy. More about SUNN can be found here: https://www.facebook.com/seattleurbannativenonprofits/
Media Contacts
pr@nullpotlatchfund.org
ella@nullnaahillahee.org
*Correction February 8, 2021 –  In our press release dated February 1, 2021 we state Potlatch Fund granted over $1 million. In fact Potlatch Fund granted over $700,000. Potlatch Fund raised over $1 million which is a record fundraising amount for the organization.