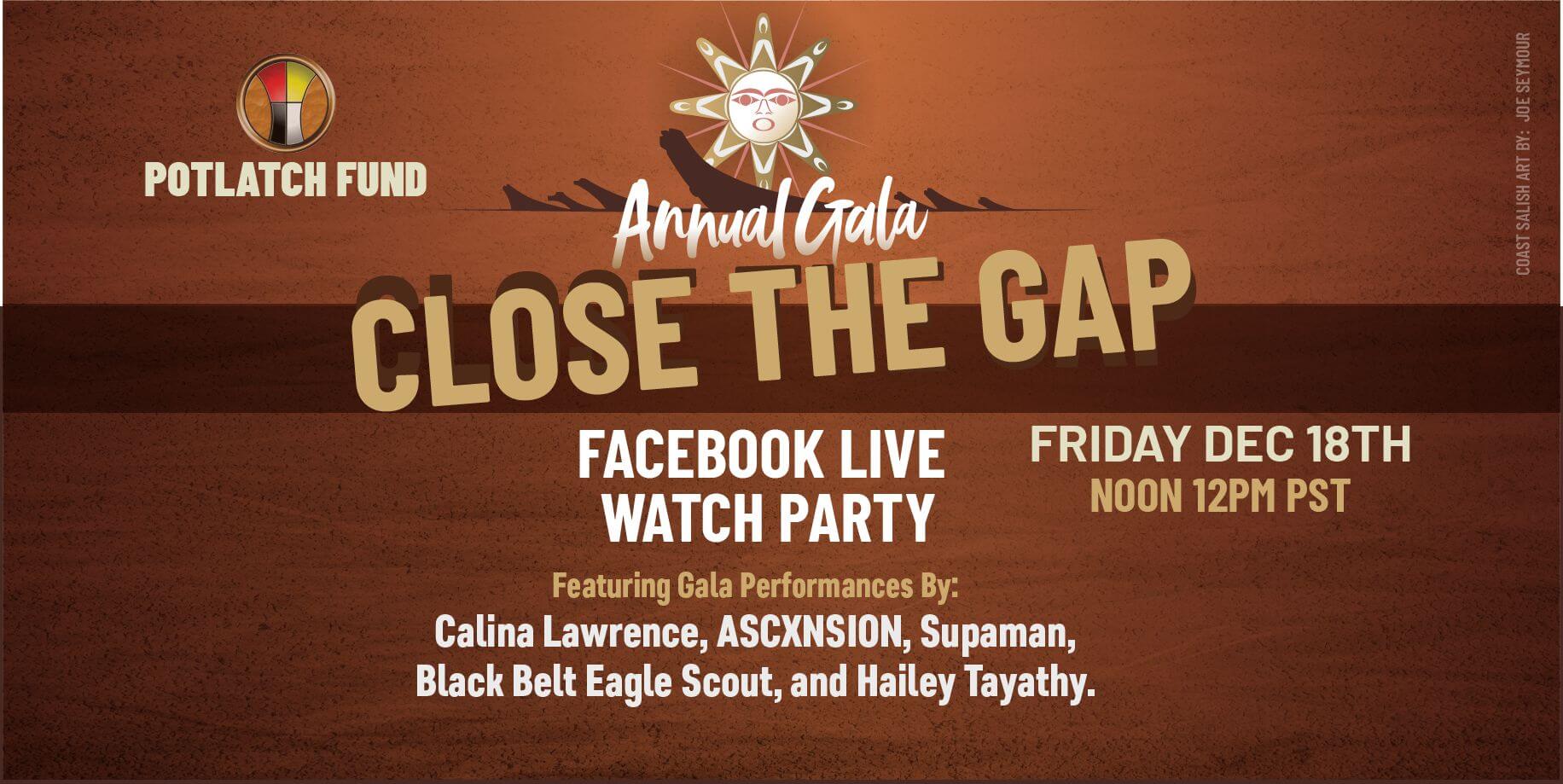 Dear Friends of Potlatch Fund,
We were honored to hold meaningful space with our community during our 2020 Fundraising Gala last month.
To be honest, we weren't sure how well a virtual gala would work. And although we missed seeing all of you in person, we were grateful that so many of you showed up to celebrate and support the important work Potlatch Fund and its grant partners do every day in our communities.
As a community, we were lifted up by the stories of Potlatch Fund grant recipients who are preserving Native ways for future generations. We were entertained by a rich diversity of Native artists. We heard encouraging messages from Potlatch Fund leaders. Altogether, it was an inspiring night of fellowship and affirmation.
Did you somehow miss it? Or perhaps you'd just like to relive some of the evening's amazing performances?
If so, we invite you to join us next Friday, December 18, at 12 p.m. for a Facebook Live Watch Party, featuring Gala performances by Calina Lawrence, ASCXNSION, Supaman, Black Belt Eagle Scout, and Hailey Tayathy. No pre-registration required. Just go to our Facebook Page at the event time. https://www.facebook.com/events/205484454486681/
Together, we can help Potlatch Fund raise the $6,500 needed to close the gap and achieve the $70,000 Gala fundraising goal.
Your support is what enables Potlatch Fund to help Native culture keepers like Celeste Whitewolf, who used a devastating medical diagnosis as a catalyst to change her life. Now, Celeste works to preserve and renew the traditional Native art of weaving by teaching others, including younger generations, so the art is not lost.
"I love that Potlatch Fund opened doors for us, and now those doors are wide open," Celeste says.
Your support also helps language preservationists like James Jaime, who is passionately working to preserve the Quileute language. With grant money from Potlatch Fund, James and his team have produced four out of six planned Quileute language books, steadily added Quileute words and phrases to an online talking dictionary, and developed curriculum for the new tribal school set to open in 2022.
Donate Here – Help Us Close the Gap
For those of us here at Potlatch Fund, the past few months have reinforced just how critical it is to have a Native-led organization serving Native communities that have been especially hard hit by the COVID-19 pandemic. To get support where it's most needed, we've streamlined application procedures and worked to build relationships with our grant partners based on flexibility and trust.
"We anticipate the COVID-19 pandemic to continue well into 2021," says Cleora Hill-Scott, Potlatch Fund's executive director. "We are facing increased demands for support while our resources are dwindling. Potlatch Fund will continue to fund as long as we can, but we need partners in this work."
That's where all of us come in. By partnering with Potlatch Fund, we join a long tradition of Native reciprocity and generosity. We ensure that our communities will thrive not just for tomorrow, but also for generations to come.
So we hope you'll join us next Friday, as we celebrate our hope and resilience as a community with some great performances by talented Native artists.
In Coast Salish tradition, we raise our hands to you in thanks and appreciation for your support of Potlatch Fund!
Le̓mlmtš (Thank you)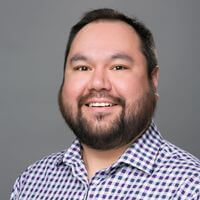 Brian Tanner, Salish/Cree (he/him)
Director of Philanthropic Partnerships
206.518.4979
donate@nullpotlatchfund.org