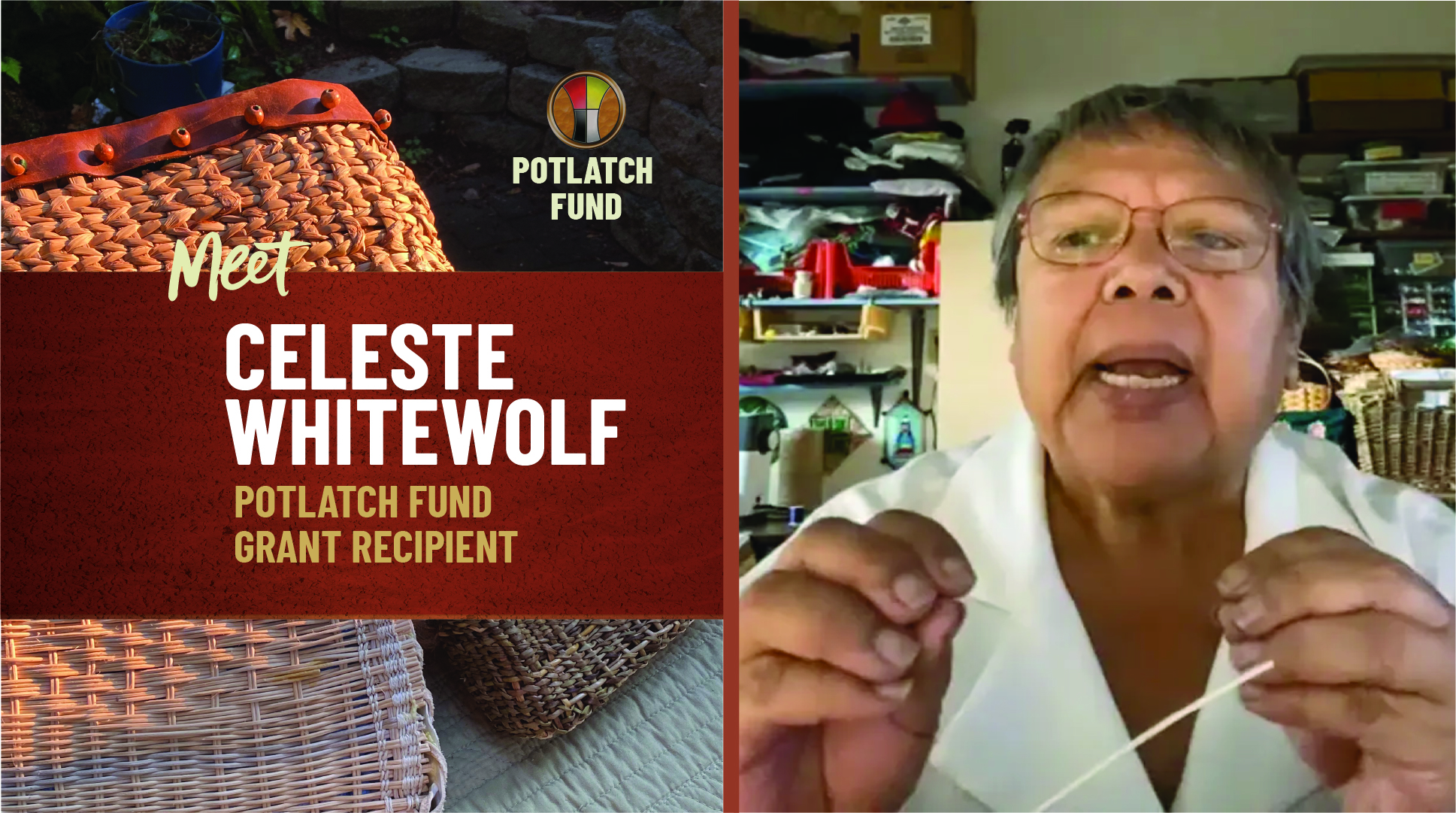 Núun ken' witnéewit – Our Way of Weaving.
Using natural materials gathered from the land. 
Celeste Whitewolf practiced law for 20 years until a diagnosis of breast cancer changed the direction of her life. Since then, she's founded an organization to help other Native people and their caregivers thrive through cancer, and seven years ago she decided to become a weaver.
Celeste's journey embodies the spirit of generosity and reciprocity we celebrate here at Potlatch Fund. Join us for our 18th Annual Gala on November 7 to support Native Artists like Celeste in her journey to preserve and renew the traditional Native art of weaving through her project "Núun ken' witnéewit – Our Way of Weaving."
REGISTER FOR THE 2020 ANNUAL GALA HERE
"Anybody who knows me knows I don't just start paddling in the calm, clear water," Celeste says. "I jump into the deep end of the pool and I go heading upstream, trying to find out as much as I can."
Celeste began her current journey by taking several classes and trainings focused on weaving with natural materials gathered from the land. What she discovered along the way was that weaving in this traditional Native way was a dying art.
So she became a teacher. With a grant from Potlatch Fund, she was able to hold a workshop in Portland, Ore., to help bring back to lost art of weaving. Among the 28 people who attended were both young people and elders, ensuring that the art of weaving is renewed for future generations.
She also began building relationships with land managers and landowners in her home state of Oregon, enabling her and other Native peoples to gather the materials for weaving on lands once inhabited by their ancestors.
Next week you'll hear more from Celeste about why support from a Native-led organization like Potlatch Fund is especially critical to her efforts and what she envisions for the future.
"I love that Potlatch Fund opened doors for us, and now those doors are wide open," Celeste says. "All we have to do is find a way to walk through those new doors."