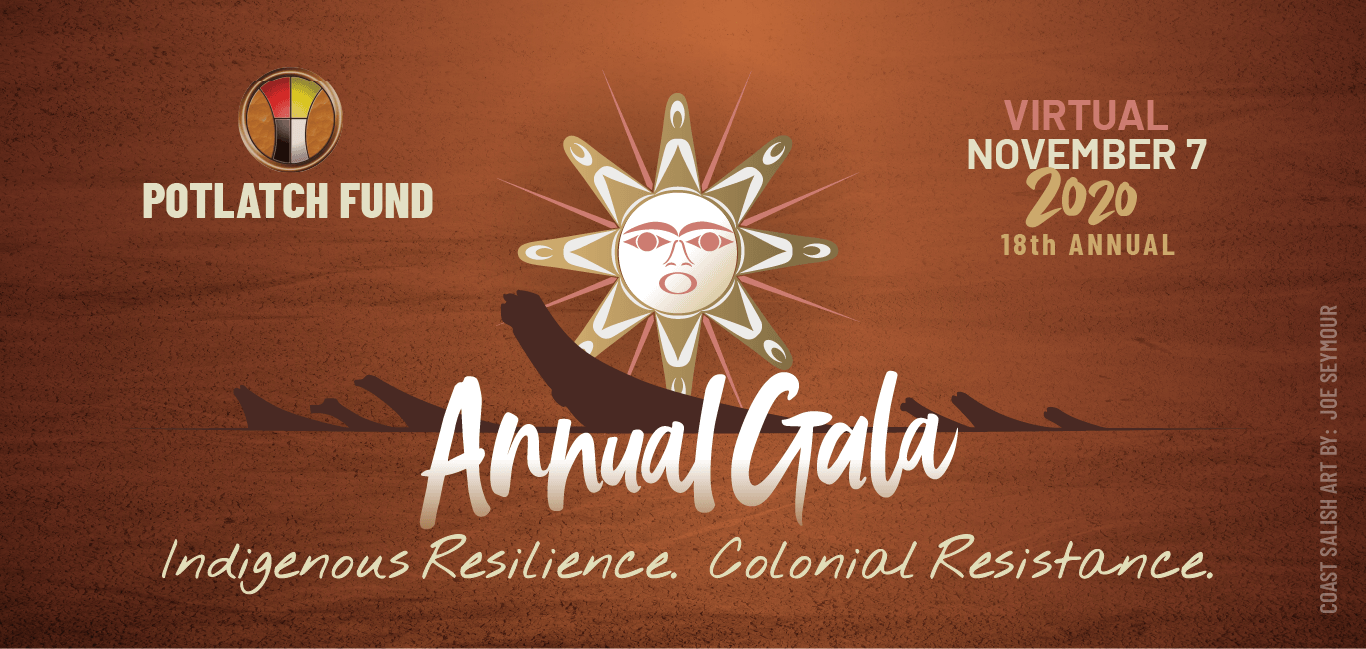 A NIGHT OF TRADITION & CULTURE
18TH ANNUAL GALA
Indigenous Resilience.
Colonial Resistance.
Potlatch Fund and the community comes together virtually for a night of Indigenous Resilience; Colonial Resistance at the 2020 Potlatch Fund Annual Gala on Saturday, November 7, at 5:00 pm PST.
REGISTER TODAY FOR THIS FREE VIRTUAL EVENT.
(Sign up early to be entered into the Early Registration Raffle)
There is no cost to register.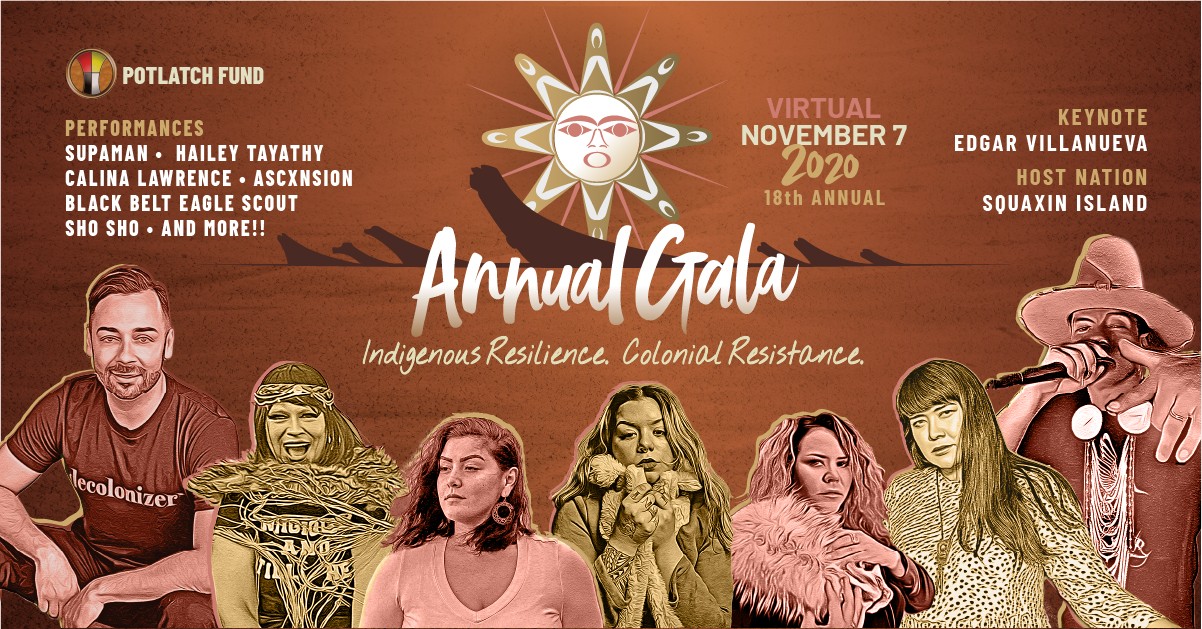 Potlatch Fund builds on the Native tradition of giving, measuring wealth not in possessions, but in generosity. With your generous help we honor, enrich, share and protect Tribal culture and traditions.
This 18th annual event is an opportunity to be part of the important work Potlatch Fund undertakes in Native communities across Washington, Oregon, Idaho and Montana, all while enjoying an evening that is rich in Native tradition, culture, and heritage.
This year, we celebrate online as a way to keep our loved ones and communities safe from COVID-19. Our virtual Gala welcomes Edgar Villanueva, author of Decolonizing Wealth, as our 2020 Keynote speaker, Squaxin Island Tribe as our host nation. Join us for an exciting evening and help Potlatch Fund inspire the Native tradition of giving. All funds raised will help Potlatch Fund continue to offer vital support to Native communities as they grapple with the challenges presented by COVID-19 and look to the future.
GALA AGENDA

HOPIN VIRTUAL ROOMS
PROTOCOL ARENA – where the main program will take place
TALKING CIRCLE – where the Rez Carpet group video chat and The Center of the Good conversation will take place
VIRTUAL ROUND DANCE – where one on one video chats will take place
SILENT AUCTION – info about the Silent Auction
SCHEDULE
Open Now – Closes Saturday, November 7, 2020 at 6:45 pm
SILENT AUCTION
Located in the Silent Auction Room
Bid on some of the PNW's most beautiful art and adventure items! Bidding starts now and ends at 6:45pm. Silent Silent auction registration: https://potlatch2020.ggo.bid/
5:00-7:00 pm
REZ CARPET
Located in the Talking Circle and the Virtual Round Dance Rooms
Show up early in your best dressed to video chat with the attendees of the Gala from 5:00-7:00 pm!
6:00-7:00 pm
THE CENTER OF GOOD: A Conversation with Artists
Located in the Talking Circle Room
Join us for a casual conversation featuring Lauren Monroe Jr. and Denise Emerson as they discuss their work and how the practice of art-making contains a valuable social ecosystem grounded in "Indigenous Resilience and Colonial Resistance." Moderated by Fox Spears.
CLICK TO SEE THE ARTISTS
7:00-8:45pm
PROGRAM
Located in the Protocol Arena
MC – Hailey Tayathy
WELCOME – Amber Schulz-Oliver, Board of Directors President
INVOCATION – Joe Seymour
RECOGNIZING – Past Board of Directors President, Charlotte Cote
CULTURAL PERFORMANCE – Squaxin Island Host Nation
THE STORY OF POTLATCH FUND – Meredith Parker
PERFORMANCES BY – Supaman, ASCXNSION, Hailey Tayathy, Sho Sho Esquiro, Black Belt Eagle Scout, Calina Lawrence and Grant Recipient Spotlights
SPIRIT OF RECIPROCITY – Intro by Antone Minthorn, Recipient Se-Ah-Dom Edmo
KEYNOTE – Edgar Villanueva
RAISE THE PADDLE
CLOSING CULTURAL PERFORMANCE – Squaxin Island Host Nation
8:45 PM
Located in the Protocol Arena
AFTER PARTY JAM – with DJ Gila River Monster
KEYNOTE SPEAKER
EDGAR VILLANUEVA – We welcome as our keynote speaker Edgar Villanueva, enrolled member of the Lumbee Tribe of North Carolina and author of "Decolonizing Wealth: Indigenous Wisdom to Heal Divides and Restore Balance." Mr. Villanueva is the founder and chief strategist for the Decolonizing Wealth Project, senior vice president of programs and advocacy at the Schott Foundation for Public Education, and the chair of the board of directors of Native Americans for Philanthropy.
HOST NATION
SQUAXIN ISLAND TRIBE – The gala will be hosted by the Squaxin Island Nation with an invocation by Tribal member Joe Seymour, a Salish artist and former Potlatch Fund grantee who is providing the Coast Salish Art for the event theme this year. A framed print of Mr. Seymour's work "Squaxin's Salish Sun" will be available as part of the Gala's silent auction.
PERFORMANCES
MC & PERFORMER: HAILEY TAYATHY is a kʷoʔli•yot̕ (Quileute) drag queen living in the dxʷdəwʔabš territory (Seattle). As Seattle's premier Native American drag queen Hailey uses their queer Indigenous experiences to inform their unique form of drag. Hailey Tayathy provides a visible representation that queer Indigenous people exist and that queer Indigeneity is more beautiful than the colonized mind can comprehend.
CULTURAL PERFORMANCE – The evening's cultural performance will be provided by Squaxin Island Tribal members.
SUPAMAN – As a member of the "Apsaalooke Nation", Supaman makes his home on the Crow reservation in Montana. "Supaman" Is award-winning Christian Takes Gun Parrish, a Native American dancer and innovative hip hop artist who has dedicated his life to empowering and spreading a message of hope, pride and resilience through his original art form. Supaman's one of a kind presentation combines Native culture, comedy and urban hip hop culture which dazzles audiences and captivates listeners. For this he has gained the respect of his community and generation.
BLACK BELT EAGLE SCOUT – Katherine Paul, Potlatch Fund's interim relationship manager, is a Swinomish and Iñupiat musician and visual artist creating under the name Black Belt Eagle Scout. KP writes the foundation of her music on guitar, adding other instrumentation such as drums, bass, vocals, keys, and percussion when recording. As a working musician, KP has produced two records, Mother of My Children and At the Party with My Brown Friends.
ASCXNSION (ascension) is a Chinook and Polynesian hip-hop artist and vocalist born and raised in Portland, Ore. For ASCXNSION, music is a method of self-expression, healing, and social awareness. She is currently based in Philadelphia, Penn., pursuing a bachelor's degree in music industry at Drexel University and assisting in the development of a recording studio, Good Jawn Productions.
CALINA LAWRENCE is an Indigenous vocalist, aspiring emcee, and music producer. Her debut album EPICENTER was self-released in August, 2018. While depicting inter-generational trauma in her hip-hop/Salish fusion works, she draws equally from examples of her people's resiliency. Ms. Lawrence co-wrote and self-produced the single "ɁəsheliɁ ti txwəšucid" which translates to "Lushootseed is Alive" and is representative of how the artist is using music in pursuit of liberation.
ARTISTS RECEPTION
During the 18th Annual Virtual Gala
Saturday, Nov 7th 6:00-7:00 pm
The Center of the Good: A Conversation with Artists
Potlatch Fund believes that Native Art serves an intrinsic benefit to all communities. Native creative expression, whether traditional or contemporary, has always been an integral part of Indigenous life and is a key component of cultural identity and survival. If we accept this, then we must believe that art is fundamental to institutional change and that it can be a transformative path for social justice. Join us for a casual conversation featuring two wonderful Native artists as we discuss their work and how the practice of art-making contains a valuable social ecosystem grounded in "Indigenous Resilience and Colonial Resistance." CLICK TO SEE FEATURED ARTISTS
SPONSORS
Thunderbird
Eagle
Raven
Hummingbird
Community Partner
SPONSORSHIPS
The Annual Gala is Potlatch Fund's major fundraising event and brings together people from many different tribes, organizations, corporations, and communities. Please contact BRIAN TANNER to discuss sponsorship levels.
In Coast Salish tradition, we raise our hands to you in thanks and appreciation for your support of Potlatch Fund!
Le̓mlmtš (Thank you)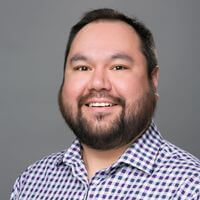 Brian Tanner, Salish/Cree (he/him)
Director of Philanthropic Partnerships
Sponsorship opportunities available
Call Brian Tanner, 206.518.4979, for details or email donate@nullpotlatchfund.org
---
Event Communications and Graphic Design:
Jill Neumeister (Pawnee/Choctaw) Orca Design Group