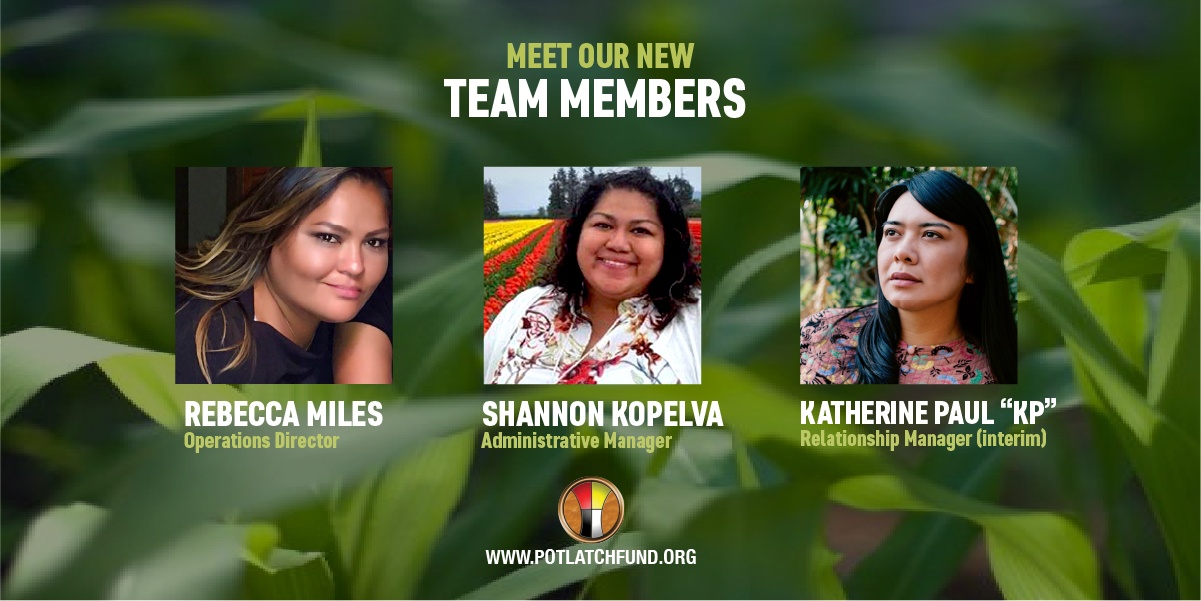 Potlatch Fund is pleased to welcome three new employees and co-workers to the organization. These three Native women represent an extraordinary range of talents, abilities, and experiences. We hope you will share in our excitement as they join our team and welcome them to the Potlatch Fund community.
Rebecca Miles joins the organization as its Operations Director. Rebecca comes to Potlatch Fund with a strong background in leadership and national, state and tribal policy. She is a member of the Nez Perce Tribe who grew up, and continues to live, in Lapwai, Idaho. Rebecca attended both Washington State University, where she received a bachelor's degree in criminal justice, and Gonzaga University, where she received a master's degree in professional studies with an emphasis on organizational leadership. For the past 24 years, she worked in many capacities for the Nez Perce Tribe, including being elected the first-ever female chairman and chief executive officer of the tribe. For the past 11 years, she served as the tribe's executive director.
Shannon Kopelva will serve as Potlatch Fund's new Administrative Manager. Shannon comes most recently from Seattle Foundation, where she worked in development and operations, and from the Seattle Public Library, where she worked as the project coordinator for Beyond the Frame, a community-wide initiative revisiting the photographs of Edward S. Curtis. She is a member of the Hopi Tribe of Arizona and received her bachelor's degree in anthropology from the University of Arizona in Tucson.  A desire to further her education brought her to Seattle, where she obtained her master's degree in museology from the University of Washington while simultaneously working for Chihuly Garden and Glass as both an exhibition supervisor and community outreach coordinator.
Also joining the Potlatch Fund team is Katherine Paul (or KP, as she prefers to be known). KP will serve as our interim Relationship Manager. KP grew up on the Swinomish Reservation here in Washington and attended Lewis & Clark College in Portland, Oregon, where she received her bachelor's degree in sociology and anthropology. For most of her life, KP has been involved in music in one way or another. She attended the Rock 'N' Roll Camp for Girls in Portland as a teenager and later became the first camper to become a member of its board of directors. She is an accomplished musician and songwriter with two full-length albums to her credit, and she gained experience in various event planning, fundraising, customer service and promotional positions while working for Mississippi Studios, also in Portland.
In the next few days, we'll be posting more about each of these new Potlatch Fund team members as a way for our community to get to know them. We think you'll agree that we are incredibly fortunate to have them joining the Potlatch Fund family.