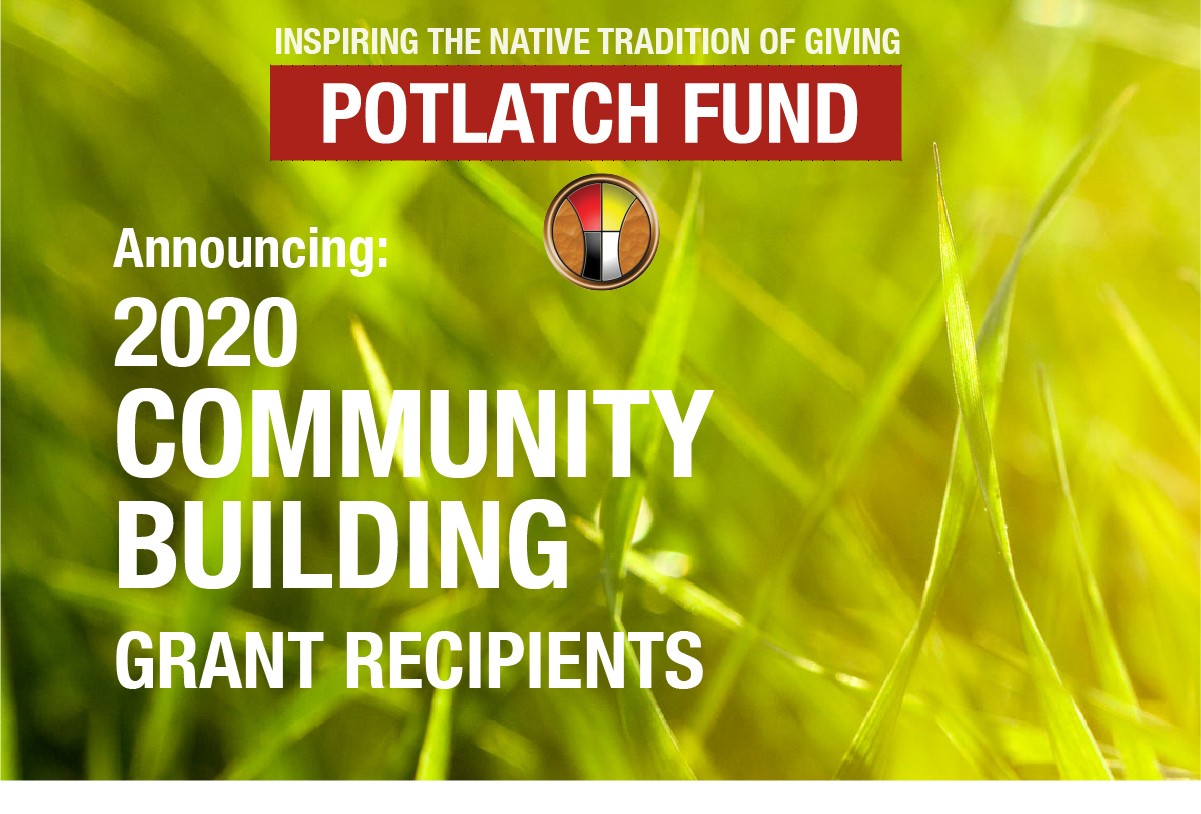 Potlatch Fund Announces 2020 Community Building Grant Recipients
Dear Friends,
Now more than ever, our Community Building Grants are vital to supporting individuals and organizations as they seek to nurture a sense of community among Native people.
We have all had to adjust to new ways of doing things because of COVID-19, and these new realities have left some of our Native relatives feeling isolated and cut off from normal opportunities for fellowship, sharing, laughter, and healing. We have appreciated the opportunities technology has provided for us to stay connected, realizing at the same time that a computer screen is no long-term substitute for being together.
As our states begin opening back up to more normal activities, we at Potlatch Fund hope you will all stay safe while watching out for one another, especially for our elders and others who may be medically fragile among us.
Because these last few months of isolation have emphasized the importance of our communities to our health and well-being, we look forward to seeing what our Community Building Grants recipients accomplish in the year ahead.
We have always believed that communities possess the inherent wisdom and ability to address their own issues if they are given adequate resources. We trust that their projects and programs will serve communities in the spirit of the grant, imparting values, histories, and knowledge across generations in order to make our communities stronger and healthier.
These grants will serve Native people living in a variety of settings, from rural reservations to large metropolitan areas, in our coverage area of Idaho, Montana, Oregon and Washington.
The following grant recipients will receive $7,132 using funds provided by the Novo Foundation:
Idaho:
Lapwai School District #341
Nimiipuu Community Development Fund
Montana:
Rocky Boy Veterans Center
Montana Two-Spirit Society
Northern Cheyenne Language Consortium
Oregon:
Confederated Tribes of Coos, Lower Umpqua, and Siuslaw Indians
Washington:
Salish School of Spokane
Peacekeeper Society
Anishinaabe Pacific Northwest
Tem Xwu lough First Foods and Families
Makah Cultural and Research Center
In addition, four $7,500 grants were awarded to Seattle based organizations from the City of Seattle: Human Services Department.
Seattle:
United Indians of All Tribes Foundation
Native Action Network
Yǝhaώ
Climate Justice Initiative
Altogether, 15 Community Building Grants totaling $108,462 were awarded for 2020, and we congratulate all our grantees while looking forward to working with them in the year ahead.
Keep well,
Cleora Hill-Scott
Executive Director, Potlatch Fund
Crow | Sioux | Pawnee
(she/her)