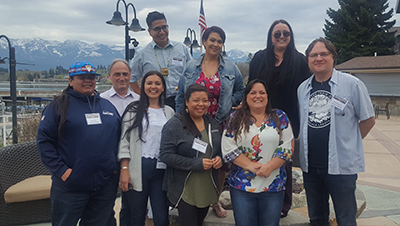 2017/2018 Nonprofit Management Cohort
The 2017/18 Nonprofit Management Cohort is currently in progress. All current and past Potlatch Fund grantees are eligible to register.

This cohort will participate in two convenings and eight webinars that focus on developing skills in financial and nonprofit management, organizational and board development, fundraising and grant writing, and communications. An important aspect of the cohort model and an intention of this program is peer knowledge sharing and developing or strengthening relationships with other nonprofits.
CURRENT COHORT MEMBERS:
Shandy Abrahamson
   Representing Confederated Tribes of Colville    Youth Department
Ken Workman
   Representing Duwamish Tribal Services
Julia Williams
   Representing Friends Forever Mentoring
Stevey Seymour and Monique Bourgeau
   Representing Inchelium Language and    Culture Association
Rebecca Kinle
   Representing Lummi Nation Youth Services
Tamara Henerson
   Representing Native American Youth and    Family Center
Mariana Harvey
   Representing Native Youth Leadership    Alliance
Crit Callebs and Haver Jim
   Representing Peacekeeper Society
Russell Brooks and Yvette Pinkham
   Representing Red Eagle Soaring – Native    Youth Theater
Kimberly Richards
   Representing Salish School of Spokane
Jeremiah George
   Representing Squaxin Island Museum
Katalina Gubatayao-Bolima
   Representing Suquamish Tribe
Mike Tulee and Christina Harris
   Representing United Indians of All Tribes    Foundation
PAST COHORT MEMBERS:
Chief Joseph Foundation
Hamumu Art Collective
Nez Perce Tribe- Grants Program
Nez Perce Tribe- Ecomonic Development
Peaceworks
Red Eagle Soaring
The 6th Village