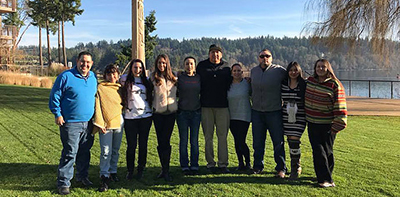 2017/2018 Native Arts Cohort
The 2017/18 Native Arts Cohort is currently in progress. All current and past Potlatch Fund grantees are eligible to register.

The Native Arts Cohort includes two convenings and eight webinars that focus on developing skills in financial literacy specific to an artist's needs in competing or entering the art market. It focuses on helping the artist in developing an understanding of marketing principles and setting a fair market price for wholesale and retail markets. An important aspect of the cohort model and an intention of this program is peer knowledge sharing and developing or strengthening relationships with other artists and nonprofits.
CURRENT COHORT MEMBERS:
Alyssa London
Charles Bloomfield
Diane Covington
Jacob Johns
Jessica Mehta
Mary Kelsay
Michaila Taylor
Moses YellowRobe
Seri Sims
Stefanie Reuben
Sondra Segundo-Cunningham
Sunmiet Maben

PAST COHORT MEMBERS:
Debbie Stacona – Warm Springs, OR
Representing The Museum at Warm Springs
Demian Diné Yazhi´ (Diné) – Portland, OR
Representing Wisdom of the Elders
Jeff Ferguson (Spokane) – Beaver, WA
Michael Broncheau – Portland, OR
Representing the Columbia River Inter-Tribal    Fish Commission
Miranda Laber (Salish/Blackfeet) – St.    Ignatius, MT
Nahaan (Tlingit/Haida) – Seattle, WA
Natasha Alponse (Denésoliné) – Seattle, WA
Phyllis Grant (Hunkpapa Lakota Sioux) –    Spokane, WA
Suzie Bennett (Elwha Klallam) – Port    Angeles, WA
Representing the Lower Elwha Klallam Tribe,    Heritage Center
Toma Villa (Yakama) – Gresham, OR
Representing the Columbia River Inter-Tribal    Fish Commission