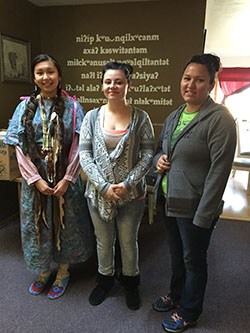 Language Preservation
In 2017, Potlatch Fund embarked on a three-year grant strategy to increase the capacity of Language Preservation and Education grantees. It is our desire to fund the development of language transfer systems and we will offer grants that support this goal. Grant support will be offered for: community language assessments (2017), development of a strategic plan (2018), and the implementation of the strategy (2019). Successful grantees can apply in subsequent years but are not required to complete all three years. Applicants that do not conduct the Potlatch Fund community language assessment tool in 2017 will be required to submit another current survey as an equivalent.

Language is an integral part of identity and yet, many Indigenous languages are critically endangered. Language revitalization and preservation is at its essence about creating a plan and system in which to transfer the language from speakers to non-speakers. A truly revitalized language is one that is passed from parent to child through the natural process of learning language and is reinforced in the community on a daily basis. All efforts of revitalization including preservation in essence are parts of building a sufficiently large language community to re-spark the natural process of learning language. A foundation of highly skilled, educated, and effective language teachers, supported by curricula/teaching materials, will help to put in place sustainable systems of language transfer.

However, due to the difficult history of colonization and assimilation, this language knowledge, context and opportunity has been damaged and does not function this way. Language preservation is an exceptionally difficult task in most instances as speakers are increasingly limited. Many Native communities struggle with the lack of data, knowledge and capacity about how best to create a plan to preserve, maintain and/or revitalize their language, much less the resources to support such a critical and intensive effort. Many Native communities struggle to best understand where to focus limited resources and efforts in order to start and empower their journey around language preservation and revitalization.

As a result, Potlatch Fund is committing its Language Preservation and Education resources to support Native communities in their planning, capacity building and implementation efforts to build plans and systems to support the transfer of language from speakers to non-speakers in their community. All efforts supported by the Potlatch Fund ultimately should be on a path that maintains or builds capacity to create new adult and/or children speakers of a Native language.
The 2020 grant cycle has been suspended in lieu of rapid response grants focused on helping communities during the COVID-19 pandemic.
---
Funding
Grants will be awarded in amounts up to $10,000.
For 2018, funding will only be provided to complete a strategic plan based on the results of a recently completed community language assessment. Applicants that were funded in 2017, completed Potlatch Fund's community language assessment, but eligibility is open to ALL qualifying applicants that have completed a community language assessment within the past three years. This stage will be a precursor to the year-three goal of the implementation of a community wide language transfer program.
Potlatch Fund will provide up to 50% of total project expenses. Example: A grant request of $5,000 must coincide with a project budget of $10,000 or more. Grantees are allowed and encouraged to consider in-kind donations of volunteer time, materials and/or supplies. To estimate the standardized per-hour dollar value of volunteer time that may be reflected in your project budget, please see:
https://www.independentsector.org/volunteer_time
Applicants may only receive funding for one Potlatch Fund grant per calendar year.
Applicants must be headquartered, and provide services, in: Idaho, Montana, Oregon, or Washington.
Goals
The goal of the 2018 Language Preservation grant is to complete a strategic plan based on the results of a community language assessment. Explain how/why the applicant is best suited to accomplish this goal within their community.
Explain how the data collected through the recent completion of a community language assessment study will inform the applicant's efforts as they author a strategic plan.
Explain how the applicant would build a strategic plan that is inclusive of community stakeholders.
Potlatch Fund's mission is to expand philanthropy within Tribal Nations and Native Communities in the Northwest by inspiring and building upon the Native tradition of giving. We support organizations that are aligned with our mission. How does your organization honor the Native tradition of giving, sharing, and reciprocity by giving back to the community?
Successful Applications will Demonstrate
Outline the steps around how the finished strategic plan will be announced to the larger community. The steps should include when the strategic plan will be announced, who must be present, and how the plan will be presented.
The applicant's ability to contribute to the overall success of a language preservation cohort (offered by Potlatch Fund to complement the grant program). The cohort will focus on supporting the development of viable strategic plans that are tailored to best fit the opportunities available to each community with approximately 75 hours of instruction over 10 months. Learn more here.
The applicant's ability to access resources (e.g., monetary funds from other partners, volunteers, in-kind donations) from other sources.
The applicant's ability to carry out the proposed work (e.g., adequate staff and/or volunteers, partnerships, etc.).
Grantees will be requested to collect and provide data related to the:
Amount and types of resources raised to meet the 1:1 match requirement to support this project/program from sources other than Potlatch Fund.
Number of youth, adults, and Elders / culture keepers served.
Collect, and report back on, a self-determined quantitative method of assessing the success of the grant.
Tell the story (through videos, photos and/or written narrative) of how the grant helped meet the stated goals listed above.
Preview the Final Report
2018 Language Preservation and Education Final Report [Adobe PDF].
Please note, funding is limited to our service area: Idaho, Montana, Oregon, and Washington.
Potlatch Fund is proud to support Language Presevation and Education in Northwest Indian Country. Here is how you can help.
Grantee Section
Final Report Requirement

Preparing for the application
Potlatch Fund's Online Grant Portal
Journey to Successful Fundraising