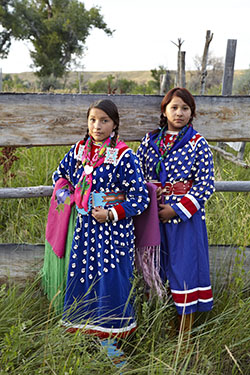 Community Building Grant Cycle
Whether residing on a rural reservation or within a large metropolitan area, nurturing a sense of community is essential to Native people and their identity. We support organizations and community programs that impart values, histories, and knowledge across generations to make our communities stronger and healthier. We are particularly interested in supporting initiatives that address the root causes of social, economic, racial, or environmental issues. We believe that communities inherently have a wealth of knowledge to address their own issues, given adequate resources. The well-being of individuals and community-based organizations are integral to the well-being of a community as a whole. Ideally, this program is envisioned to increase the capacity of individuals, organizations, and communities.
Potlatch Fund is open to receiving applications that aim to build awareness around the 2020 Census within Tribal communities.

We are very aware that applicants to Potlatch Fund's Grantmaking Program are an integral part of our community. We are also aware that you will all be experiencing your own levels of disruption and change within your own circumstances. As we all respond to these continually evolving events, you are in our thoughts.

We want to be transparent and let you know that a new question, around COVID-19, was added to the request for proposal (RFP). Applicants will answer the question differently depending on the type of support (program/project or general operations) they are requesting. While we all hope that COVID-19 will be better understood and well contained by the time grant dollars are made available to successful applicants, that may not be the case.

Your answer, to the question, will help the Grant Review Committee understand how the applicant is integrating contingency plans into their work. As always, please contact Lawrence and Mary, at grants@potlatchfund.org, if you have any questions.

The 2020 grant cycle is OPEN NOW and close on Tuesday, April 7, at 4:59 p.m. ( PDT).
Go to the online portal to begin the application process.
---
Funding
Grants will be awarded in amounts up to $10,000.
This grant cycle is for both project and general support.
Potlatch Fund will provide up to 50% of total project expenses. Example: A grant request of $5,000 must coincide with a project budget of $10,000 or more. Grantees are allowed and encouraged to consider in-kind donations of volunteer time, materials and/or supplies. To estimate the standardized per-hour dollar value of volunteer time that may be reflected in your project budget, please see:
https://www.independentsector.org/volunteer_time
Applicants may only receive funding for one Potlatch Fund grant per calendar year.
Applicants must be headquartered, and provide services, in: Idaho, Montana, Oregon, or Washington.
Goals
Explain how the project/program will make your community stronger and healthier.
Create strong and positive intergenerational and/or cross-community (nonnative and/or intertribal) networks that intentionally focus on building relationships and connecting resources to bring about positive change.
Strengthen community members and/or community organizations to address root causes of social, economic, racial, and/or environmental injustice.
Potlatch Fund's mission is to expand philanthropy within Tribal Nations and Native Communities in the Northwest by inspiring and building upon the Native tradition of giving. We support organizations that are aligned with our mission. How does the applicant honor the Native tradition of giving, sharing, and reciprocity by giving back to the community?
Successful Applications will Demonstrate:
How the proposed work will increase capacity:
a) at the organizational level (general operations support).
b) at the community level (project/program support).
How the proposed work will be sustained after the terms of the grant have been completed.
The applicant's ability to access resources (e.g., monetary funds from other partners, volunteers, in-kind donations) from other sources.
The applicant's ability to carry out the proposed work (e.g., adequate staff and/or volunteers, partnerships, etc.).
Grantees will be requested to collect and provide data related to the:
Amount and types of resources raised to meet the 1:1 match requirement. Example: A grant request of $5,000 must coincide with a project budget of $10,000 or more.
Number of youth and community members served.
Collect, and report back on, a self-determined quantitative method of assessing the success of the grant.
Tell the story (through videos, photos and/or written narrative) of how the grant helped meet the stated goals of the application.
Preview the Final Report
2020 Community Building Final Report [Adobe PDF].
Potlatch Fund is pleased to support projects and organizations that impart values, histories, and knowledge across generations to make Native communities stronger and healthier. Make a donation in support of this program today!
Grantee Section
Preparing for the application
Potlatch Fund's Online Grant Portal
Journey to Successful Fundraising