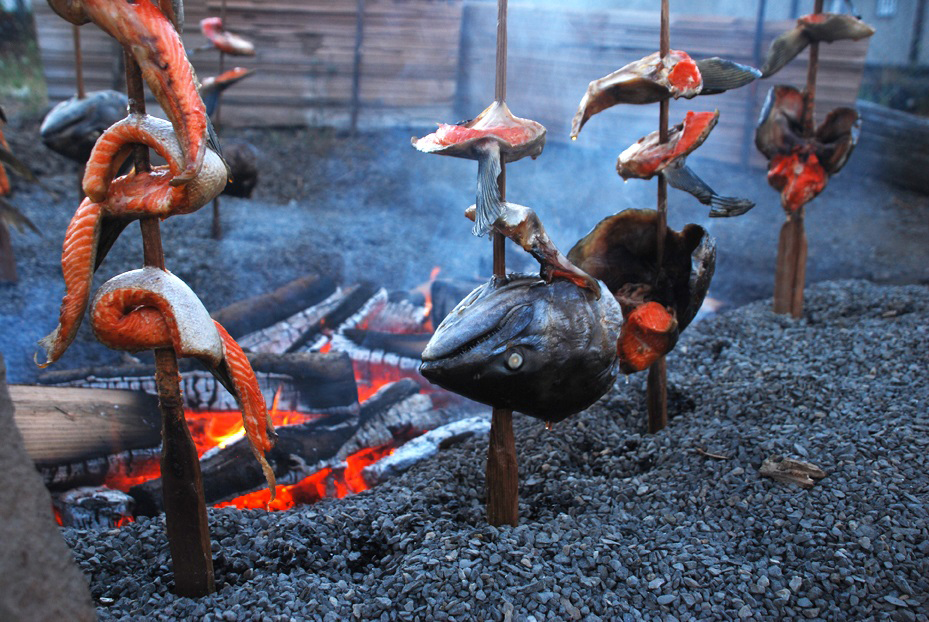 The Potlatch Fund is a Native-led non-profit that provides grants and leadership development to Tribal Nations in Washington, Oregon, Idaho, and Montana
Less than 1% of philanthropic dollars in the United States are currently given back to Native communities. We seek to address this lack of diversity and reverse the perception that Tribal Nations lack the need for financial resources and government support.
Our grant-making program focuses on Youth Development, Community Building, Language Preservation & Education, Native Arts, and Native Student Success. We also provide training around financial management, board governance, strategic planning, media management, and nonprofit development for past grantees.
By bringing necessary resources back to Tribal Nations and the organizations that serve them, we're preserving the traditions at the center of Native communities—and building a richer future for all that we serve.
The Staff
Brian Tanner (Salish/Cree) Director of Philanthropic Partnerships
Cleora Hill-Scott (Crow/Sioux/Pawnee) Executive Director
KP "Katherine Paul" (Swinomish/Iñupiaq/Colville) Interim Relationship Manager
Mary Kummer (Makah) Project Manager
Rebecca Miles (Nez Perce) Operations Director
Shannon Kopelva (Paiute/Hopi/Hualapai) Administrative Manager
The Board of Directors
President Amber Schulz-Oliver (Celilo/Yakama)
Vice President Dustin Monroe (Assiniboine/Blackfeet)
Secretary Jordann Lankford (Gros Ventre/Little Shell)
Treasurer Douglas Coleman, CPA
Compliance Officer Meredith Parker (Makah)
Member Antone Minthorn (Umatilla)
Member Renée Holt, PhD (Niimiipuu/Navajo)
Member Susan Balbas (Cherokee/Yaqui)
Volunteers
Adrian Luethold (Spokane)
Andrea Alexander (Makah)
Angel Sobotta (Nez Perce)
Anthony Rascon (Makah)
Aranesa Turner Aspen Smith (Salish)
Aurolyn Stwyer (Warm Springs-Wasco)
Brenda Billy (Cayuse / Yakama)
Brenda Lowe (Japanese)
Bridget Ray (Turtle Mountain Chippewa)
Burdette Birdinground (Apsaalooke)
Caleb Dunlap (Ojibwe)
Cara Hash Cindy Pederson (Tlingit / Haida)
Crystal Florez (White Earth Ojibwe)
Cody Shimazu Dallas Pinkham (Yakama)
Dawn Morrison Danson Coin (Thompson Coldwater Band / Hopi)
Edna Bellfleur Fern Renville (Sisseton Wahpeton Oyate)
Greg Urban Harold Balderson (Makah)
Ivette Bayo Urban (Cuban)
James La Roche (Lakota)
Jared Dunlap (Ojibwe)
Jeff Smith (Makah)
Jeremiah George (Squaxin Island)
Jesse WalkingChild (Chippewa Cree / Blackfoot)
Joe Seymour (Squaxin Island / Acoma Pueblo)
Johnny Buck (Wanapum / Yakama)
Jonathan J. Arakawa Jonnica Royal (Duwamish / Quinault / Chinook)
Josephine Lee ( Ho-Chunk)
Kim Kummer (Makah)
Kyle Slaney (Makah)
Laura Grabhorn (Tlingit / Haida)
Leesa Wright (Puyallup)
Lisa Leuthold (Makah)
Marc Taylor (Lummi)
Maria Givens (Coeur d'Alene)
Marylin Bard (Duwamish / Quinault)
Melissa Ramirez UW First Nations
Michael Murner (Makah)
Mike Edwards (Muckleshoot)
Miranda Belarde-Lewis (Tlingit / Zuni Pueblo)
Miriam Zmiewski-Angelova Modesta Minthorn (Umatilla)
Nahaan (Tlingit / Inupiaq / Paiute)
Nina OldCoyote (Lummi)
Nora Trahant (Diné)
Pamela Bryan (Diné)
Patricia Allen (Tlingit)
Perri McDaniel (Grand Ronde)
Philip Hillaire (Lummi)
Ray Ishii
Renco Leake
Roger Fernandes (Lower Elwha Klallam)
Samuel Barr (Samish)
Sandy Littletree Sandy Redsteer (Diné)
Sarah Kelly (Anishinaabeg)
Shelley McKosato-Haupt (Sac & Fox Nation of Oklahoma)
Skala Leake Steven Oliver (Lummi / Duwamish)
Susan Welsh (Diné / Mohave / Chemehuevi) Tracy Rector (Seminole)
Twila Begay (Diné) Vincent Chargualaf (Suquamish)
Valerie Switzler (Warm Springs)
Walter Pacheco (Muckleshoot)
Yin Yu Zeke Spier