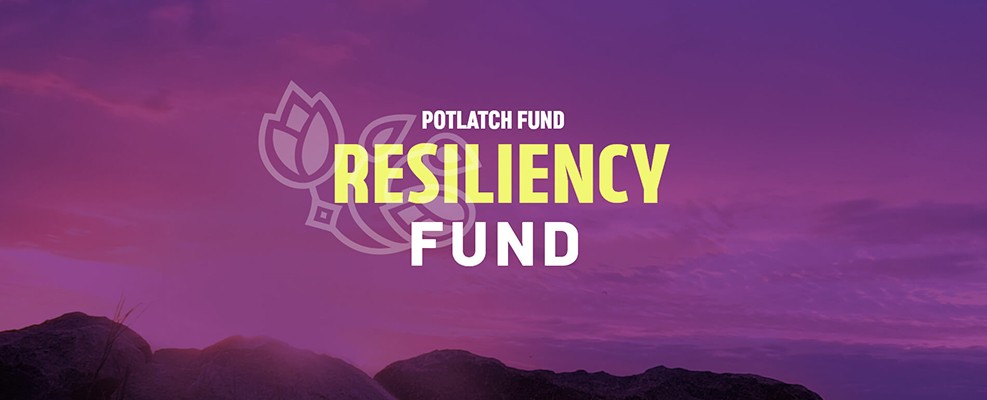 Potlatch Fund
GRANT CLOSED – Resiliency Fund
BRING US YOUR DREAMS
Applications open June 21st, 2021 – December 31, 2021.
Dream with us. It's a new day. Time to breathe deeper and to stand strong in our resilience. Time to gather and ignite new dreams. Time to light up our visions across our cultures. Time to lift up our hopes across our communities. Potlatch Fund invites you to help lead us forward. For our communities. For our cultures. For our relations. It's time.
 Do you have a dream, a great idea, for serving your Indigenous community? We want to know. Is there a project or community program we can help fund? Are you a Native artist with passion, voice, vision? Are you called to be a keeper of our cultures, who serves so future generations know language and traditions? Do you envision strengthening connections to Indigenous lifeways for healthier communities? How can we help? – It's time to dream our dreams again.
We acknowledge that Indigenous peoples are called upon to be strong across generations and we stand to support those who champion healing and resiliency work. We strive to create ease, safety and a place to rest and therefore our act of resiliency and healing brings us closer.
Subscribe and follow our feeds to learn how and when to apply. Check back here soon for more information on how to apply.

---
Resiliency Fund
INTRODUCTION
Applications Open June 21, 2021
To address changing and evolving community needs and the impact of COVID-19, Potlatch Fund is accepting applications for the Resiliency Fund starting June 21, 2021.
In light of the COVID-19 pandemic and its impact on Native communities, the Potlatch Resiliency Fund seeks to protect our way of life by funding resiliency actions that create hope, social connection, adaption, flexibility and purpose. This fund will provide grants that support general operating funds, projects, and artists.
There is no application deadline. Instead, grants will be processed and awarded on a rolling basis until all funds are expended. (All application templates and online access methods will be available June 21, 2021.)
We generally DO NOT Fund:
Academic institutions, school districts, religious organizations, governmental agencies, or any other organization that may serve Native and Tribal communities but do not meet the criteria of being a Native-led organization.
Publications, reports, research, workshops, conferences, classes, personal travel, loans, scholarships, litigation or attorney fees.
Endowment funds or capital campaigns.
WHO CAN APPLY?
Eligibility Requirements: 
The following (4) eligibility requirements must all be met.
Must serve and reside in Washington, Oregon, Idaho or Montana.
Groups and communities served with programs must consist of at least 51% Native peoples. Does not apply to individual artists' projects.
Must have a combined 2/3 of leadership and staff (this includes consultants and volunteers) reflecting the Native community(ies) they serve. Not applicable to individual artists 
Must be one of the following:
Any federally recognized Indian Tribe, Band, Nation, Alaska Native Village, formally recognized or currently seeking recognition from the Federal Government.
Any state recognized Indian Tribe, Band, Nation, Alaska Native Village, formally recognized or currently seeking recognition vested with the State Legislative Tribal Recognition Authority. Tribal governments are eligible to submit one application per department.
Organization(s) with 501(c)3 or 501(c)4 designation, or groups that are fiscally sponsored.
Any individual Native artist or descendant (state or federally recognized Tribe).
WHEN IS THE DEADLINE?
There is no application deadline. Instead, grants will be processed and awarded on a rolling basis until all funds are expended. (All application templates and methods will be available June 21, 2021.)
HOW DO I APPLY?
(All application templates and methods will be available June 21, 2021.)
There are Four (4) Application Methods:
Online application. Apply online using Potlatch Fund's grant application submission​ portal found on our website.
Email application. Download paper application (PDF or Word-format) and email it to grants@

null

potlatchfund.org
Mail application. Request a mailed paper application to fill out and submit by mail. Call (206) 624.6076 ext. 2 to request a mailed version or download paper application and fill it out and mail it to: Potlatch Fund, 815 First Ave PMB 308, Seattle, WA 98104​
Phone application. Schedule to submit an oral application with a Potlatch Fund staff member. Please call (206) 624.6076 ext. 2 to schedule a 30-minute appointment. ​
INFORMATIONAL VIDEO
We're excited to share with our community this informational video about Potlatch's new Resiliency Fund. The video provides guidance about the Resiliency Fund around Criteria, Eligibility, our Application Process and Storytelling opportunities as you meet our team at Potlatch Fund. If you don't have access to the internet, feel free to call (206) 639-1497 and a staff member can guide you through the grant information.
GRANT PROPOSAL AMOUNTS
Grants will be awarded in two amounts: $10,000 and $15,000, based on funding eligibility. Only one proposal per organization will be considered. (Tribal departments are considered separate organizations.) Individual Native Artists maximum grant award is $10,000.
FUNDING EXAMPLES
Funding requests for general operating funds, projects or individual artists can take the form of (but are not limited to) the following examples:
Expand access to healthier support services in significant ways (physical, behavioral, social, mental, cultural, substance abuse).
Impart cultural narratives that amplify culture and traditional and contemporary values that integrate community connections and generational support for elders and children, inclusive of people with disabilities.
Cultural and educational partnerships that strengthen learning environments. Access to additional tools that may include technology, outreach, personal instruction, tutoring, and mentoring with culture and language keepers.
Engagement in community organizing work.
Other emerging needs unique to the current pandemic such as working on social, racial, economic, and environmental justice initiatives in the current political climate.
Is there anything you do not fund?
Organizations located outside the Potlatch Fund service area.
Campaigns to elect public official or partisan political projects.
Scholarship funds or other aide to individuals; researching or fellowships.
Capital expenditures, endowments, construction or renovation programs.
Projects that take place before the grant is awarded.
Pass through grants that move to other agencies, groups, etc. (not applicable to fiscal sponsorships).
Projects inconsistent with Potlatch Fund's mission and values.
REPORTING IS NOW STORYTELLING
When is the final report due?
We are not seeking final reports. However, we are seeking to hear your Resiliency Fund Story. Our goal is to gather all stories by December 31, 2021 to share at our annual board meeting.  Sharing stories will serve to highlight impact and future needs. We seek to learn from grantee partners the following:
What is exciting or relevant? 
What challenges occurred if any and/or what did you learn?
What is the most important thing you would like to share with Potlatch Fund?
Please provide a photo(s) and/or video to help us fundraise on our website and social media.
How can I share my Resiliency Fund Story?
Each grantee partner has four (4) ways to submit their story after the completion of the grant:
Online. Upload your story through the online grant portal. Story template: PDF | Word document
Email. Submit story narrative  by email to grants@

null

potlatchfund.org
Phone. Submit an oral story to a Potlatch Fund staff member. Please call (206) 624-6076, ext. 2 to schedule a 30-minute appointment. Our staff is also available to meet via Zoom.
Zoom. Attend one (1) Virtual Partner Convening to share the impact and continued need in the community on:
a. Wednesday, October 13, 2021 at 12:00 pm (PST), or
b. Thursday, October 21, 2021 at 5:00 pm (PST)
FREQUENTLY ASKED QUESTIONS
Who can I email or phone with questions?

Are you also offering grant opportunities for your other grant programs?

No, we are not offering grants through Healthy Pathways for Youth, Community -Building, Native Student Success, Language Preservation and/or Native Arts programs. However if your application supports any of the grant opportunities above you are eligible to apply. We have paused all previous grantmaking opportunities due to Covid-19. Our current funding is focused on providing flexible funding for self-identified needs that supports general operating funds, projects, and artists.

Am I qualified if I have never applied to and/or been awarded a grant through Potlatch Fund before?   

Yes!  You can apply if you have never applied before as long as you meet eligibility requirements. Please see eligibility requirements.

Can prior year grantee partners apply?   

Yes. If you received a previous grant or have not completed prior year reporting requirements, you are still eligible to apply.

When and how will I be notified as a grant recipient? 

Grantee partners will be notified by email and/or phone.

What if my grant proposal is declined?

If your proposal is declined, a Potlatch Fund staff member will contact you within 7 days by email and phone to schedule an appointment to revise and resubmit the application.

When will I receive funding?

Once your application is approved for funding, it may take up to 30 days to receive a grant check.

What if I change my grant project during my award and need to amend my award? Will that be allowable?

Yes. Our value is to be responsive to any applicant's need to amend their application. If you need to modify the grant, please email grants@nullpotlatchfund.org or call 206-624-6076 to schedule an appointment.

What if I accidentally submitted my application before it was completed?

Potlatch Fund staff will review of all applications prior to awarding grants. If there is incomplete or missing information, we will make every attempt to phone and email you to provide you an opportunity to complete your grant application.

Are grants funded over multiple years?

Grant requests are generally funded for one year.

My Tribe is in your service area but I am not. Can I still apply? 

No. Individual Native artists and organizations located outside the Potlatch Fund service area are not eligible.